Unitrade Industries Bhd (Unitrade) launched its IPO on 28 April 2022 at 32 sen a share. Upon its listing, Unitrade's market capitalisation would be lifted to RM 500 million. 
Here are the IPO documents for your viewing:

The closing date to this IPO subscription has been set on 30 May 2022. Before you decide to apply for Unitrade IPO, below are 8 things you should know about Unitrade. 
#1 Unitrade Corporate Profile
Presently, Unitrade has 3 main business segments: 
1. Unitrade – Wholesale & Distribution of Building Materials 
Unitrade is involved in wholesaling and distribution of building materials including pipes, valves, fittings, and accessories.
Its customer base come from the likes of contractors, steel traders, downstream steel manufacturers, and also hardware retailers and traders.
2. Ricwil – Manufacturing & Sale of Pre-Insulated Pipes
Ricwil is involved in manufacturing of pre-insulated pipes and trading of related materials for HVAC systems in its current plant at Kampung Baru Subang.
Today, the plant comprises 47,500 sq. ft. of manufacturing spaces and a 2-storey office building. 
3. UUSB – Rental of Temporary Structural Support Equipment
Unitrade United Sdn Bhd (UUSB) derives revenue from rental of a wide range of temporary structural support equipment such as scaffolding, steel plates and as well as hollow sections for the construction industry.
The equipment listed here are reusable and can be repeatedly rented out throughout their useful lifespan, which are typically 10 years.
The rental duration for these equipment can range between 6-12 months, depending on requirements from its clients. 

Source: Page 125 of Unitrade IPO Prospectus
Among the 3 businesses, the wholesale & distribution segment remains the largest revenue contributor to Unitrade. It constitutes more than 96% of revenue in the past 4 financial years.
#2 New Industrial Complex, Bukit Jelutong, Shah Alam
In 2019, Unitrade had purchased a piece of land with buildings in Bukit Jelutong measuring 530,000 sq. ft. for RM 101.0 million.
The company demolished a few buildings in order to construct a new industrial complex, in order to consolidate all of its 3 businesses under the same location.
The estimated construction cost for this industrial complex is RM 31.4 million. 
This complex includes: 
1. Factory – 47,500 sq. ft. (manufacturing pre-insulated pipes)
2. Warehouse – 281,000 sq. ft.
3. 4-storey office building – 56,952 sq. ft.
Its new warehouse is equipped with: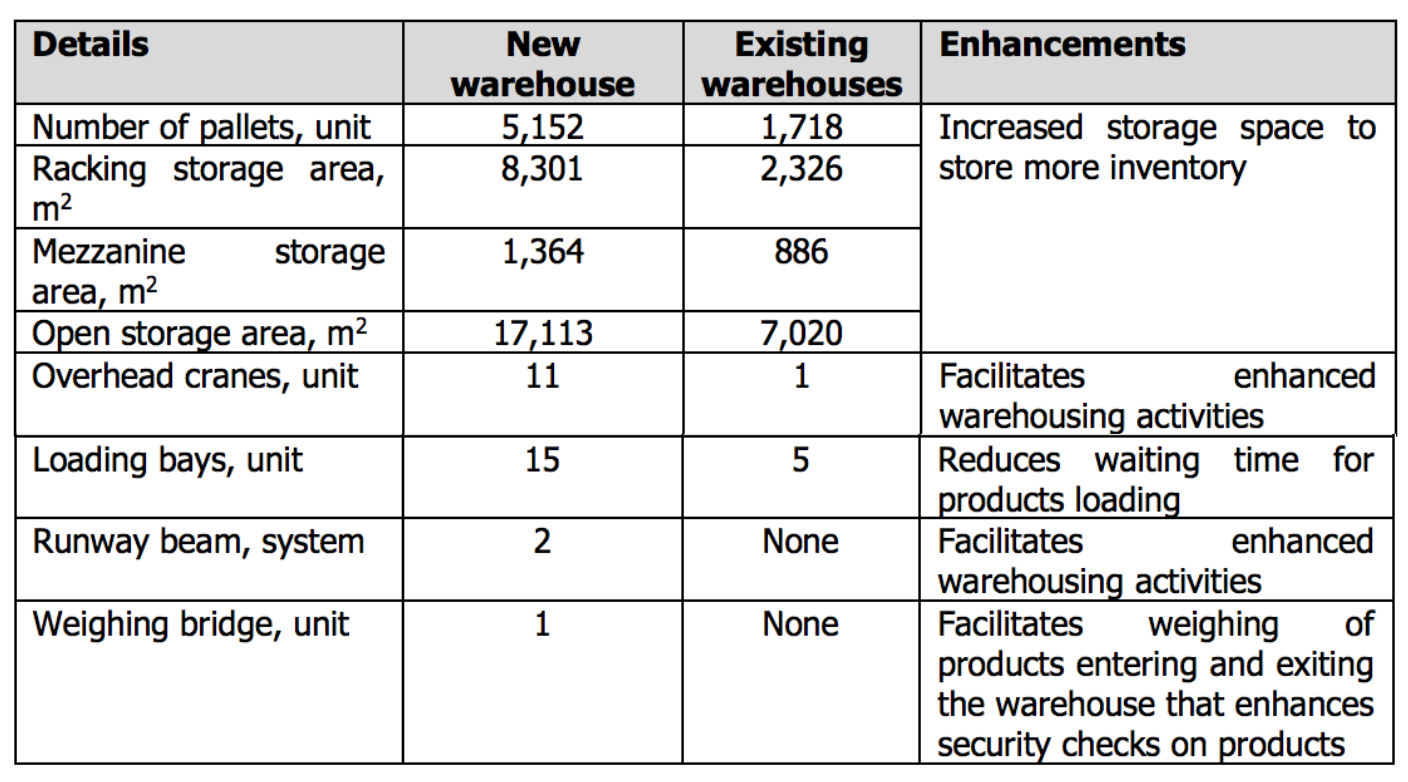 Source: Page 152 and 153 of Unitrade IPO Prospectus
Unitrade relocated to this industrial complex on 31 December 2021. 
#3 Unitrade Financial Results
Unitrade has generated RM 1+ billion in revenues per annum in 2019-2021. The company has attained slight improvements in profit margins and thus, recorded a marginal increase in shareholders' earnings from RM 18.9 million in 2019 to a total of RM 28.8 million in 2021.
Its earnings per share (EPS) has increased from 1.2 sen in 2019 to 1.8 sen in 2021. The company had attained an average return on equity (ROE) of 11.1% per annum for the 3-year period in 2019-2021. 

Source: Page 196 and 198 of Unitrade IPO Prospectus
#4 Unitrade Financial Position
Since 2019, Unitrade had maintained above 1.0 in current ratio. 
In 2020, Unitrade had obtained RM 100+ million in debt to finance both its land acquisition and the construction of its new industrial complex.
This has lifted its gearing ratio to above 40% since 2020.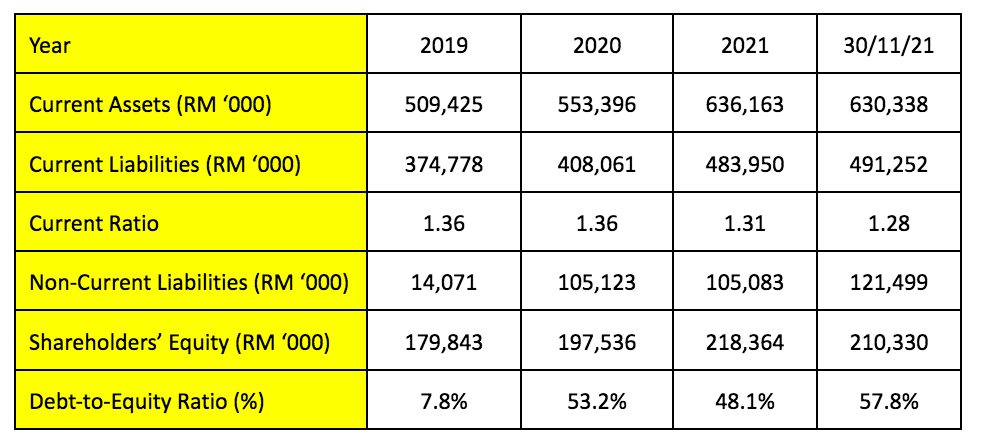 Source: Page 198 of Unitrade IPO Prospectus
#5 Utilization of IPO Proceeds
Source: Page 26 of Unitrade IPO Prospectus
Unitrade plans to use its RM 100.0 million in gross proceeds on the following: 
1. RM 50.5 million – Working Capital 
This includes the purchase of building materials such as: 
Source: Page 27 of Unitrade IPO Prospectus
2. RM 39.8 million – Repayment of Bank Borrowings
Unitrade intends to repay RM 39.8 million in bankers' acceptance, which carries interest rates ranging between 2.30% – 4.58% per year.
As such, Unitrade would derive an interest savings between RM 0.9 million – RM 1.8 million a year. 
3. RM 5.0 million – CAPEX for a New Pipe Fabrication Centre
It is meant to complement its business activities at its new industrial complex. 
#6 Major Shareholders

Source: Page 40 of Unitrade IPO Prospectus
Sim Keng Chor and his family members shall remain as the biggest shareholders of Unitrade. Sim Keng Chor is the Executive Vice Chairman of Unitrade.
His sons namely, Nomis Sim and Simson Sim are Managing Director & Executive Director of the company.
#7 Risks
Typically, Unitrade would keep inventories for up to 36 months. Hence, it would conduct an annual assessment on the value of its inventories.
The company will incur a significant impairment loss if the value of its inventories falls below its cost.
For the last 3 years, Unitrade had recognised the following impairment losses: 

Source: Page 10 of Unitrade IPO Prospectus
#8 Valuation
Based on 32 sen a share, the offer is valued at 17.8x its 2021 earnings.
The company also revealed that it would distribute at least 30% of its profit after tax (PAT) to its shareholders in the form of dividends.
Based on 2021 earnings per share (EPS) of 1.8 sen, its dividends per share (DPS) is at least 0.54 sen. This works out to be an initial dividend yield of at least 1.69% per annum. 
Conclusion
While Unitrade is not in the glamorous service or tech industry, it has established itself as a leading wholesaler and distributor of building materials with decades of experiences in the industry.
On top of being profitable in the past 3 years (including 2020-2021 during COVID-19, the company has a much bigger room for growth after relocation of all business operations into its brand new industrial complex.
That said, it would be important to do your due diligence and compare the valuation of its offer to other industrial peers.