Just yesterday, Top Glove (SGX: BVA) held an investor presentation at SGX to present on their latest quarter earnings. You can find their presentation slides here.
A look at their stock price last month reveals a consolidation hovering at around S$1.65. And as of 16 June 2017, their stock price stood at S$1.79. That is an 8.5% increase over a period of one month!
With the increase in stock price, what does this counter has in store for us? Read on to find out more.
Company's Profile
Top Glove is the world's largest rubber glove manufacturer with production capacity of 48 billion gloves a year. With that, it holds 25% of the world's market share.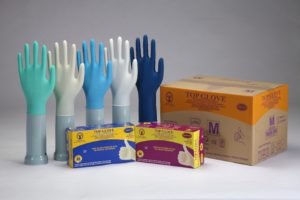 Its products include Latex, Nitrile and Vinyl gloves, which are mainly used in the medical, food and industrial sectors. Top Glove's businesses run in more than 185 countries worldwide, such as U.S, Middle East, Australia and Japan. The company is currently listed on both Bursa Malaysia and SGX.
Financial Health
From its latest results, year-on-year sales has increased by 29.3%, from RM672.3 million in 3Q16 to RM869.6 million in 3Q17. Its bottom line also experienced strong growth, with a 23.4% increase in net profits to RM77.5 million in 3Q17.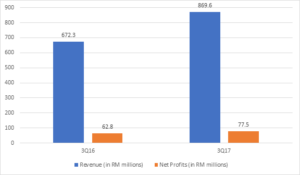 With regards to its debts, there has been a fall in both its short-term and long-term debts. Short-term borrowings have decreased to RM276.7 million, a 12.9% drop from its previous quarter. Similarly, its long-term debt has undergone a 16.8% drop to RM68 million currently.
However, we should take note that its net operating cashflow has dropped by 58% from 3Q16. It currently stands at RM177.7 million. This can be attributed to higher working capital requirement as a result of higher raw material prices and higher capital expenditure.
For its latest quarter, Top Glove has declared an interim dividend of 6 sen, payable on 17 July 2017. The company's dividend policy is to pay 50% of its net profit as dividends in respect of future financial years.
Growth Prospects
With regards to its nature of business, there is bound to be a continuing demand for gloves. This is due to strict regulations in place for the use of gloves for hygiene purposes in the healthcare and food sectors.
Furthermore, based on a report by Deloitte, there has been a rising demand for healthcare services worldwide. This is due to demographic reasons such as aging population, and also demand shocks caused by refugee crisis. As such, with an increasing need for healthcare professionals, this will inevitably translate to higher demand for gloves. One such country, looking to actively hire healthcare workers, is of course Singapore. You can read about it here.
To add on to its outlook, the recent strong growth in 3Q17 is on top of the sharp increase in natural rubber latex price and nitrile price by 79.2% and 41.1% respectively. From this article, Top Glove is optimistic of better sales volume growth in 4QFY17 as raw material prices start to trend downward. The company has also acquired two glove factories located in Nilai and Muar in May 2017. This will translate to an increase in production capacity of 1.1 billion gloves per annum.
With all these growth prospects in place, investors may want to find a good entry price before jumping onboard this bandwagon. This is because as of 19 June, its P/E ratio currently stands at 22.4 which is on the high side compared to its competitors. Furthermore, its P/B ratio is 3.66 which is also relatively high.
Fancy an Ebook that teaches you the hallmarks of multi-bagger stocks and how to find them? Simply click here to receive your copy of a brand-new FREE Ebook titled – "100 BAGGERS" by Christopher W. Mayer here today!
Last but not least, do remember to Like us on Facebook too as we share the latest investing articles and stock case studies for you!