Warren Buffett is a huge advocate of share buybacks as he believes that it can often be the best use of corporate capital.
In fact, that is the main reason why Berkshire Hathaway Inc.'s share price can reach a staggering US$315,800 per share (at time of writing)!
He also thinks that share buybacks can reveal a thing or two about the management team.
A particular excerpt from Warren Buffett in this article stood out:
"Many management are just deciding they're gonna buy X billions over X months. That's no way to buy things. You buy when selling for less than they are worth. … It's not a complicated equation to figure out whether it is beneficial or not to repurchase shares."
In other words, he thinks that good management are those who embarked on a buyback spree when the companies are undervalued.
With that, let's check out 3 companies which have repurchased their shares recently.
AEM provides handling and test solutions to the most advanced manufacturers in the world namely Intel.  AEM help our customers deliver many of the most successful products in the 5G economy including microprocessors, high speed communications, IOT devices, and solar cells.
The past 5 months have not been kind to AEM as its share price drops from a high of $1.94 (post-split) to around $0.64, before  recovering to $0.825 at the time of writing.
The plunge in share price is probably due to the sharp U-turn from CIMB analyst report where it slashed the target price to $0.69, citing low visibility into year 2019.
A share buyback spree is initiated after the report was released on 31st July 2018. AEM has been repurchasing 100,000 to 200,000 shares steadily each time, at a price range between S$0.655 and S$0.755 a piece.
Shares of AEM holdings is going at S$0.825 now, giving a P/E ratio of 7 and a dividend yield of 3.5%.
HRnetGroup is a Singapore-based recruitment agency and operates 2 main segments from the following brands:
Professional recruitment services – HRnet One, PeopleSearch, PeopleFirst and SearchAsia brands
Flexible staffing solutions – Recruit Express and RecruitFirst brands.
I can still remember vividly my younger days where i was working part-time under Recruit Express last time. My boss that time told me that he is paying Recruit Express $9/hr when I only got a $6/hr salary!
Imagine getting 50% of my pay just for the job referring — such fat profit margins!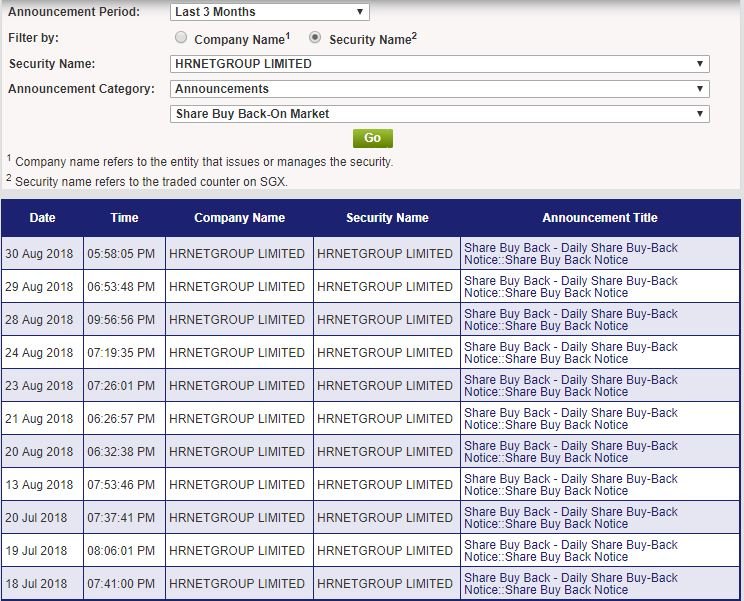 Anyway, HRnetGroup is pretty confident about its own company's prospects. Share buybacks are done with around 200,000 shares repurchased each time at a price range of S$0.85 to S$0.90.
HrnetGroup's shares of the company are now priced at S$0.885, giving a trailing PE ratio of close to 17.1 and a dividend yield of 2.6%.
CSE Global Limited (CSE) offers total integrated solutions to industries in the automation, telecommunications and O&G industries.
You can also check out more about its services here.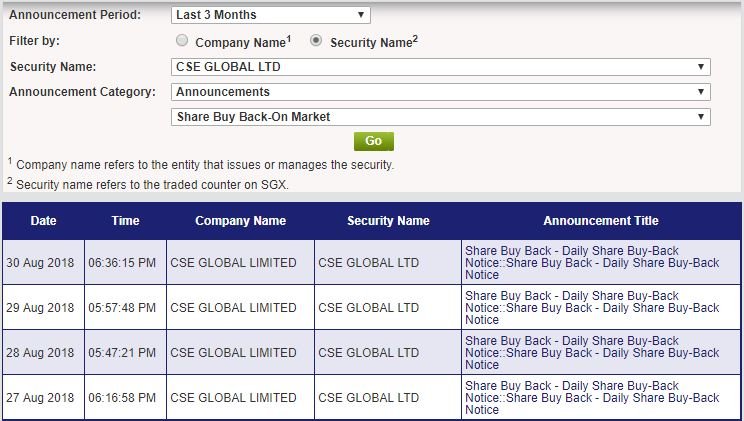 CSE Global has embarked on a share buyback spree after its 2Q 2018 results on 13 Aug 2018. It spent around S$1.87 million on 4.177 mil shares, averaging S$0.45 per share.
CSE Global does not have a P/E ratio as it is making losses for the past year due to the oil price slump. However, it has turned around sharply and its latest 1H FY2018 core profits surged 43.9% from the previous year.
It has also committed to total dividends of $0.0275 for FY18, giving it a 6.25% dividend yield based on its current share price of S$0.445.
CSE Global is also one of our top picks in our Valuation Momentum membership. To get a deeper analysis report on CSE global OR find out more hidden gems, feel free to check out our subscription here.
Fancy more stock ideas like the above? Visit our FREE Stocks' Database – http://bit.ly/InvestorsExchangeNew and join 400+ people in our Telegram Group @ https://t.me/InvestorsExchange.
That aside, do you know that Master Investors like Warren Buffett has his own Unique Investing System which you can emulate yourself? We have distilled it into a simple 10-Step Checklist for you to decide how or when to buy/sell your stocks.
Simply click here to receive your copy today!