On 16 June 2020, Southern Alliance Mining Ltd (SAM) commenced a placement of 56 million new shares and 20 million vendor shares at S$ 0.25 per share. This share placement ended on 24 June 2020 and SAM began trading on the SGX on 26 June 2020. It is the first share placement activity on the SGX after the circuit breaker which was initiated in end-March 2020. 
You may click here to learn about SAM before investing in it. But, before you do so, you may spend five minutes, where I've summarised my findings on SAM so that you can determine if studying about this stock is worth your while. 
#1: Business Model
SAM owns 60% shareholdings in Honest Sam Development Sdn Bhd (HSD). HSD is a Malaysia-based iron ore exploration, mining and processing company which operates the Chaah Mine, an open pit mine located 10 km southwest of a town known as Chaah in the state of Johor.
The mine measures 225.7 hectares and it has 8.2 million tonnes of total iron ore resources on 31 October 2019. The mine has been in operation since 2008 and produced 4.7 million tonnes of iron ore in the last 11 years.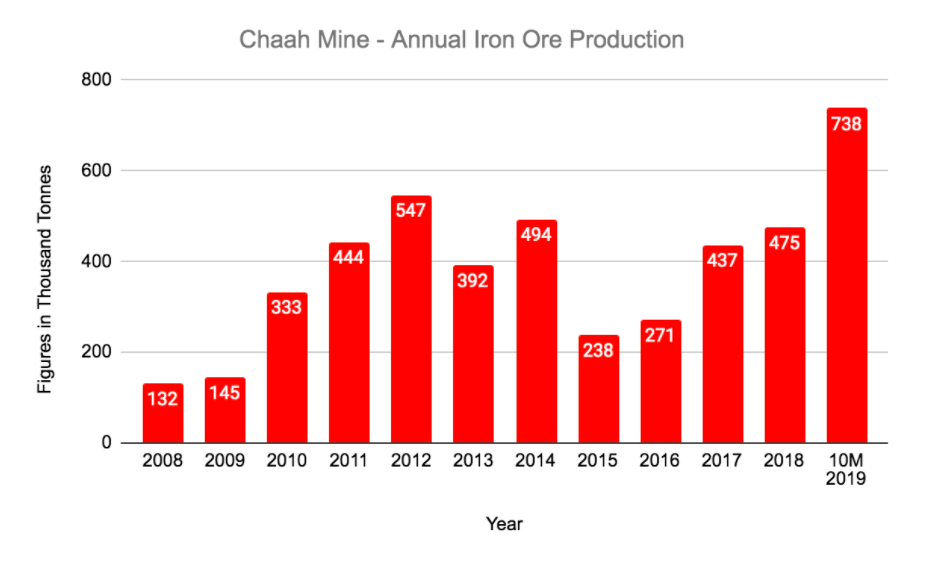 Note: Figure 2019 refers to a 10-month period from 1 Jan to 31 Oct 2019
#2: Financial Results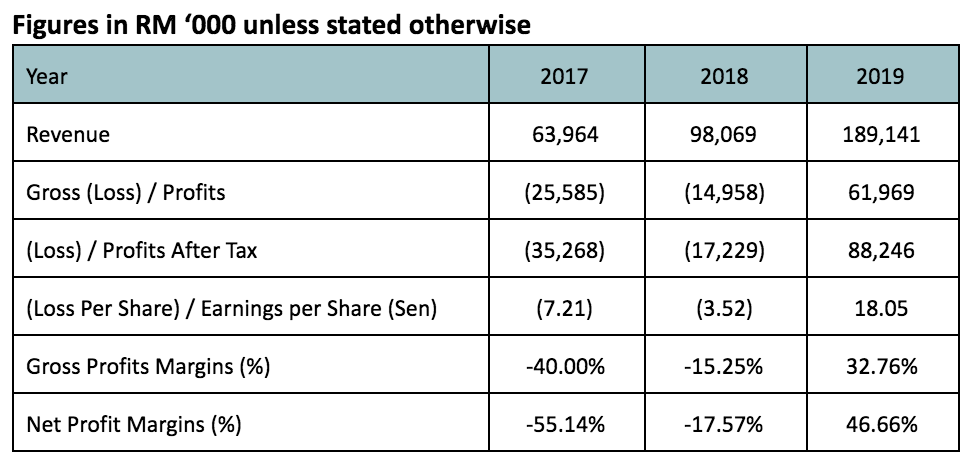 For the last three years, SAM had recorded higher sales from RM 64.0 million in 2017 to RM 189.1 million in 2019. It is attributed to higher iron ore sales and an increase in iron ore prices realised during the period.
SAM has reported back to back losses in 2017 and 2018 for the amount of cost incurred, consisting of fuel and lubricant costs, tributes to Chaah Mining License Holder, maintenance cost, and staff and contract wages had exceeded its revenues. 
In 2019, SAM has recognised RM 27.9 million in deferred tax assets arising from unutilised tax losses from its previous years. Hence, it has contributed to higher profits after tax (PAT) in 2019. 
#3: Balance Sheet Strength
As of 31 October 2019, SAM has a gearing ratio of 1.57% and a current ratio of 5.17.
It has RM 61.3 million in cash reserves, thus, has the capability of paying off all liabilities, both non-current and current, if it wishes to.  
#4: Use of Proceeds
SAM intends to raise S$ 14.0 million in gross proceeds from its issuance of new shares and here is how it plans to utilise its proceeds:
#1 Further Exploration Activities (S$ 4.0 million)
SAM intends to spend S$ 4.0 million on exploration activities at the Chaah Mine and its Exploration Assets namely, Mao' kil Asset, Chaah Baru Asset, and as well as the Kota Tinggi Asset which are all located in the state of Johor over the next two years. 
#2 Investments into Mining Equipment and Infrastructure (S$ 2.0 million) 
It includes excavators and the setting up of transmission lines to receive supply of electricity from the National Grid, which is expected to be completed by 2H 2020. 
#3 Acquisitions, JVs, Strategic Alliances / Development of New Mines (S$ 2.0 Million) 
SAM would stash away S$ 2.0 million to finance any opportunities to pursue an acquisition, JV, strategic alliances or development of new mines when any arise in the future. 
#4 General Working Capital Purposes (S$ 3.9 million) 
#5 Listing Expenses (S$ 2.1 million) 
#5: Management Team 
Dato' Teh Teck Tee and Dato' Seri Pek Kok Sam are founders of SAM and they're appointed as Chairman and CEO of the company. Both of them have 10+ years of experiences in mining and exploration of iron ore.
Dato' Seri Pek is the major shareholder of SAM with 70.3% shareholdings of the company. Whereas, Dato' Seri Teh is the second largest shareholder with 6.2% stake in the company. 
#6: Key Risks
Inevitably, SAM is subjected to the following risks: 
Reliance on Chaah Mine and 3 Main Customers
The financial results of SAM are dependent solely on Chaah Mine presently and its iron ore concentrates are currently sold to three key customers namely, Ann Joo Steel, Alliance Steel and Eastern Steel. They have contributed 91% of group revenues of SAM in 2019.
Moving forward, SAM's revenues and profits shall be influenced by its ability to produce iron ore, keep its main customers, and also changes in global iron ore prices. 
Discovery of Additional Mineral and Ore Resources
The Chaah Mine has a mine life of approximately 7 years. Thus, SAM would rely on discovery of additional mineral and iron ore resources for future growth in the mid-to-long term. 
Operational Hazards
The Chaah Mine is an open pit mine where iron ore is extracted from the earth by the removal of an open pit. The walls of the open pit would become higher and steeper over the life of the mine.
Thus, it is subjected to operational hazard that is related to an unanticipated geological structure, unmapped fault lines or damages to the walls caused by its blasting activities, rainfalls, and any natural disasters or hazardous weather conditions during the period. 
#7: Valuation
At S$ 0.250, SAM's share placement is offered at a P/B Ratio of 1.98, double its net asset value (NAV) of S$ 0.126 a share. It is not meaningful to calculate its P/E Ratio as it incurred losses in 2017 and 2018. 
Conclusion: 
SAM had achieved improved financial results in 2019, as compared to its losses incurred in 2017 and 2018.
It is attributed by a few combination of factors such as higher production of iron ore, higher orders from its main customers, higher realised selling prices for its products in that year.
The future prospects of SAM is dependent on multiple factors which are beyond the control of the company as mentioned briefly above.
If you want to dig further into the IPO, you may click here to download its offer document before investing.