Excerpts from UOBKayHian report
Sembcorp Industries (SGX: U96)
Sembcorp Industries (SCI) announced the acquisition of 390MW of net solar assets in China and a portfolio of 583MW of solar and wind assets in India.
On a gross installed capacity basis, this would increase the company's capacity from 7.2GW to 8.5GW which is not far from its 2025 target of 10 GW.
SCI disclosed that these assets were bought at "low teens PE multiples" which we view as fair.
Maintain BUY. Target price: S$4.10.
Expanding its solar capacity in China
On 11 Nov 22, SCI announced that its 49%-owned JV would acquire 795MW of operational solar assets in Hebei, China, for a total consideration of Rmb1.163b (or S$225m).
This comprises an initial equity consideration of Rmb15m (S$3m) followed by a subsequent capital injection of Rmb1.148b (S$222m). This acquisition will be funded by internal cash resources and external borrowings with estimated completion in 1Q23.
Sembcorp Industries diversifying its renewables portfolio in India
On 14 Nov 22, SCI announced the acquisition of 100% equity interest in Vector Green Energy which owns a portfolio of solar and wind assets for INR27.8b (S$474m).
The acquisition will be funded through internal cash resources and external borrowings with expected completion in 1Q23.
The renewable power generation assets span across 13 states in India and comprise 64MW solar projects under development, and 495MW of operational solar capacity and 24MW of operational wind capacity.
Moving the company closer to its goal
The acquisitions add over 1.3GW of gross installed renewables capacity to SCI's portfolio and bring its current total to 8.5GW and a bit closer to its 10GW renewables target by 2025.
Importantly, as both the Chinese and Indian acquisitions are currently operational, they will be immediately earnings-accretive in 2023.
Key positives of the China acquisition
SCI's partner in the JV that is acquiring the three solar projects is Beijing Energy International (BEI) which is wholly-owned by China's State owned Assets Supervision and Administration Commission (SASAC) of the State Council.
With this strong partner, SCI appears well placed to continue its long-term growth in China.
Importantly, the three projects in south Hebei (which only started operations in Sep 22) are located in a tight power market where reserve margins are <10% and thus needs to import around 30% of its power consumption.
In addition, its proximity to Beijing means that no coal power plants can be set up due to pollution concerns and thus curtailment risk is very low.
Sembcorp Industries valuation/recommendation
Maintain BUY with a target price of S$4.10 based on a target PE multiple of 13.6x. This target PE multiple is 1SD above the company's past five-year average PE of 10.1x and is applied to our 2023 EPS estimate.
SCI remains one of our top picks in Singapore for the quality of its earnings as well as its growth prospects in the near to medium term.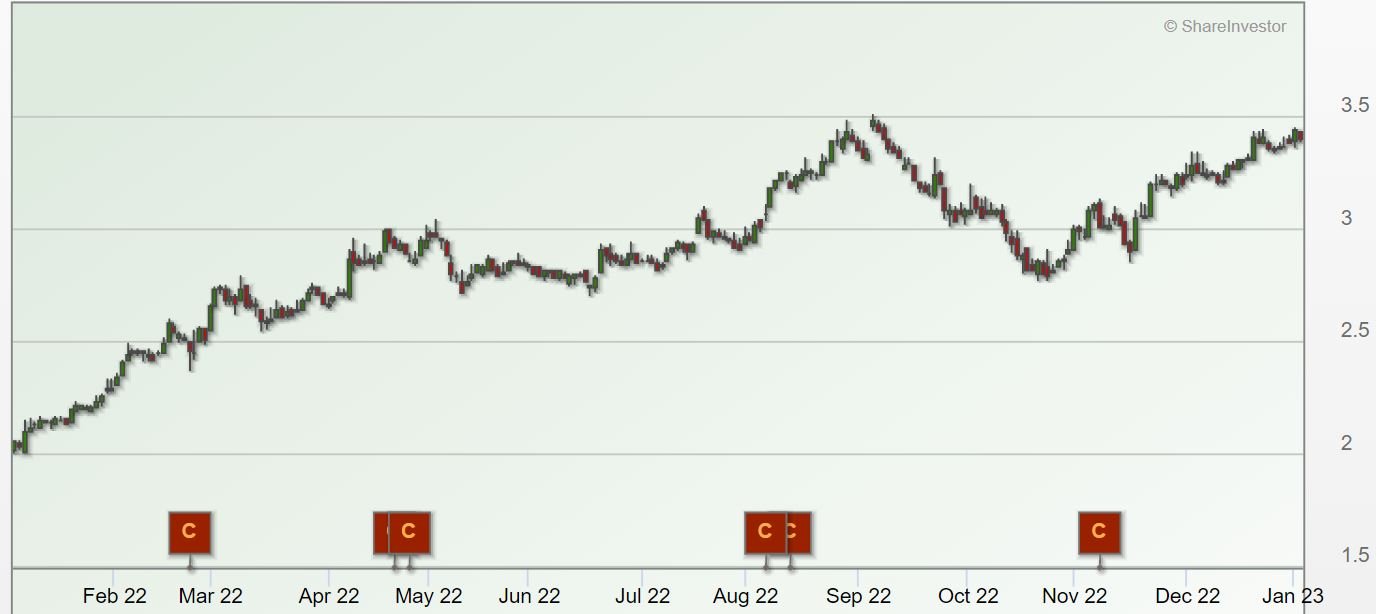 You can find the full report here and the company website here