Excerpts from UOBKayHian report
Riverstone Holdings (SGX: AP4)
For 1H22, Riverstone Holdings (Riverstone) PATMI was in line with expectations, dragged down by falling ASPs and moderating demand for healthcare gloves.
The healthcare gloves segment faces ongoing headwinds as additional supply starts to come on stream.
Cleanroom gloves remained resilient in 2Q22 with ASPs holding steady, although demand is expected to soften slightly in 3Q22 due to ongoing sporadic China lockdowns.
With no immediate catalysts, maintain HOLD on Riverstone with a lower target price of S$0.67.
Riverstone Holding 1H22 ASPs and demand normalised
The company reported sharp declines in both 2Q22 revenue (-62.6% yoy, -12.5% qoq) and PATMI (-79.9% yoy, -7.8% qoq) as ASPs and demand for healthcare gloves continued their downtrend.
1H22 revenue and PATMI formed 41.4% and 49.7% of our full-year forecasts, largely in line with expectations. The slight underperformance for revenue is due to lower-than-expected healthcare glove ASPs.
2Q22 was largely stable at 38.0% (1Q22: 38.4%) which we reckon was due to robust demand for the higher-margin cleanroom gloves. Riverstone declared a similar 1H22 interim dividend of 10.0 sen (10.0 sen in 1H21), implying a ~70% dividend payout ratio.
Continued downtrend in healthcare gloves
ASPs for healthcare gloves declined ~10% qoq to around US$28/'000pcs as demand for healthcare gloves normalised. Management has noted that 3Q22 ASPs are expected to fall to pre-pandemic levels at US$25/'000pcs.
Coupled with falling demand, additional supply from China is expected to come online in 3Q-4Q22, creating downward pressure on ASPs. For 2Q22, healthcare gloves formed 80%/57%/36% of RSTON's overall sales volume/revenue/gross profit respectively, almost similar to 1Q22.
We reckon that the healthcare segment is set to bottom out in 2H22 as ASPs and demand stabilise near pre-pandemic levels.
Softer demand due to China lockdowns in cleanroom gloves
For the cleanroom glove segment, 2Q22 ASPs (US$100-110/'000pcs) were similar to that in the preceding quarter. Management believes that ASPs should hold steady going into 3Q22 as demand for the higher quality cleanroom gloves that Riverstone specialises in remains robust.
However, sporadic lockdowns in China are expected to soften 3Q22 cleanroom glove demand by ~10%. With a diversified portfolio of cleanroom glove clients, the impact of a global slowdown in semiconductors would have minimal impact on sales volumes.
Riverstone has plans to convert existing double lines for healthcare gloves into single lines for cleanroom gloves.
Valuation / Recommendation
Maintain HOLD with a lower PE-based target price of S$0.67 (S$0.80 previously), pegged to a lower 8.0x 2022F PE. We base our valuation at -1SD of RSTON's long-term forward PE.
RSTON's supernormal earnings have normalised sharply from the peak in 2021, with healthcare glove ASPs starting to reach pre-pandemic levels and expected to stabilise in 2H22.
Coupled with resilient earnings from the cleanroom segment, we now reckon that there is limited downside to earnings given that most countries are still undergoing COVID-19 outbreaks from Omicron sub-variants.
However, trading slightly above -1SD of its long-term forward PE, we opine that there are no strong catalysts to justify RSTON trading at higher valuations.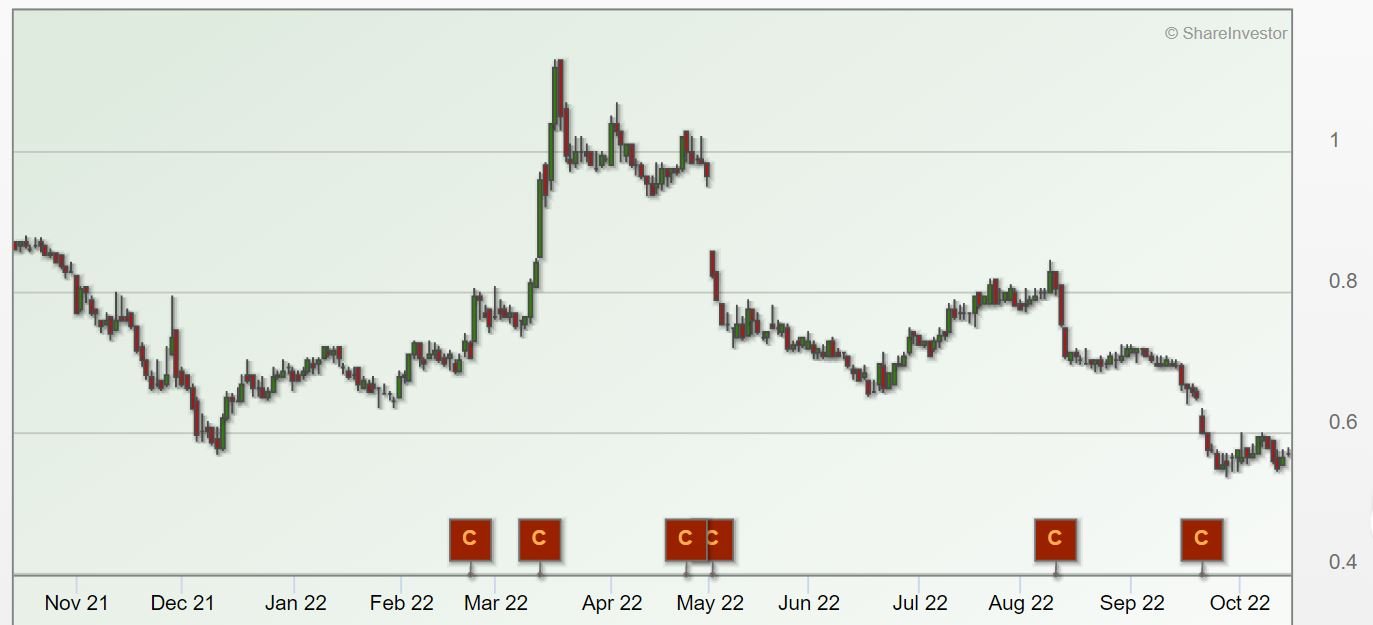 You can find the full report here and the company website here