On 22 June 2021, Ramssol Group Bhd (Rams) had issued its IPO Prospectus and thus, opened its invitation to subscribe its IPO shares at 45.0 sen per share.
The period to subscribe for Ramssol IPO shares shall end at 5pm on 29 June 2021 and the listing date is set to be on 13 July 2021.
You may download Ram's Prospectus at these links (Part 1, Part 2, and Part 3) for your study.
Alternatively, you can read this write-up where I had summarised 7 things to know about Rams before you invest into it: 
#1: Ramssol's Business Model 
Rams offers human capital management and student management solutions to large organisations and educational institutions in Southeast Asia.
In addition, it helps its clients to recruit IT professionals to meet their IT operational needs for a fixed contractual period and promotes several technological applications such as Feet's, Lark, and Zoom to its customers for additional income. 
Feet's is an employee engagement mobile app that is developed by Rams and it is sold to Rams' customers on a monthly subscription fee, based on the number of users in the organisation. 
Lark is a single online collaboration platform which can offer interconnection of multiple communication functions such as email, instant messaging, tele and as well as video conferencing for business use. In addition, it can be used for other work functions such as scheduling meetings, cloud storage, file sharing, editing and sharing of documents, calendar and attendance management. 
Whereas for Zoom, Rams resell or refer it to its clients in Asia Pacific (except for Mainland China). 
Its breakdown of revenues in 2017-2020 is as follows:
#2: Financial Results

Rams reported an increase in sales as a result of securing new clients in the last 3 years for its human capital management & student management solutions.
In addition, it has secured Megatech, a new client who purchased a tech app from Rams in 2020. Megatech had contributed RM 9.0 million in sales to Rams, thus, is the key revenue contributor to Rams in 2020. 
Its increase in revenues had contributed to Ram's rise in shareholders' earnings from RM 88 thousand in 2017 to RM 7.53 million in 2020. 
In 2020, it has a current ratio of 2.61. This is largely due to a significant increase in its trade receivables in 2020. 
#3: Utilisation of Ramsol IPO Proceeds
Rams intends to raise a total gross proceeds of RM 25.1 million. Of which, Rams plans to utilise them in the following manner: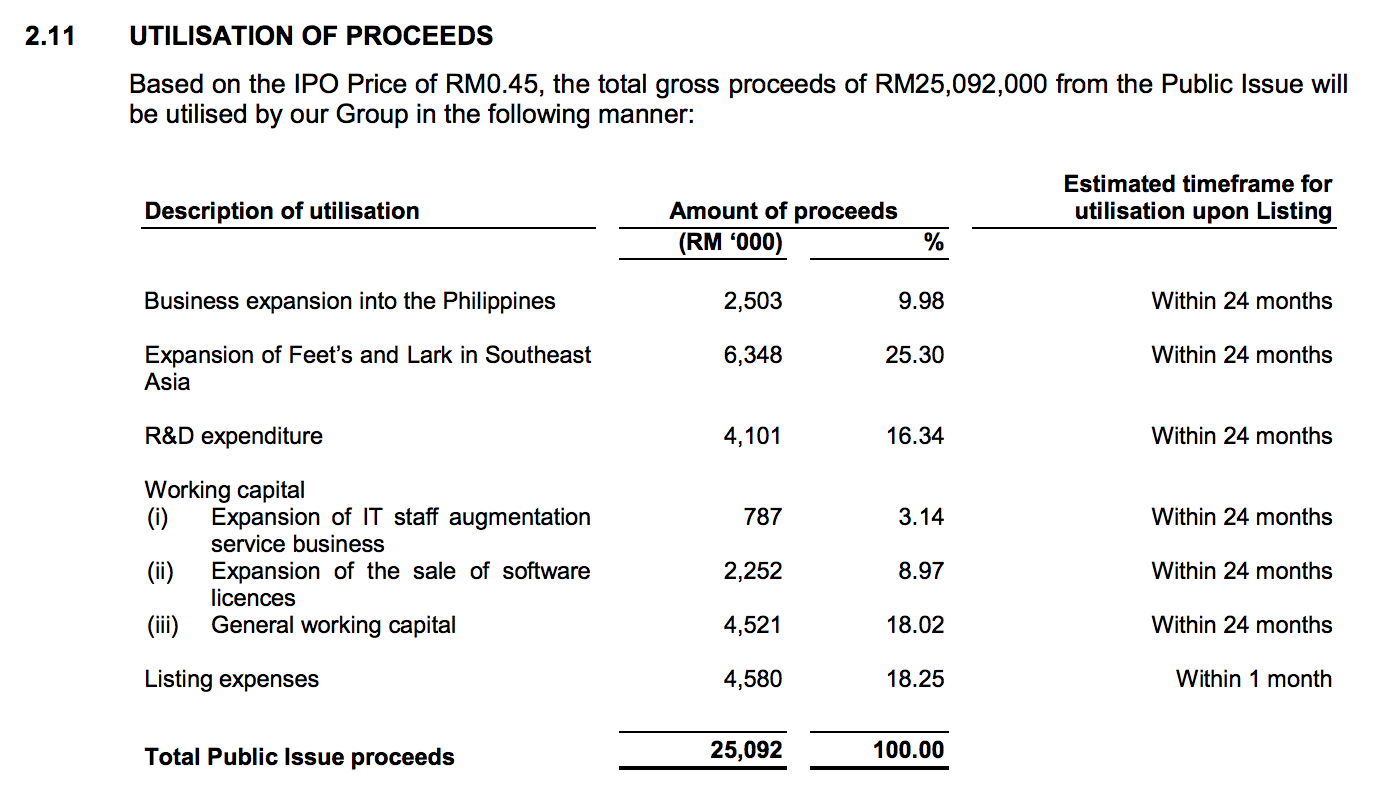 First, Rams intends to set up an office to market its human capital management and student management solutions in Manila, the Philippines.
Rams budgets to use RM 2.50 million from its IPO listing for this purpose. 
Second, Rams intends to ramp up sales of Feet's and Lark across Southeast Asia by forming a sales and marketing team in Singapore, Vietnam, Indonesia and as well as in Thailand.
Rams budgets RM 3.0 million in hiring expenses and around RM 3.2 million in advertising and marketing expenses for this purpose. 
Third, Rams intends to enhance Feet's via the incorporation of AI technology.
In view of this, Rams budgets RM 2.9 million in hiring 15 IT staff, which consists of AI programmers, data scientist, and data analyst to support its enhancement of Feet's. 
Fourth, Rams budgets RM 2.3 million to support sales of software licenses and as much as RM 4.5 million to finance day-to-day working capital.
#4: Ramsol IPO Risks 
Ramssol has revealed several key risks associated to its business operations: 
a. Reliance on its Top 5 Customers
70% of its total revenues in 2020 were contributed by the following customers:
b. COVID-19 
Rams' business operations in Malaysia, Singapore, Thailand and Indonesia have been affected by lockdowns and social distancing measures imposed to combat the spreading of COVID-19.
c. Foreign Exchange (FOREX) 
As mentioned, Rams is operating across Southeast Asia and thus, will receive its sales in foreign currencies.
Its breakdown in geographical revenue is as follows:
d. Inability to Retain Talent 
The success of Rams is heavily dependent on its consultants.
Any loss of talents such as these may result in disruptions to Rams' ability to deliver projects to its customers. 
e. Project-Based Revenues
Rams recognises revenues based on project delivery milestones over its project tenures.
The timing of project delivery will affect its billing schedule and hence, may cause its revenues to fluctuate.
In addition, Rams' success is also reliant on its ability to secure new projects from customers in the future. 
#5: Ramssol's Major Shareholders
Tan Chee Seng and Lee Miew Lan are the two key shareholders of Rams. Tan is appointed as the Group Managing Director or CEO of Rams. 
Meanwhile, Lee is appointed as the Executive Director or COO of Rams. 
The attached below is their shareholders subsequent to Rams' IPO listing:
#6: Dividend Policy 
Rams does not have a fixed dividend policy at the moment. 
#7: Ramssol IPO Valuation 
After its IPO listing, it would have 223 million ordinary shares issued. Hence, its market capitalisation shall be lifted up to RM 100.3 million based on its offering of 45 sen per IPO share. 
In 2020, it had made RM 7.53 million in profits after tax (PAT).
Thus, the offer is valued at 13.24x its earnings or at a P/E Ratio of 13.24x. 
Conclusion:
Rams had recorded growth in sales and profits over the past 3 years. Its growth especially in 2020 is attributed to one key customer, Megatech.
The company is dependent on its hired consultants and marketing team for its future successes and thus, investors should be aware of potential risks and rewards in both the short and long term before investing into Rams.