Excerpts from UOBKayHian report
Propnex (SGX: OYY)
Propnex reported a 13% yoy decline in PATMI, which was largely in line with our estimates.
Its results were negatively impacted by a lack of new property launches in 1H22 as well as higher staff costs and impairments. However, 2H22 should see sequentially higher launches which will benefit the company.
Its interim dividend of S$0.055 was better than expected, and implies an annualised yield of 6.6%.
Maintain BUY. Target price: S$2.07.
Propnex results was in line with expectations
Propnex reported 1H22 results that were in line with our expectations, with PATMI falling 13% yoy to S$27.3m and accounting for 48% of our full year estimate.
The company saw a 19% yoy decline in project marketing revenue due to a lack of new launches in 1H22; however, this was somewhat offset by its other businesses – notably, the rental and private resale segments saw 28% and 12% yoy increases in revenue respectively.
An interim dividend of S$0.055 was declared (75% payout vs our expectation for 70%).
Could cooling measures be on the way?
During the analyst call, Propnex did not rule out the potential of more cooling measures in light of the continued strong price increases for
both private and HDB segments.
For the private residential segment, it believes that the Total Debt Servicing Ratio may be tightened. Of greater concern is the HDB resale segment given the 12% yoy price increase last year and this year's potential for a 10% yoy increase, which is not politically palatable, in our view.
2023 to be a bumper year
According to management, 2023 will see a significant amount of new property launches due to the recent increase in government land sales as well as the higher success rate of en bloc sales.
The increased supply coming into the market could cause property prices to soften in the medium term.
Gradual return of foreign buyers
The company highlighted that with the easing of COVID-19-related travel restrictions, as well as other political issues in North Asia, foreign buyers have returned to the Singapore property market (see chart on RHS).
In particular, the Core Central Region (CCR) continues to see the highest level of interest with 13% of all new homes being bought by foreigners in 1H22.
Valuation/Recommendation
We maintain our BUY rating on Propnex with an unchanged PE-based target price of S$2.07. Our target PE multiple of 11x is 1SD above the company's historical PE average of 7.8x.
We believe that the company's prospects remain strong especially as we head towards 2023, which is expected to see an increased supply of private residential units hitting the market.
Given the company's net cash position of S$134m (prior to payment of the interim dividend), we note that Propnex's ex-cash PE is only 8.6x. During 1H22, the company generated nearly S$18.4m in free cash flow which, on an annualised basis, represents around 8% free cash flow yield.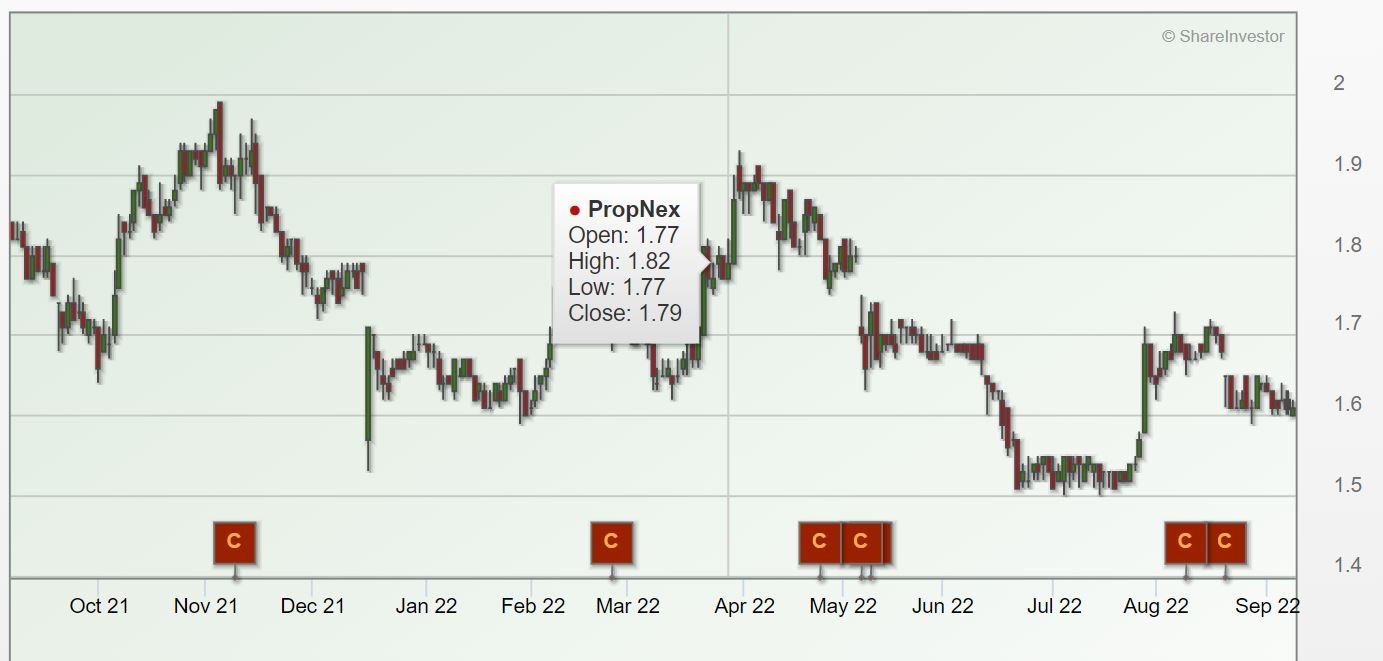 You can find the full report here and the company website here