Excerpts from CIMB Research report
OUE Commercial REIT (SGX:TSOU)
OUE Commercial Reit (OUECT)'s 1H22 DPU of 1.08 Scts came in below at 39.9% of our FY22F.
Strong recovery in the hospitality and retail portfolio, while healthier office occupancy and limited supply give OUECT the ability to drive rents.
Reiterate a Hold rating with a lower DDM-based TP of S$0.39.
OUE Commercial Reit 1HFY22 results highlights
OUECT's 1HFY22 revenue/NPI of S$115.8m/S$93.6m were down 13.3%/14.2% yoy, below at 46.3%/47.2% of our FY22F estimate.
Lower revenue was due to S$5m in rental rebates at Lippo Plaza due to lockdowns in Shanghai in Apr-May 22 and deconsolidation of OUE Bayfront upon divestment of a 50% stake on 31 March 21 vs. one quarter of contribution in 1H21. 1H22 DPU of 1.08 Scts (-12.2% yoy) missed at 39.9% of our forecast.
Hospitality and retail segments nearing pre-COVID trading levels
RevPAR at Hilton Singapore Orchard (HOS) tripled qoq to S$302 as tourist numbers picked up, doubling portfolio RevPAR to S$226. Occupancy and average daily rates for HOS improved from c.60% and S$300/night to c.80% and S$500/night as at end-Jun 22.
Despite 2Q being a seasonally slow quarter, HOS's RevPAR of S$302 surpassed Mandarin Hotel's 4Q19 (seasonal high) RevPAR of S$226, validating the decision to rebrand the hotel.
However, due to manpower shortages, operational capacity is capped at 80%. Despite the remarkable ramp-up in operations since Mar 22, we think HOS will generate minimum rents for FY22 given the reduced room inventory for FY22.
Crowne Plaza Changi Airport's RevPAR jumped 12.2% qoq to S$142 in 2Q22 after taking public bookings. Mandarin Gallery's occupancy rose 1.6ppts qoq to 90.3% with shopper traffic and sales at c.90% and 85% of pre-COVID levels.
Healthier Singapore office occupancy shifts focus to driving rents
Singapore's office portfolio occupancy ticked up from 90.9% to 92.9% as at end-1H22. Occupancy at OUE Bayfront dipped 3.1ppts qoq to 96.2% due to non-renewals.
Average passing rents at OUE Bayfront were S$12.55 psf/mth, the highest since its IPO, due to positive reversions in the past several months. However, reversions for the quarter came in at -3.7% (1Q22: +2.5%) due to above-market expiring rents of S$14.32 psf/mth (1Q22: S$12.93).
Signing of a large tenant at OUE Downtown pushed occupancy from 87.8% to 93.0%, while One Raffles Place (ORP) was stable qoq at 95.6%.
Lippo Plaza (LP) saw occupancy dip from 91.6% to 87.7% as a tenant opted not to renew its lease citing business uncertainties. 2Q22 reversions for OUE Downtown, ORP and LP came in at -0.9%, +4.0% and -1.7%, respectively.
Leasing activity was hindered by lockdowns in Shanghai in AprMay 22, although management has seen a pick-up in physical tours towards end-Jun.
Valuation/Recommendation
Maintain Hold, with a lower DDM-based TP of S$0.39 FY22-24F DPU estimates lowered by 6.9-9.8% on higher cost of borrowing assumptions and S$5m in rental relief provided for Lippo Plaza. We lower our DDM-based TP to S$0.39.
Potential upside/downside risks include faster/slower-than-expected recovery.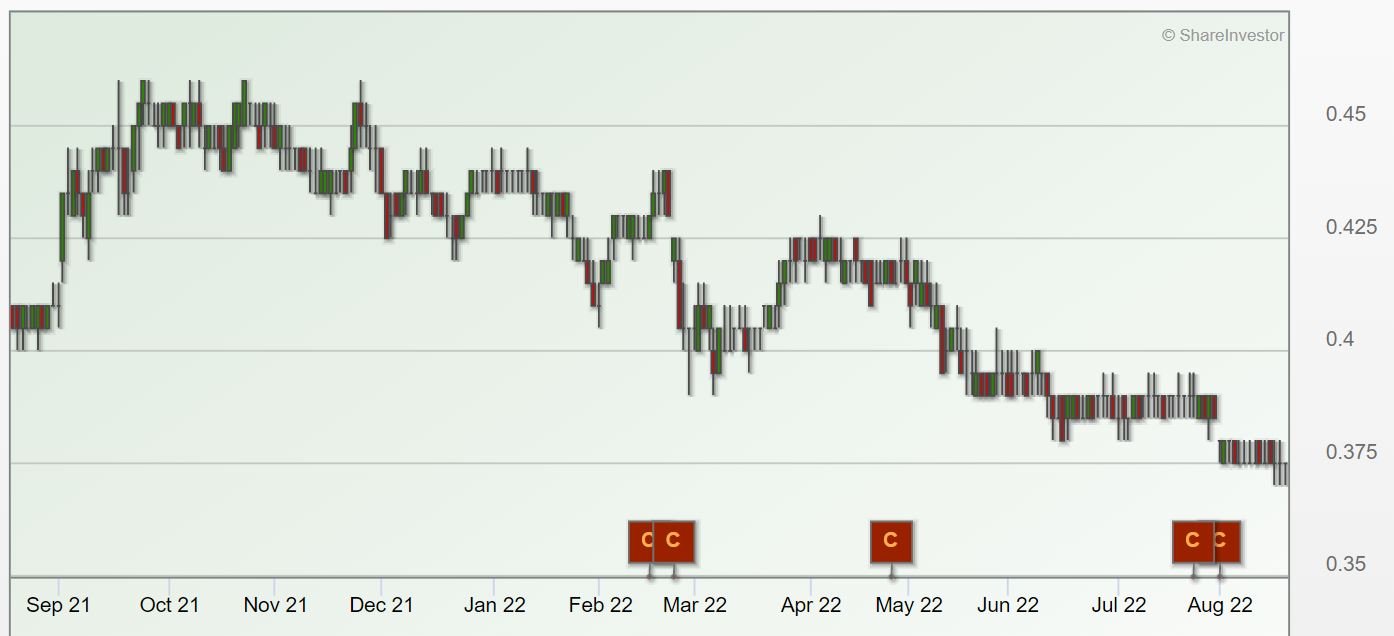 You can find the full report here and the company website here