NationGate Holdings Bhd (NHB) was listed on Bursa Malaysia in the ACE Market on 12 January 2023.
As of 30 January 2023, its stock price is trading at RM 1.15, which is 3X NHB's IPO price of 38 sen. Its market capitalisation stands at around RM 2.39 billion presently.
You could download its IPO Prospectus via the 2 links: Part 1 and Part 2 to study NHB. Alternatively, you may spend 5-10 minutes here where I had summarised 8 things that investors should know about NHB before investing:
#1 Business Model
NHB is an investment holding company. It owns subsidiaries and associates that are involved in electronic manufacturing services (EMS).
They provide assembly and testing of electronic components & products and semiconductor devices to end-consumers in main industries such as network & telecommunications, data computing, and industrial instruments.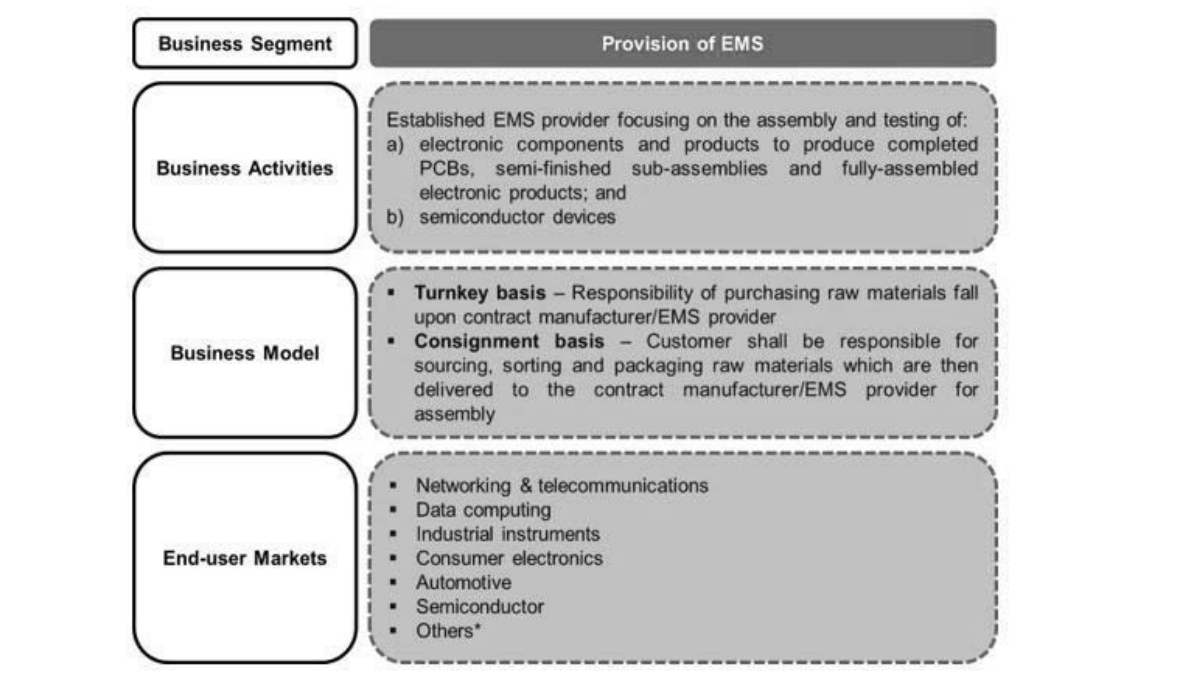 Source: Page 94 of NHB's IPO Prospectus
#2 Production Capacity
On 14 November 2022, NHB has 31 Surface-Mount Technology (SMT) assembly lines where its monthly production capacity is 1,258 million mounting points.
In 1H 2022, NHB had maintained its production capacity at 70%-80% levels. 

Source: Page 143 of NHB's IPO Prospectus
#3 Geographical Markets
Since 2019, NHB had generated about 70% of its total revenues from customers based in Malaysia.
The remaining 30% of its revenues are export sales where its key destinations include USA, Mainland China, Hong Kong, and Singapore. 

Source: Page 116 of NHB's IPO Prospectus
#3 Financial Results & Strength
In 2019-2021, NHB has generated increasing revenue and earnings. Its sales has grown from RM 326.0 million in 2019 to RM 760.9 million in 2021.
The increase was mainly attributed to higher orders from its key customers: Company A. This is to support Company A's production of its optical telecommunication modules and devices.
Its net earnings had increased from RM 5.26 million in 2019 to RM 57.3 million in 2021. NHB's earnings per share (EPS) had grown from 0.25 sen in 2019 to 2.76 sen in 2021. 
On 30 September 2022, NHB issued its first quarterly report. Of which, NHB has a current ratio of 1.05 and a debt-to-equity ratio of 37.8%.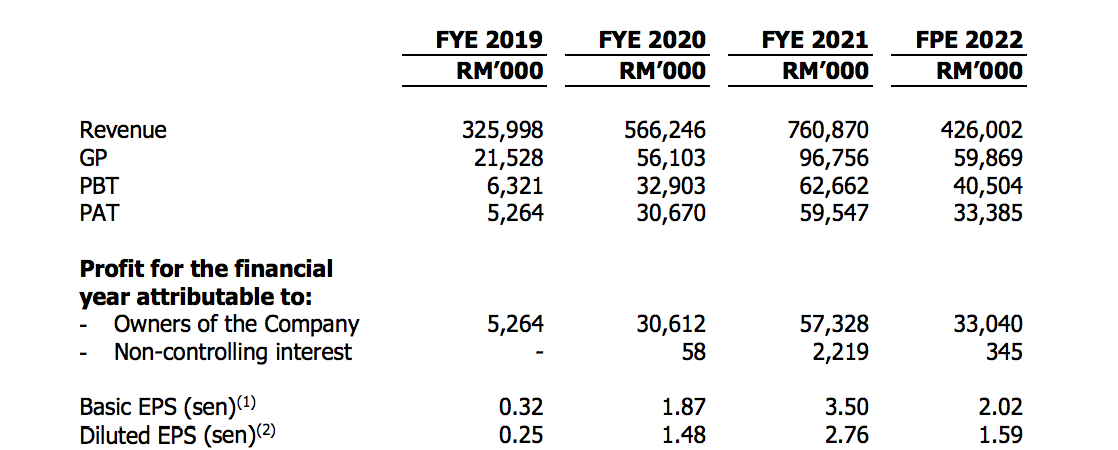 Source: Page 14 of NHB's IPO Prospectus
#4 IPO Proceeds
NHB raises RM 165.5 million from its IPO proceeds. From it, NHB plans to utilise the proceeds in the following manner: 

Source: Page 23 of NHB's IPO Prospectus
a. Purchase of machineries and equipment (RM 5.93 million)
NHB's existing monthly production capacity is 1,258 million mounting points on 14 November 2022.
Upon acquiring its machineries and equipment as listed, its monthly production capacity shall increase to 1,296 million mounting points. These machineries and equipment include: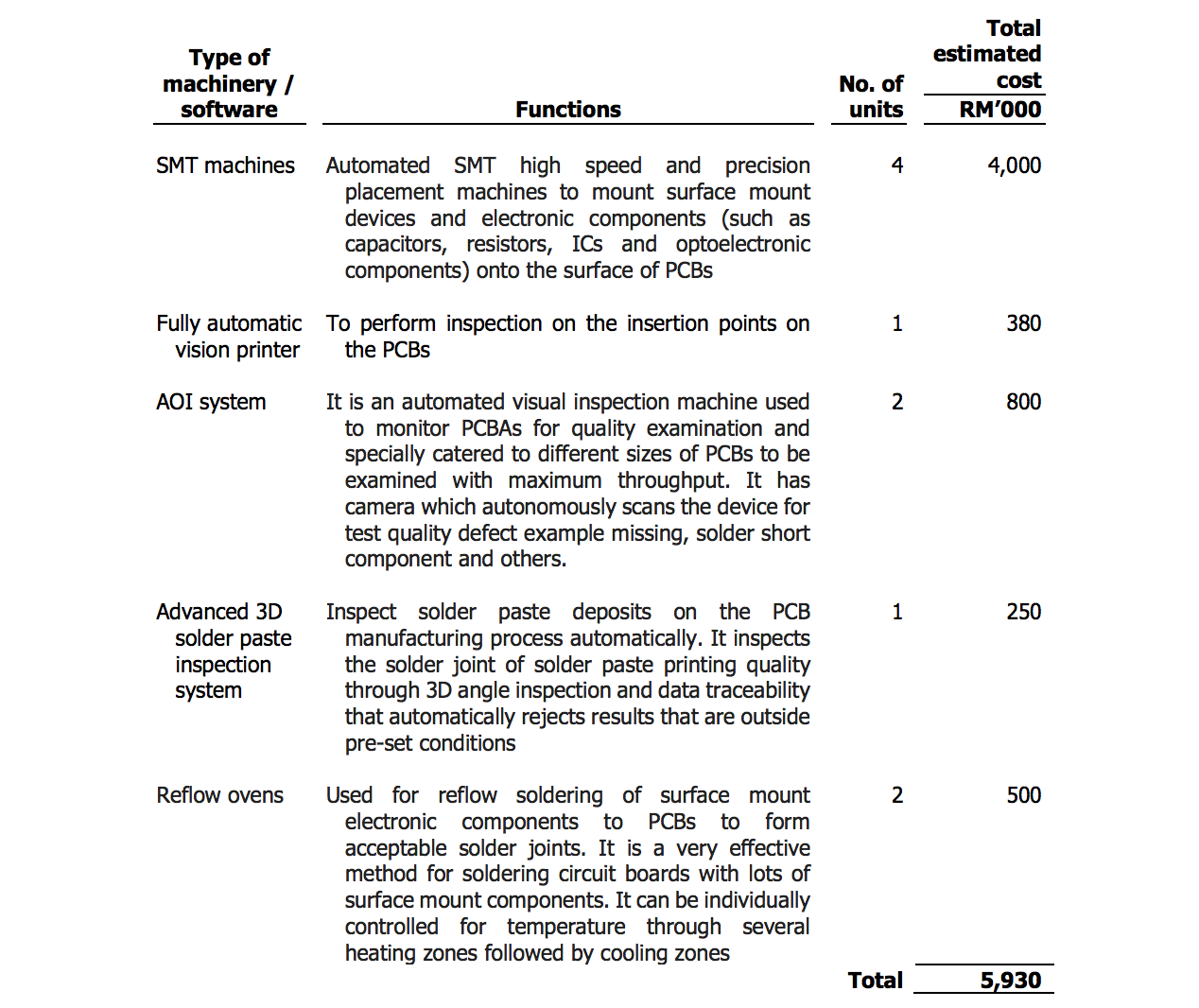 Source: Page 24 of NHB's IPO Prospectus
b. Working capital requirements (RM 48.4 million) 
They include purchases of raw materials such as PCBs & electronic components (mainly capacitors, resistors, optoelectronics, ICs, etc).
c. Repayment of bank borrowings (RM 105.5 million)
NHB intends to pare down its bankers' acceptance and term loans. Upon which, NHB would generate an interest savings of RM 3.4 million per annum. 
d. Estimated listing expenses (RM 5.7 million)
#5 Major Shareholder
Ooi Eng Leong and Tan Ah Geok, his wife, are major shareholders of NHB where their direct shareholdings are 57.8% and 7.2% respectively.
Currently, Ooi sits in as the Managing Director of NHB. 

Source: Page 35 of NHB's IPO Prospectus
#6 Risks
NHB has identified several key risks as follows: 
a. Concentration risks on Company A
Company A has contributed 44.5%, 53.1%, 51.1%, and 54.8% of NHB's revenues in 2019, 2020, 2021, and 1H 2022. 
Company A is an indirect Malaysian subsidiary of a US-listed corporation, which is listed on the NASDAQ Stock Exchange.
The US-listed company develops many innovative products used in communications, material processing, aerospace & defence, semiconductor capital equipment, life sciences, consumer electronics, and automotive markets.
NHB is unable to disclose Company A's identity as the company entered into a non-disclosure agreement with Company A for all of its business dealings due to strategic business and competitive reasons. 
b. Fluctuation in foreign exchange rates
In 2019-2021, 30%-40% of NHB's revenues were denominated in the USD. Then in 2022, Company A, its key customer, revised its transaction from RM to USD. 
#7 Analyst Coverage 
UOB Kay Hian Securities on Wednesday (Jan 11) initiated coverage of NationGate with a "buy" rating at 38 sen, and a target price of 98 sen, and said the stock was listing at an undemanding 13.8 times 2021 price-earnings.
The research house said,
"it sees multiple legs of growth that can supercharge a three-year revenue/core net profit compound annual growth rate of 24%/30%, premised on cross value-chain integration, trade-diversion related supply chain reconfiguration, and aggressive expansionary plans."
#8 Valuation 
Based on its stock price of RM 1.15 a share, NHB is valued at a lofty 41.7x its 2021 eps of 2.76 sen. Its P/B Ratio is 9.11x based on NHB's net assets of 12.63 sen a share. 
Conclusion
In summary, NHB has achieved significant growth in sales and earnings over the past 3 years. This is attributed to higher orders from its key customer: Company A and the commencement of its Plant 5 in 2020.
In February 2022, NHB started its operations at Plant 7 with 8 SMT assembly lines. Subsequently, in May 2022, NHB further expanded its manufacturing floor space with a total rented area of 227,654 sq. ft.

Moving forward, NHB has successfully raised RM 165.5 million in IPO proceeds and this enables it to expand its production capacity and to lower its debts.

As investors, concentration risks remain high as NHB is dependent on Company A for its financial results. In terms of valuation, the key is to determine if NHB is attractively valued at P/E Ratio of 41.7x and P/B Ratio of 9.11x at the time of writing.