Mercury Securities Group Bhd (MSG) is an established stock brokerage house in Malaysia.
Since its inception in 1992, MSG now operates its head office in Kuala Lumpur and branches in Penang, Melaka, Johor Bahru, and Sarawak.
In addition, MSG began to offer corporate financial advisory services (CFAS) such as: 
Primary equity fundraising offerings (eg. IPOs)

Secondary equity fundraising offerings (eg. Rights issue)




Takeovers




Mergers and acquisitions




Corporate restructuring




Transfer of listing from ACE market to the Main market. 
On 28 August 2023, MSG issued its IPO Prospectus (Part 1 & Part 2) where MSG had offered its IPO shares at RM 0.25 per share and with a market cap of RM 223.3 million.
Update: Mercury Securities' initial public offering (IPO) has been oversubscribed by 66.56x! And it is set to be listed on 19 Sept 2023.
Here are 8 pointers for you to know before you join in the FOMO of investing in Mercury Securities stock…
1. Stockbroking Remains Mercury Securities' Biggest Revenue Contributor
In 2019-2022, MSG earned 60%-70% of its revenues from stockbroking. Most of these came from broker-assisted & online trading activities and interest income from providing margin financing. 
Stockbroking revenues have increased in 2020 and 2021 due to recording much higher trading volumes and interest income in the period. In 2022, it reported a fall in stockbroking revenue due to lower trading volumes in that year although its mitigated by a rise in interest income (margin income) in 2022. 
The other 30+% of its revenue were derived from Corporate Finance segment. In 2022, MSG had reported a fall in advisory fees from:
Secondary equity fundraising 

Takeovers, mergers and acquisitions
It had resulted in a decline in CFAS sales from RM 20.7 million in 2021 to RM 13.1 million in 2022.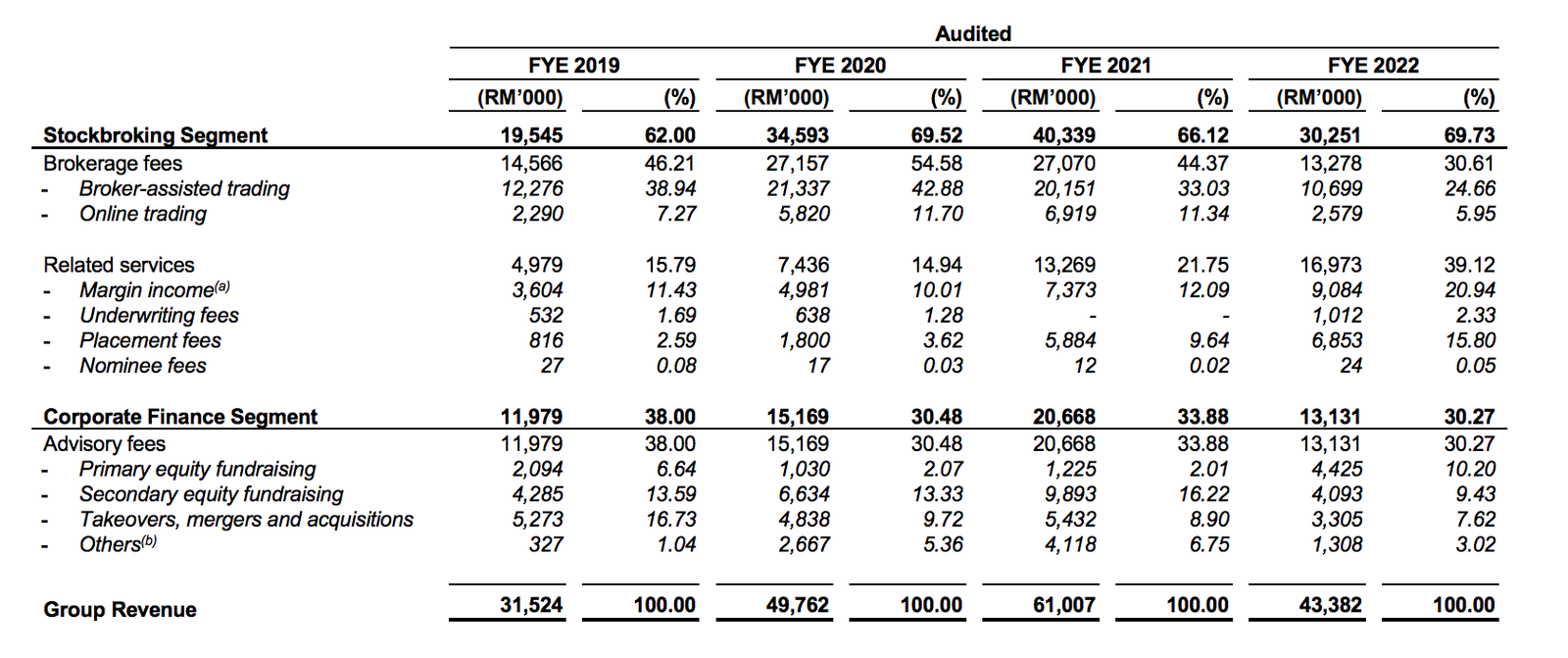 Source: Page 214 of MSG's IPO Prospectus
Overall, MSG's revenue had increased from RM 31.5 million in 2019 to RM 61.0 million in 2021 before falling to RM 43.4 million in 2022.
This spike in revenue during 2021 can be primarily attributed to the covid lockdowns in Malaysia and everyone wants some stock trading action while stuck at home. 
2. Other Income 
In addition, MSG derives most of its other income from: 
Interests from FDs and repo deposit 

Gains from proprietary trading from its day traders. 
While interest is dependent on the size of its deposit, MSG's "trading gains" are dependent on judgments by its day traders, price volatility, market conditions & trading volumes.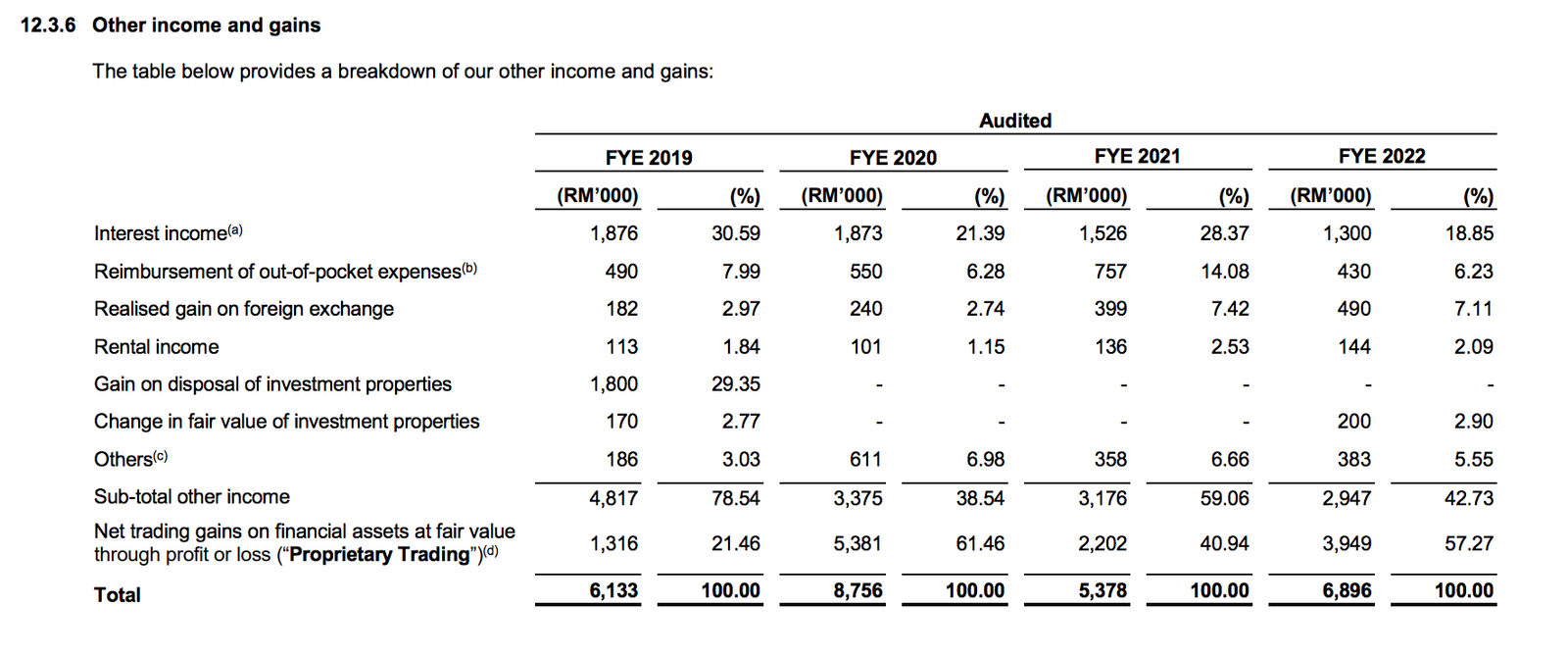 Source: Page 230 of MSG's IPO Prospectus
Overall, other income accounted for 25%-50% of MSG's profit after tax in that 4 year period. Investors should take note of these other income when calculating its valuation (P/E ratio). 
3. Mercury Securities' Mixed Financial Results 
In 2020-2022, MSG had generated RM 17-20 million in annual profit after tax. However, things are looking bleak as the revenue and PAT are going downhill in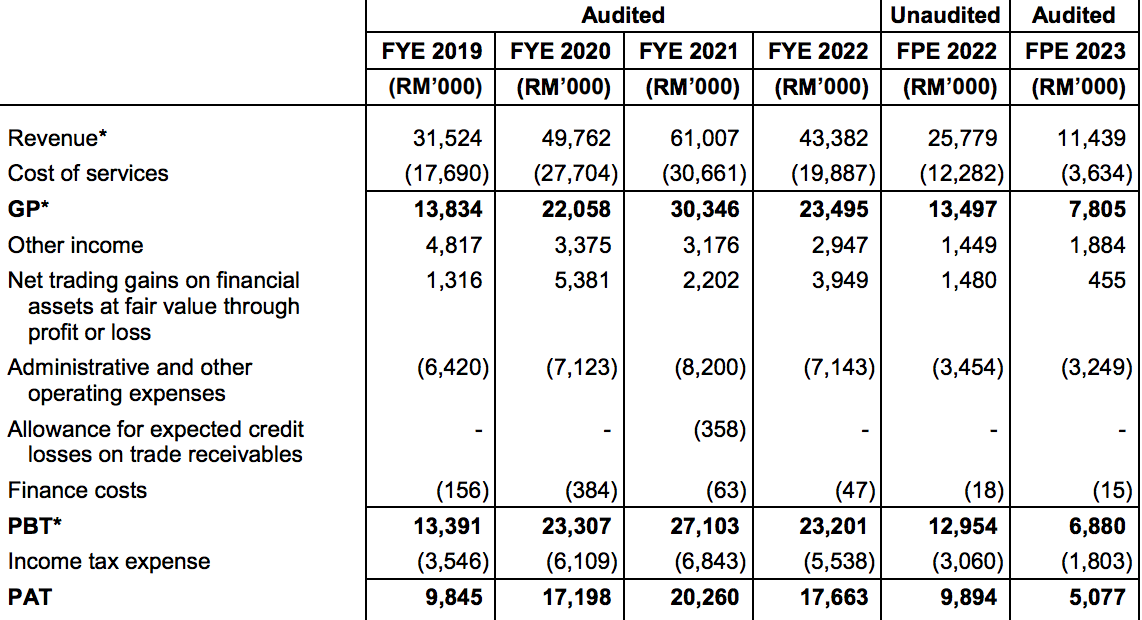 Source: Page 203 of MSG's IPO Prospectus

Source: Page 204 of MSG's IPO Prospectus
4. Mercury Securities' Strong Balance Sheet 
MSG has a track record of maintaining a high current ratio and no long-term debt. (Gearing ratio = 0%)
As of 30 April 2023, MSG's current ratio is 6.18x and has no long-term debt.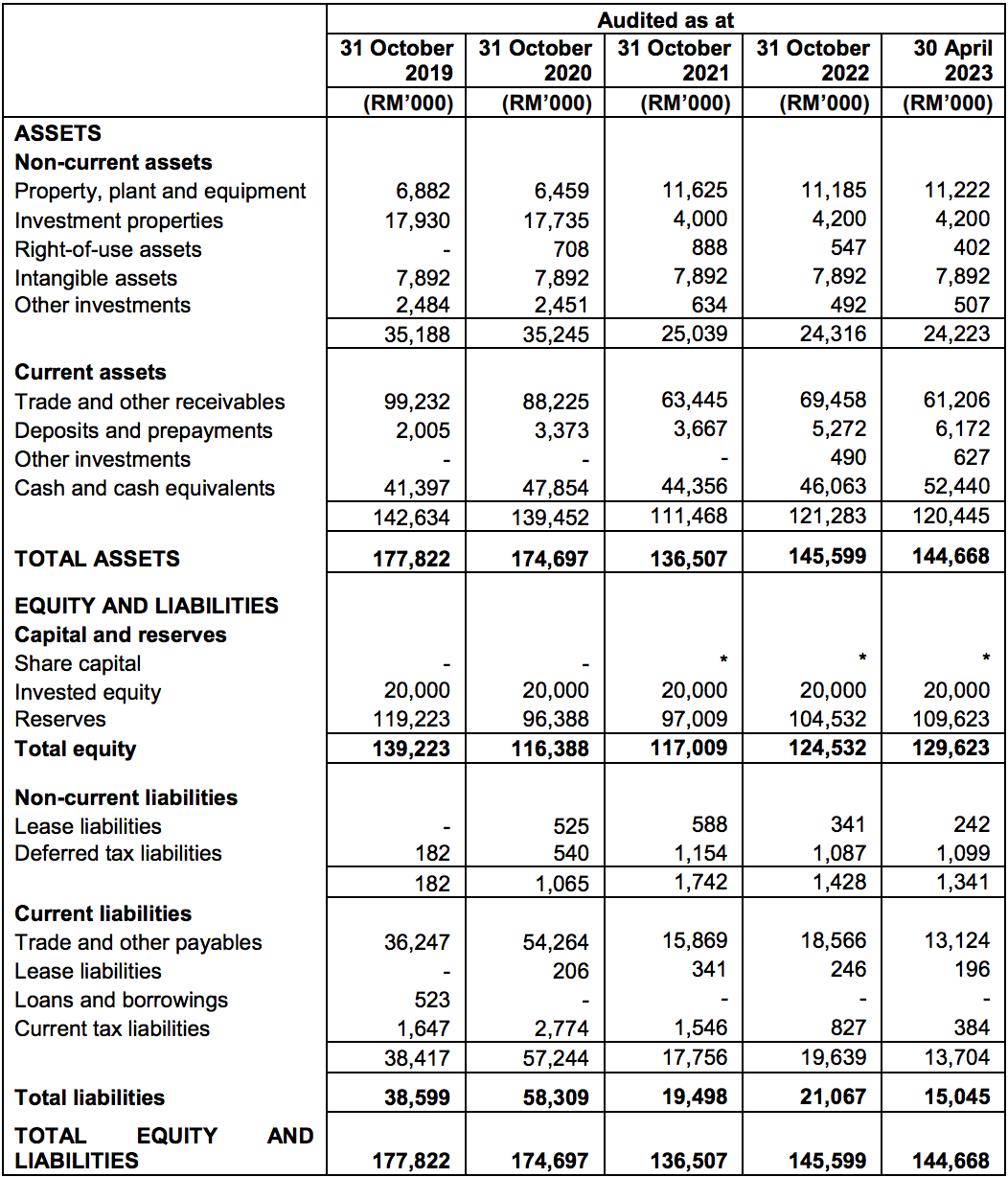 Source: Page 207 of MSG's IPO Prospectus
5. Mercury Securities' Major Shareholders
The following are the changes in shareholdings upon its successful listing: 

Source: Page 35 of MSG's IPO Prospectus
On a bright note, Chew Sing Guan, Enrogetz and Dato' A Rahman bin Safar will remain as MSG's major shareholders with 37.08%, 29.08% and 8.24% shareholdings respectively.
Chew is appointed as its Managing Director while Dato' A Rahman bin Safar sits on its board as a non-executive director. 
6. Utilization of IPO Proceeds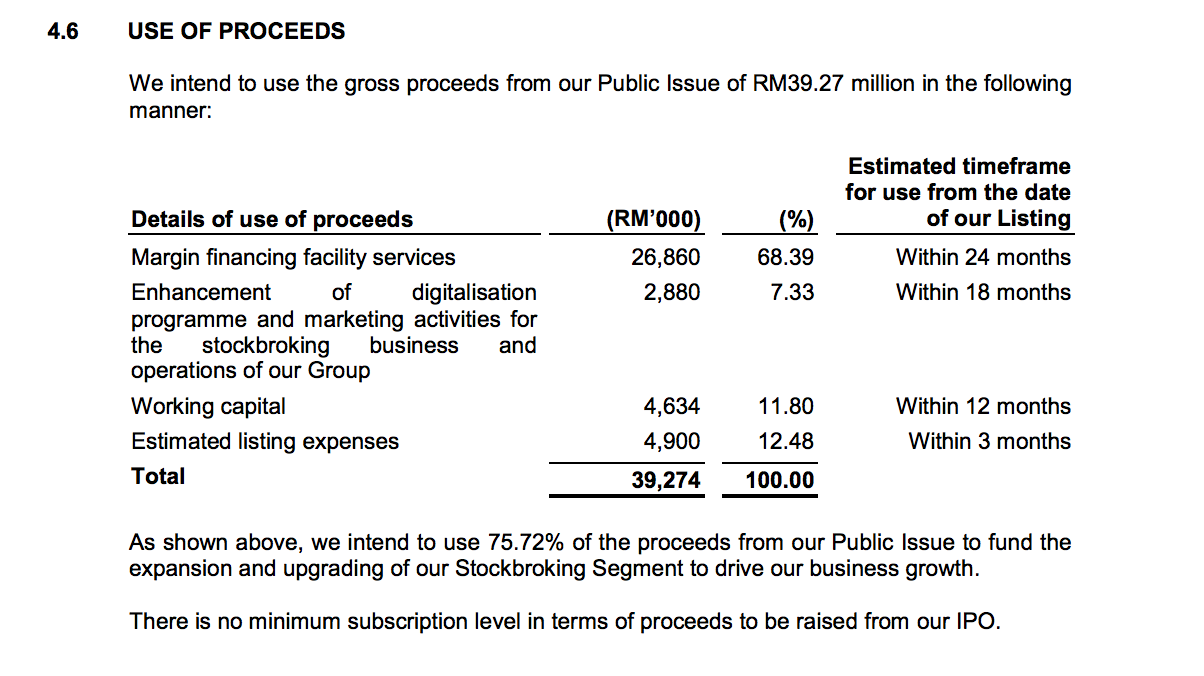 Source: Page 28 of MSG's IPO Prospectus
MSG intends to raise RM 39.27 million in gross proceeds where it aims to use it in the following manner: 
1. RM 26.86 million (Margin financing facility services) 
MSG grew its interest income (margin financing) from RM 3.6 million in 2019 to RM 9.1 million in 2022.
Presently, their margin financing facility are provided to their clients with their internal funds. Thus, the RM 26.86 million raised shall be used to expand this source of income. 
2. RM 2.88 million (Digitalisation + Marketing)
This includes RM 1.38 billion in backroom admin + support systems and RM 1.5 million allocated to market its online trading platforms namely: 
MST 28 Trading Platform 

ECOS Trading Platform
3. RM 4.63 million (Working Capital)
4. RM 4.90 million (Estimated Listing Expenses)
7. Mercury Securities' Dividend Policy 
MSG does not adopt any formal dividend policies although it has paid out dividends on an annual basis.

Source: Page 28 of MSG's IPO Prospectus
That said, the dividends paid out do not have a pattern and have exceeded more than its earnings in FY2020 and FY2021 so it is not feasible to provide a future estimate for the dividends. 
8. Mercury Securities' Valuation 
Based on MSG's IPO offer of RM 0.25 per share, the offer is valued at P/E Ratio of 12.6x if you take the EPS of 1.98 sens in FY2022.
FY2022 P/E Ratio
= Stock Price / EPS 2022
= RM 0.25 / RM 0.0198
= 12.6
However, if you were to take the Period under review, the EPS is coming in at 0.57 sens for FPE2023. As such, the P/E valuation will turn out to be 43.8x.
Conclusion 
Mercury Securities Group IPO is expected to do well given that it is the first stockbroking company to seek and gain an initial public offering (IPO) listing in Bursa Malaysia in the last 20 years. On top of that, the over-subscription rate and low IPO price may be the catalyst to fuel the share price up further.
That said, for the long term wise, investors would still need to compare it with other stock brokerage houses given that MSG is one of the smaller players in the industry and going head-to-head with incumbent players like MooMoo etc.