MeGroup is a Malaysian-based car dealership and automotive parts maker. Their presence spans across the Malaysian automotive industry value chain as they are involved manufacturing and assembling, as well as sales and after-sales processes.
The company prides itself as having a large exposure in the manufacturing and assembling processes in the Malaysian automotive industry. This provides them with a deeper understanding of the supply trends in the Malaysian automotive industry and hence giving them a competitive advantage in shaping their dealership business's strategies.
Since the implementation of the Sales and Services Tax (SST) in Malaysia, car prices were to be said to reduce. Would the implementation of SST improve the prospect of MeGroup?
Here's a quick glance at the details of MeGroup's IPO.
You can find the prospectus here.
1. MeGroup Profile
The company comprises 2 main business segments, which includes manufacturing of automobile components and the automobile dealership.
(i) Manufacturing
MeGroup Ltd. operates 2 plants under this segment. The main manufacturing plant is located at Selangor, while the other assembly line is located in Pulau Pinang.
It involved in manufacturing noise, vibration and harshness (NVH) components and other non-NVH components primarily for the automotive industry in Malaysia. Some of its products are such as headliners, engine outer, parcel trays and board assemble decks that are incorporated into various parts of automobile.
(ii) Dealership
Through its dealership segment, MeGroup Ltd. owns and operates 3S and 4S dealerships.
The 3S dealership is an automobile dealership that offers the sale of new automobiles, automobile parts and accessories, and the provision of after-sales services. On the other hand, 4S dealership includes the services of a 3S dealership with the addition of automobile body paintwork and collision repair services.
Some of its manufacturing customers include Honda, Mazda, Proton and Perodua, and their dealership principals are Honda, Mazda, and Peugeot.
2. IPO Details
The IPO will close at noon on 29 October (Monday) and will start trading on 31 October (Wednesday).
A total of 16.5 million new shares will be on offer during the IPO period at a price of S$0.23 a piece, in which only 1.5 million shares will be for public subscription. The other 15 million shares are allocated for placement tranche.
The prospectus did not provide any information about the cornerstone investors. In addition to that, none of the company's directors, substantial shareholder or executive officers intends to subscribe for the invitation shares.
3. Use of Proceeds
MeGroup will raise gross proceeds of S$3.795 million upon listing. Around S$1.4 million of the proceeds will go towards listing expenses, which is roughly equivalent to 37%!  
Minus off the listing expenses, the company ended up with approximately S$2.38 million, where S$1.8 million will be allocated for business expansion while the other S$0.58 million are set aside for general working capital purposes.
4. Financial Highlights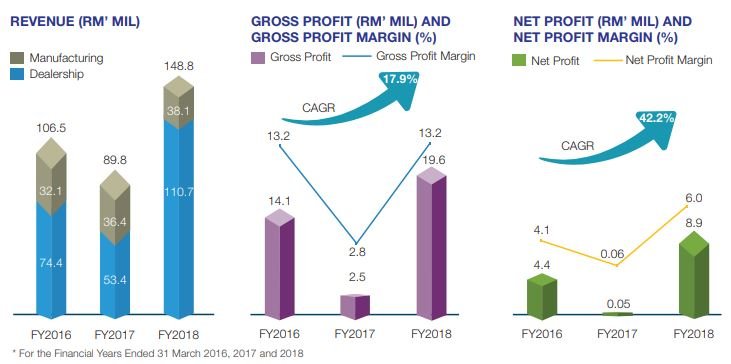 The company recorded a CAGR of 18% in topline and 42% in the bottom line, from FY2016 to FY2018. Despite the impressive growth rate, its revenue actually declined about 16% to RM89.8 million, while the net profit slashed nearly 90% to RM49.7 thousand in FY2017 as compared to FY2016.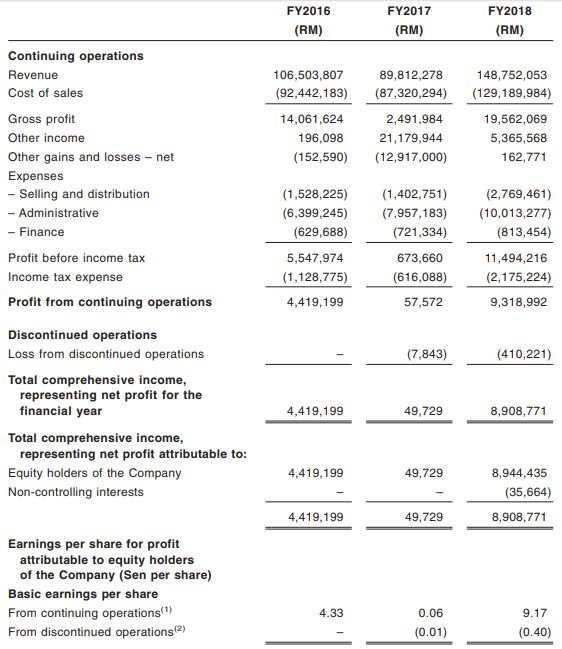 Apparently, the decline in revenue and net profit in FY2017 was largely due to a fire which occurred in 2016.
A fire caused by a short-circuit of an exhaust fan in August 2016 razed the main manufacturing plant in Klang Valley to the ground.

Though production was halted for only two days, a new plant had to be constructed, and the plant returned to full production capacity by the fourth quarter of the calendar year 2016, the group said.
On that note, Mr. Wong Cheong Chee, MeGroup's CEO, said:
"We don't use any more wall exhaust fans, we redesigned the entire factory to have a different exhaust system. The group has a smaller thermobonded felt plant nearby to the main plant, and an assembly line in Pulau Pinang."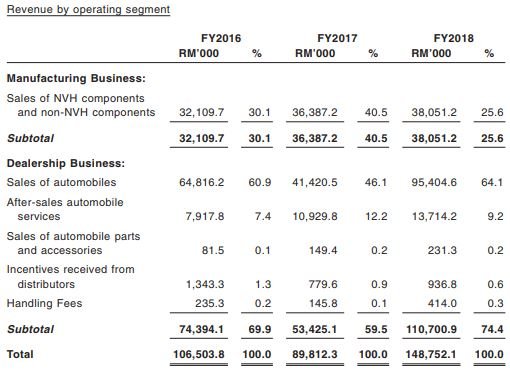 That aside, the dealership segment also took a hit in FY2017, declining around 28% to RM53.4 mil in sales. It was attributed to a delay in the launch of new models and paring down of margins to as low as 2.8% that year.
Financial Position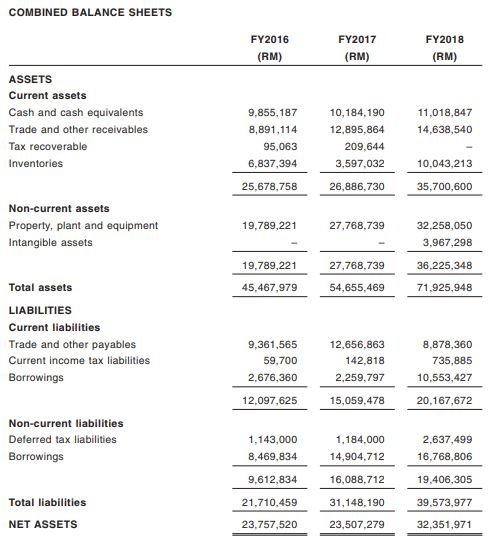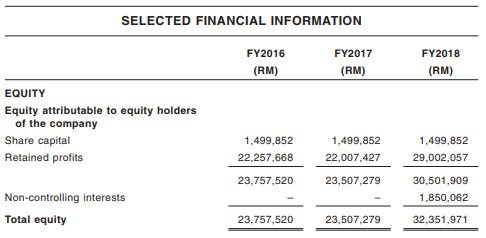 MeGroup recorded a short-term borrowings and long-term borrowings of approximately RM10.6 and RM16.8 million respectively. With a total equity of merely RM32.4 million, this translates to a total-debt-to-equity of 84.6%.
Although the ROE for the company was quite attractive at 27% (RM8.9/RM32.4), it was largely boosted by the high leverage ratio.
Last but not least, the company has a relatively low net margin of 4-6% over the 3 years. This may mean that there is a lack of competitive advantage for the firm.
5. Growth Prospects
In the near future, MeGroup plans to:
Upgrade their machinery and equipment

Acquire new technology to expand their upstream activities & manufacture other types of raw materials required

Improve 

cost-efficiency of their supply chain through leverage of tech.

Diversify into "Other Components" biz
On the diversification note, in June 2018, the company has embarked on plans to supply their components to the heating, ventilation, and air conditioning (HVAC) industry. This is because they can be manufactured using the similar processes.
It is an approved supplier for thee products to Johnson Controls Hitachi and expects to commence production and supply of NVH components to them by Jan 2019.
However, the company also stated that the HVAC industry can be cyclical because part of the new orders is typically for new construction or major replacement. This causes their earnings to fluctuate.
If the business in the construction industry declines as a whole, it may have a negative effect on the demand for HVAC products.
6. Key Risks
MeGroup has identified several key risks which could negatively impact its business in the future. They are:
(i) Loss of Business from Major Customers
The companies major customers accounted for an aggregate of 28.2%, 36.6% and 21.7% of the group's revenue in the past 3 years.
Although they have entered into supply and purchase agreements with each of their major customers, these agreements do not impose any legal obligations on their customers to purchase from them.
The company has no assurance that they will continue to retain these customers or they will continue to purchase their products at current levels in the future.
(ii) Risks in Research and Development
The existing automobile parts and components are subject to extensive research and development as well as constant improvement and innovation. New materials are also constantly being developed with enhanced properties, which may offer cost savings and better performance over existing materials.
Therefore, their NVH components may be substituted by automobile parts and components made from other raw materials which may offer better NVH functionalities.
The company's business and operating results will be materially and adversely affected if they fail to keep abreast of the latest developments in the market or fail to introduce new products for the automotive industry on a timely basis.
Conclusion
With a market capitalization of S$27.3 million upon listing and a net profit of S$2.9 million (Assuming MYR 1 = SGD 3) in FY2018, this translates to a PE of 9.2 times. The company currently offers no dividend policy.
Despite the management's positive outlook for its business, investors should aware of the business nature of the company.
The company has recorded single-digit net margin in the past three years and has a high debt-to-equity. Bear in mind, the automobile industry is cyclical in nature, and hence its business is highly dependent on Malaysia's economic cycle too.
FREE Download – "7 Top Stocks Flashing On Our Watchlist"
Psst… We've uncovered 7 hidden gems poised to skyrocket >100% in the years to come. Simply click here to uncover these ideas in our FREE Special Report!