Occasionally, I would like to look at insider or share buybacks to see if I am lucky to spot any hidden gems. In fact, this is also one of the more commonly used strategies by investors. Why is that so?
As the legendary Fund manager Peter Lynch once said,
"Insiders might sell their shares for any number of reasons, but they buy them for only one: they think the price will rise."
In short, a company's management would only purchase the stock or initiate share buybacks when they perceive that the stock is undervalued. Hence, it makes sense for investors (like You and Me) to do some further research to see if the stock is really a bargain per se.
With these in mind, let's zoom into Solid Automotive Berhad (KLSE: 5242) – which has recently seen insider purchases or substantial shareholder purchases.
As per its company name, Solid Automotive is a specialist in Auto parts. It owns many different companies which offer a range of automotive spare parts and consumables.
Managing Director Mr. Ker Min Choo's total interest has been on the rise with recent insider activity.
Apparently, his sons (Ker Hong and Ker Yun) have been on an acquisition spree – buying back huge number of shares of >100K between 12 May to 19 May 2017. With that, MD Ker Min Choo's total stake ended at 24.256% as of 19 May.
On top of that, I like how the whole family have stakes in the company. This makes the whole family more united to work for the best interests of the interests of other shareholders.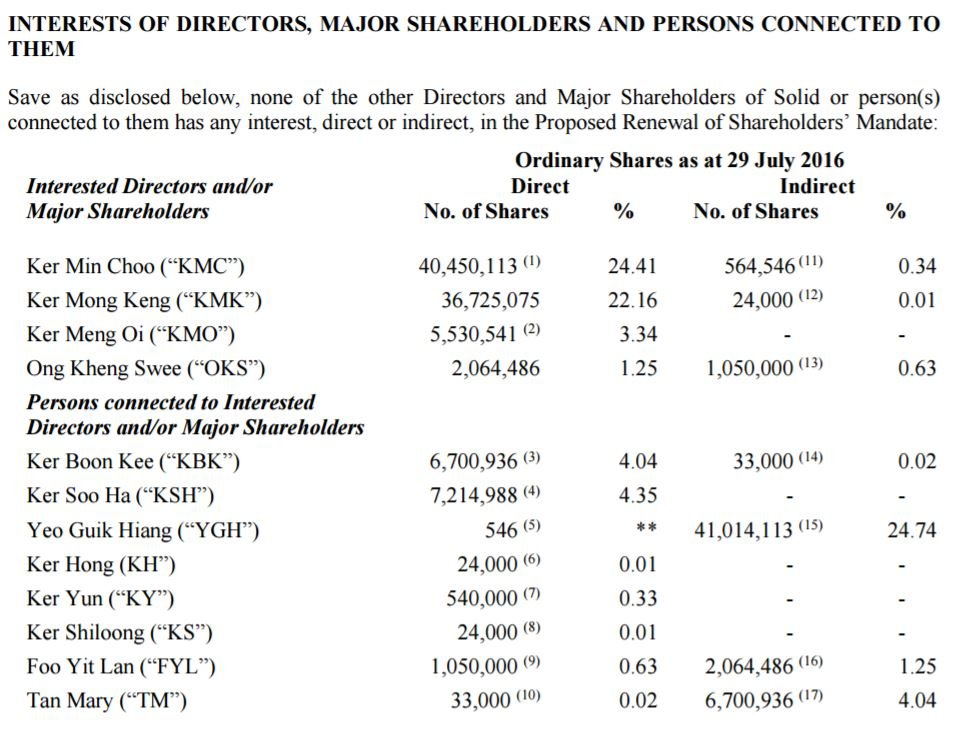 One thing investors should note
According to its latest acquisition of a warehouse (link), it is looking to reduce its operational costs arising from savings in rental payments of around S$80K annually for the warehouse. That said, the company is paying S$1.23 million where it will take on debt for 60% of the acquisition ($720,000).
It doesn't make sense to me that you are borrowing money to alleviate on the rental payments. Furthermore, the purchase price is at a premium over the original cost of S$898K and owned by Ker Boon Kee, brother of Ker Min Choo, Ker Mong Keng and Ker Meng Oi who are directors of SOLID!
In my opinion, it's like right pocket out, left pocket in. Not so good an 'acquisition' for the shareholders.
Nonetheless, let's hop over to the financial summary for a better overview.
Financials
Sourced from i3Investor
The financials doesn't paint a good picture as well. Revenue has sidelined from FY2014 to FY2016. Furthermore, net profits have been on the decline with a drastic drop from RM$1.3 million to RM$0.58 million in the latest quarter ended 31st Jan 2017.
SCA Bottomline
With the above mentioned, I feel that investors should shun away from the company until better prospects emerge.
Solid Automotive Berhad's share price closed at MYR$1.30 on Friday. Based on google finance, it is trading at a lofty 81.3 times earnings and offers a meager dividend yield of 1%.
Fancy an Ebook that teaches you the hallmarks of multi-bagger stocks and how to find them? Simply receive your copy of a brand-new FREE Ebook titled – "100 BAGGERS" by Christopher W. Mayer by clicking here today!
Last but not least, do remember to Like us on Facebook too as we share the latest investing articles and stock case studies for you!