Hyphens Pharma recently announced its 1st quarter 2020 results ended 31 March 2020.
I have to say that its results are pretty impressive. Compared to the previous year, 1Q 2020 revenue came in at 16.1% higher to $31.4 mil and net profits surged 48.6% to $2.12 mil.
Dividends were also hiked up to $0.01 from $0.0055 last year, which translates to a 4% dividend yield based on its share price of $0.25.
There are much more things to cover but let's check out the company's profile first.
About Hyphens Pharma
For a quick background, Hyphens Pharma International Limited (SGX: 1J5) is Singapore's leading specialty pharmaceutical and consumer healthcare group.
With a long history dating back to 1998, Hyphens has a direct presence in 5 ASEAN countries – Singapore (HQ), Indonesia, Malaysia, the Philippines and Vietnam, and is supplemented by a marketing and distribution network covering 6 other markets – Bangladesh, Brunei, Cambodia, Hong Kong, Myanmar and Oman.
The group operates in 3 main segments:
Specialty Pharma Principals – premium quality specialty pharmaceutical products including Stérimar® nasal sprays, Bausch+Lomb eye drops, Vivomixx™, Fenosup® Lidose® and Piascledine®.
Proprietary Brands – Hyphens' own proprietary range of dermatological products (Ceradan® and TDF® brands) and health supplement products (Ocean Health® brand).
Medical Hypermart & Digital – wholesale of pharmaceuticals and medical supplies in Singapore through Pan-Malayan Pharmaceuticals – a medical hypermart that many healthcare professionals (i.e. doctors) are familiar with.
Next up, I will also share 5 things I like about the company.
#1 Simple and Scalable Business Model
First of all, Hyphens Pharma business model is easy to understand – selling of derma and supplement products. Once you can get things up and running, it's pretty much a recurring stream of revenue for each product line.
To add on, I like how they acquired Health Supplement brand – Ocean Health which gives them a strong retail distribution channel. 
With that, they can also sell their higher profit margin, proprietary range of dermatological products – Ceradan® in Guardian, Watsons, Unity etc. and TDF® in pharmacies located in hospitals.
Through exclusive distributorship or licensing and supply agreements with brand principals mainly from Europe and the United States, the group also sells products like Stérimar® nasal sprays, Bausch+Lomb eye drops, in selected markets in the ASEAN region.
#2 Strong Financial Track Record
Apart from the superb 1st quarter 2020 results, the group has been steadily increasing its revenue and profits over the past 5 years as seen below.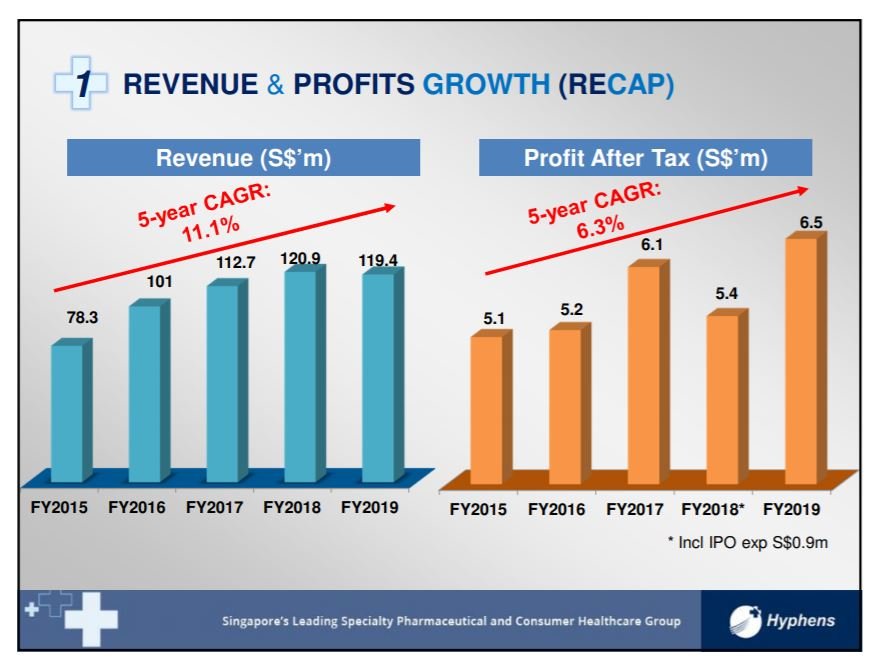 Sourced from Results Briefing
While FY2018 saw a dip in profits due to the IPO expenses, FY2019 profits were also dragged down by admin expenses due to the opening of its integrated facility.
Hence, there is reason to believe that the company can sustain its profit growth into FY2020 with a mix of higher revenue coupled with lower admin costs.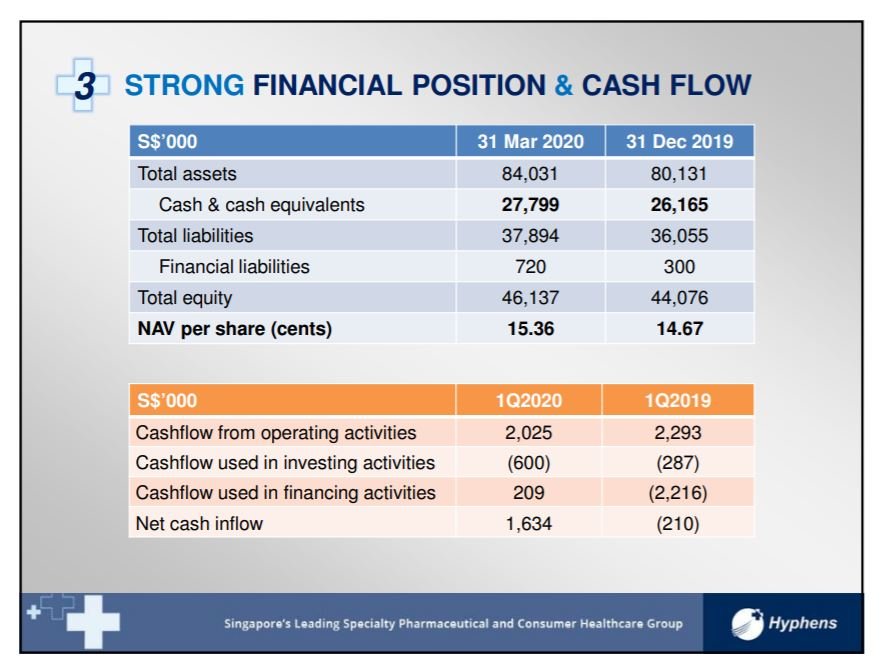 Sourced from Results Briefing
Its pristine balance sheet is also worth mentioning. Deducting off the liabilities of $0.72 mil, the company is in a net cash position of over S$27 million.
#3 Hyphens Pharma's Dividend Policy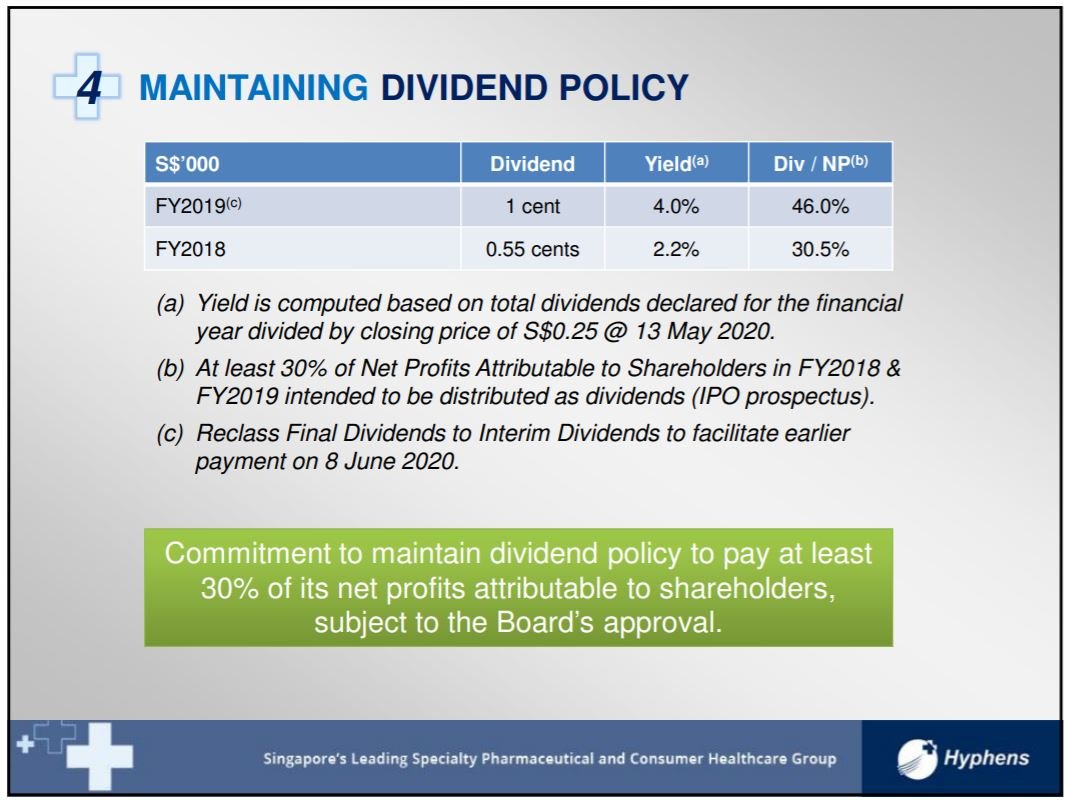 Sourced from Results Briefing
Dividend investors will also rejoice upon the good financial performance of Hyphens Pharma as the company would then be able to pay out a decent dividend.
As shown above, the management team has affirmed its dividend policy to pay at least 30% of its net profits. FY2019 sees Hyphens Pharma's dividend per share of $0.01 almost doubled compared to last year but is still within the comfortable dividend payout range of 0.46x.
Being in the pharma space also means that the firm's earnings are less volatile compared to cyclical industries such as Oil&Gas, Construction, Property Development etc. In turn, the dividend payouts will likely be sustainable in the long run too.
#4 Innovative Management Team with Big Ownership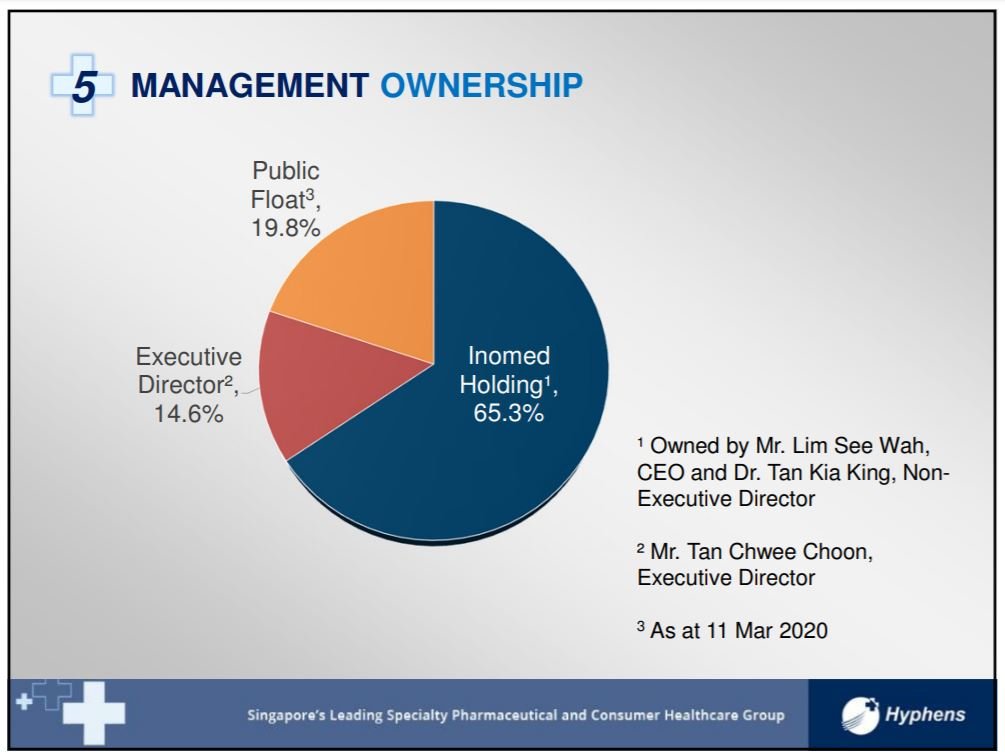 Sourced from Results Briefing
There is also a strong alignment of interest between the shareholders and the management team. This is because the management team owns around 80% of the company with a 19.8% going to the public float.
CEO Mr. Lim See Wah owns a 65.3% stake together with Non-Executive Director Dr. Tan Kia King through their vehicle called Inomed Holdings. CEO Mr Lim started his career in Singapore as a pre-registration pharmacist at Singapore General Hospital from July 1992 and has chalked up more than 25 years of experience working in the pharmaceutical industry.
On top of the huge insider ownership, the management team has proven their mettle through 2 main measures:
1) Going digital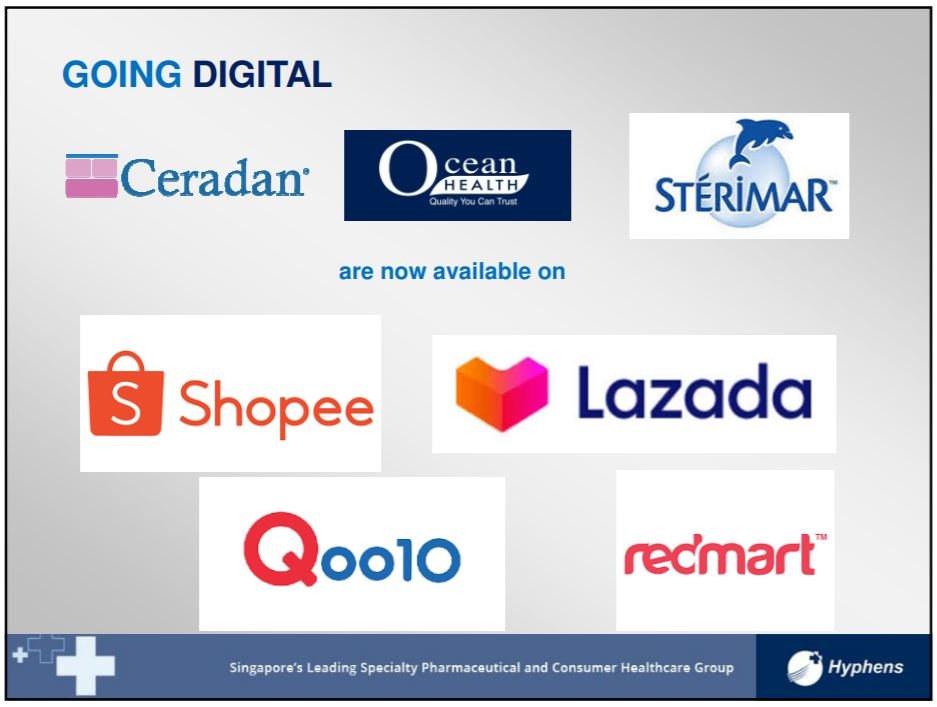 See how their products are available on all leading e-commerce platforms in Singapore? A quick check shows that their products have pretty good reviews as well.
Ocean Health on Lazada:
https://www.lazada.sg/products/ocean-health-omega-3-fish-oil-1000mg-180s-i639294-s702212.html?spm=a2o42.searchlistbrand.list.1.159f1fe3o9JQjH&search=1
Ceradan on Shopee:
https://shopee.sg/Ceradan%C2%AE-Skin-Barrier-Repair-Cream-(80g)-i.251029250.6528933773
Stérimar on Shopee:
https://shopee.sg/Free-Gift-with-Promo-Bundle-2x-Sterimar-Nose-Hygiene-Baby-(50-100ml)-i.227614377.6517845209
2) Revamp of Ocean Health's packaging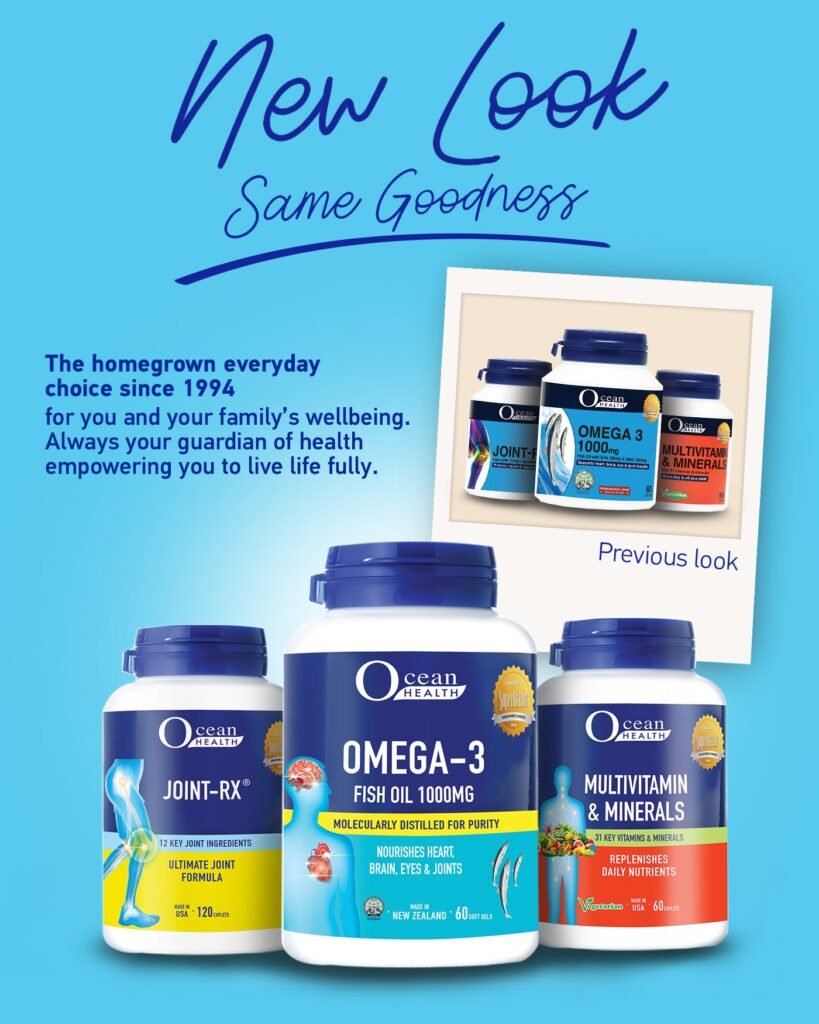 Ocean Health was acquired by Hyphens Group around January 2016 and the management embarked on a new initiative to refresh the packaging of the Ocean Health brand during 2019.
They kept the brand's signature dark blue cap and background to maintain its identity but added more prominent text and colours to highlight the benefits in order for the supplements to 'sell themselves'.
To sum up, the management team has not been resting on their laurels after its IPO. By revamping their product packaging and moving sales online, Hyphens Pharma is in a good spot to tide over the current CB period in Singapore.
#5 Long Runway of Growth Ahead
If you check out Hyphens Pharma's strategic focus, it is to become ASEAN's Leading Pharmaceuticals
& Consumer Healthcare Group and long-term goal – Asia's No. 1 Skin Health Company.
And Hyphens Pharma also listed down 5 things it would invest for growth moving forward:
Establish broader geographical footprint
Investment in proprietary brands
Strengthening specialty pharma portfolio
Reinforcing medical hypermart and digital segment
Acquisitions
Other than the things listed above, I get a clearer picture of how Hyphens Pharma can grow in the long run when I compare it to bigger peers like
Mega Lifesciences, a pharmaceutical firm listed in Thailand
Blackmores, a nutrition and supplements provider listed in Australia
On one end, Hyphens Pharma is trading at a market cap of S$73+ million and sells products to 5 Asean countries. On the other end, Mega Lifesciences and Blackmores are trading at around THB $28.12 billion (~S$1.25 billion) and A$1.3 billion (~S$1.2 billion) market cap respectively.
This can give a quick gauge of the massive potential for Hyphens Pharma if the execution is done right.
Conclusion
To wrap up, there are several positives for Hyphens Pharma and it can be seen as a defensive growth play with visible growth prospects.
The COVID-19 virus has not dampened or affected its operations as well. Lastly, let's not forget that we are 'supplemented' by a 4% dividend yield while waiting for the growth story to pan out.
P.S. You can also check out our IPO and Corporate Visit articles on Hyphens Pharma below:
IPO – https://www.smallcapasia.com/hyphens-pharma-ipo-heres-quick-5-things-you-need-to-know/
Corporate Visit – https://www.smallcapasia.com/hyphens-pharma-10-things-i-learnt-from-the-corporate-visit/
---
This article is written in partnership with Hyphens Pharma. Any information, commentary, recommendations or statements of opinion provided here are for general information purposes only. It is not intended to be a personalised investment advice or a solicitation for the purchase or sale of securities. Before purchasing any discussed securities, please be sure actions are in line with your investment objectives, financial situation and particular needs. International investors may be subject to additional risks arising from currency fluctuations and/or local taxes or restrictions. The information contained in this publication are obtained from, or based upon publicly available sources that we believe to reliable, but no warranty are made as to their accuracy or usefulness of the information provided, and accepts no liability for losses incurred by readers using research. Recommendations and opinions are subject to change without notice. Please remember that investments can go up and down, including the possibility a stock could lose all of its value. Past performance is not indicative of future results.  The shareholders of the Company and potential investors should exercise caution when trading in the Company's shares. Persons who are in doubt as to the action they should take should consult their legal, financial, tax or other professional advisers.