Since the end of 2016, Gadang Holdings (KLSE: 9261) has undergone around 290% drop in its price. It is currently trading at MYR 0.9, as of 23 March 2018, its 52 week low.
In spite of the low market sentiment and cheap price, its directors are keeping on purchasing the shares at a huge volume.
This reminds me of a quote from Peter Lynch,
"Insiders might sell their shares for any number of reasons, but they buy them for only one: they think the price will rise"
With such a huge drop and insiders buying, will it be a good time to buy into it?
Read on to find out more about its fundamentals.
Gadang Holdings Profile
Gadang Holdings Bhd along with its subsidiaries is engaged in civil engineering and construction, property development, utility businesses, mechanical and electrical engineering services.
1. Civil Engineering and Building Construction
Gadang Holdings, through its wholly own subsidiary, Gadang Engineering (M) Sdn Bhd ("GESB") involves in the construction project. Their main projects are such as bulk earthworks, highway and interchanges, bridges, piling and foundation works, construction of commercial, industrial and residential buildings, design & build works and mass rapid transit works.
The division is the main contributor to group's revenue and profit. It reported a profit before tax of RM 83 million in FY 2017, which accounts for around 55% of the group's profit before tax.    
2. Property Development
Gadang Holdings property businesses are mainly located in the Klang Valley region. As of May 2017, the division has a landbank of 442.2 acres with a total estimated Gross Development Value of RM 3.87 billion. The division contributed 42% of the group's profit before tax which is RM62.8 million.
3. Utility
The Utility business comprising the management of four water treatment plants in Indonesia.
The group is actively seeking business opportunities and expansion in water business and power generation within Asia in the future. In FY 2017, the division contributed RM 4.6 million of the group's profit before tax.
4. Mechanical and Electrical Engineering
Gadang Holdings owns a 51% stake in Datapuri Sdn Bhd. The company offers mechanical and electrical services, which include high voltage and low voltage electrical services, air conditioning and ventilation service, fire protection services and plumbing and sanitary services.
Financials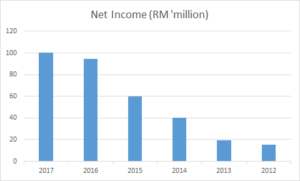 The group's revenue and net income has been increasing since 2012 to 2017 at a CAGR of 17% and 46%. Although there was a slight decline in the 2017 revenue, its net profit was still up due to a stronger profit margin.  
Besides having a strong track record, I can see that the company is also conservatively financed. It has a strong balance sheet with a net cash of RM6 million and an interest coverage of 52.3%!
Its total debt to equity is around 42.8%, which is reasonable.
Fervent Insiders' Purchase
The company's Managing Director, Tan Sri Dato' Kok Onn has been buying its shares fervently.
In March 2018 alone, he has acquired more than 400k number of shares in the open market. As at 23 March 2018, he is the largest shareholder of the group with a total of direct and deemed interest of 26.8% in the group.  

Source: http://www.bursamalaysia.com/market/listed-companies/company-announcements#/?company=9261&category=SH&sub_category=all&alphabetical=All
Growth Prospects
Despite the challenging economic outlook and some political uncertainty surrounding upcoming elections in Malaysia, the group has an outstanding construction order book of RM 1.6 billion as of November 2017, which should provide earnings visibility for the next 3 years.
In addition, for its property division, its unbilled sales stayed at RM133.2 million. Laman View mixed development in Cyberjaya and Capital City integrated complex development in Johor Bahru is the key property earnings contributors in the foreseeable future. Capital City is expected to be completed by mid-2018. The project is expected to contribute RM171 million to the net profit going forward.
Recently, Gadang has entered into a conditional sale and purchase agreement (SPA) with GP Views Development Sdn Bhd to acquire approximately 78 acres of freehold land in Pontian, for RM149 million, to be paid fully in cash. The land is approximately 20 km from the Malaysia-Singapore Second Link, it is intended for residential development with a preliminary gross development value (GDV) of RM550 million.
With its accessibility to Pontian Highway and Second Link Highway, the project is expected to be well-received. Besides, the proposed KL-Singapore High-Speed Rail with a station in Iskandar Puteri should also boost the demand for property in that vicinity. The project is expected to be launched in second half of 2019.
Conclusion
Gadang Holdings was historically trading around 12 to 20x PE ratio. As of 26 March 2018, it is trading at PE of 5.2 and PB of 0.9 only.
You can take it that the stock is currently undervalued, given its proven track record and reputation. That said, do remember to perform your own due diligence!
Fancy a simple 10-Step System that teaches you how to investing profitably? Simply click here to receive your copy of a brand-new FREE Ebook titled – "100 BAGGERS" by Christopher W. Mayer here today!
Last but not least, do remember to Like us on Facebook too as we share the latest investing articles and stock case studies for you!