Excerpts from UOB KayHian report
Frencken Group (SGX: E28)
Frencken Group weak 1Q22 earnings of S$12.8m (-12.6% yoy, +1.7% qoq) was impacted by rising cost pressures and disruptions in the automobile industry.
We believe the global automobile industry will continue to be plagued by an extended period of slow production due to the semiconductor chip shortage and prolonged Russia-Ukraine conflict, which would negatively impact Frencken's automobile segment.
We have lowered our target price to S$1.63 (from S$2.06). Maintain BUY.
Growth across most but the automobile segment
Frencken Group's (Frencken) 1Q22 revenue of S$198.4m (+9.3% yoy) was led by growth from the semiconductor (+15.5% yoy), analytical & life sciences (+16.7% yoy) and industrial automation segments, while sales in the medical segment remained relatively stable.
However, the automobile segment (-10.7% yoy) was impacted by constrained customer demand as a result of:
semiconductor chip supply chain challenges, and
disruptions arising from the Russia-Ukraine conflict, which hosts assembly plants for automobile components ranging from electrical cables to catalytic converters and seatbelts.
Frencken Group cost pressures mount
Gross margin narrowed in 1Q22 to 15.4% (1Q21: 17.3%, 4Q21: 15.3%), due to higher prices of raw materials, freight and energy.
While Frencken's manufacturing facilities were not impacted by the COVID-19-related lockdowns across China, those of its customers were, and finished products were unable to be shipped across.
Over the longer term, however, we believe Frencken is able to pass on a portion of the higher costs incurred to the customers.
Frencken Group 2H22 to be sequentially better
Management is working to mitigate cost inflation pressures through operational initiatives and is anticipating signs of easing in 2H22.
On the outlook for 1H22 relative to 2H21 (hoh basis), we expect growth in the semiconductor, analytical & life sciences and automobile segments, stable performance in the industrial automation segment, and lower revenue in the medical segment
Continued growth in the semiconductor segment to buffer automobile slowdown
We expect the semiconductor sub-segment to contribute 39% of 2022 revenue, an increase from 38% in 2021 (2020: 30%).
The relatively more profitable semiconductor segment is anticipated to help bolster a sufficient buffer for the group amid the volatile period that the automobile industry is undergoing.
Continuing investments for longer-term growth
For 2022, a similar amount of investment has been set aside for growth capex and acquisitions (2021: S$33.9m). Frencken has earmarked capex to add manufacturing capacity to facilitate upgrades and expansion programmes across its plants in Europe, Malaysia and Singapore.
This would imply higher overheads for Frencken in the near term from increased depreciation expenses, as well as added overheads from acquisitions.
Valuation/Recommendation
Maintain BUY with lower target price of S$1.63 (previously S$2.06). From a previous valuation peg of 13.1x (+1SD to historical mean), we have adjusted our valuation peg to 10.4x 2022F PE, or Frencken's historical mean PE range
We believe the global automobile industry will face an extended period of slow production amid adjustments in the global supply chain. We maintain the view that the current forward PE valuation of 6.9x for Frencken is attractive due to its diverse stream of revenue sources, which would help the company stand out amid a volatile macro environment.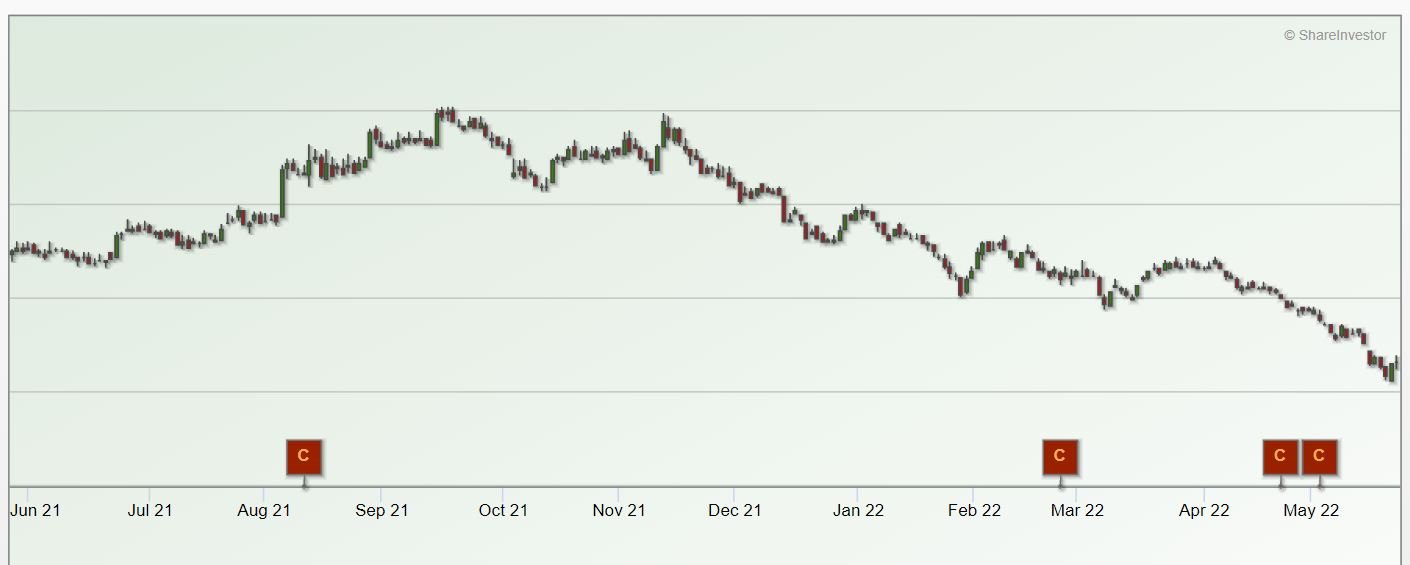 You can find the full report here and the company website here