Eco World International (KLSE: EWINT) was just listed late March 2017. Its IPO was oversubscribed 9x by institutional investors while its public portion was oversubscribed by 8.87 x. Being the largest IPO in Malaysia since June 2015, will Eco World International be a good buy?
Read on to find out more…
Eco World's Profile
Eco World International ("EWI") mainly develops real estate properties in the United Kingdom and Australia. Its projects include residential, commercial, and retail properties.
The company is a subsidiary of Eco World Development Group Berhad, which is a public-listed Malaysian property giant. To give you a general idea, Eco World Development's market capitalisation stands at RM4.36 billion, by no means a small company here!
You can also check out their corporate presentation here or their latest annual report AR2016 here.
Details of IPO
Here is a quick summary if you have missed the IPO last month, . The company had issued a total of 2.15 billion new shares, with 48 million shares for the Malaysian public through balloting. It expected to raise RM2.58 billion from the issuance with a IPO share price of RM1.20.
The breakdown for the use of proceeds is as follow:
37 billion (52.9%) to repay bank borrowings and repayment of advances
13 billion (43.6%) for working capital and/or future land acquisitions
Remaining (3.5%) to defray listing expenses and other related purposes
As an incentive, EWI will issue to all of its shareholders 2 free warrants for every 5 shares held after the IPO. The bonus issue of warrants was completed prior to the listing.
The company does not have a fixed dividend policy & is dependent on its profitability and financial condition.
Financial Position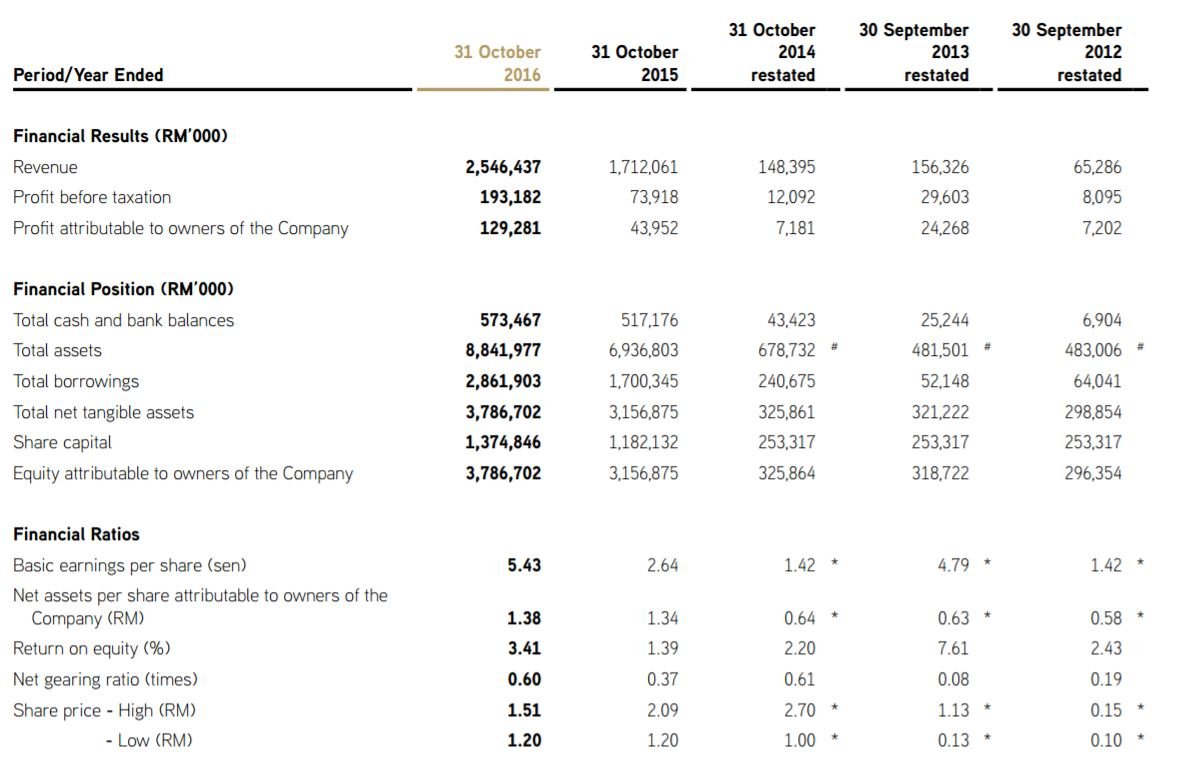 From its annual report 2016, we see that the revenue growth has been phenomenal, growing from RM65 mil in FY2012 to almost RM2.5 billion in FY 2016! Simiarly, net profits also joined in the bandwagon, surging from RM 7.2 mil to RM 129.3 mil in the same period!
Despite the explosive growth in both the top and bottom-line, one should note that the numbers are primarily fueled by debt. Total borrowings have scaled up from RM64 mil to RM2.86 billion, even more than the sales figure itself!
That said, it is common knowledge that huge amount of debts will be taken up by a property developer  in advance to finance its construction phases. You can only see the revenue after the properties are completed (sell to people and collect money).
Given its backing under Eco World Development and a strong track record in its financial performance, the company has more room to grow in future. And that brings us to the next point.
Eco World's Growth Prospects
According to its corporate presentation, EWI will recognize a huge chunk of profits come FY2018 once handover commences in phases starting with LCI and Embassy Gardens.
An artist's impression of EWI's Embassy Gardens project in London
Based on this article, EWI president Datuk Teow Leong Seng commented on how EWI's existing projects in London and Sydney were performing well.
As of Jan 31, the company had secured total sales of RM6.49 billion and plans to seek more development sites in the United Kingdom and Australia going forward.
SCA's Take
EWI have already demonstrated that they are able to score almost RM6.5 billion of sales as of Jan 2017, almost 250% more than the FY2016 period. We believe that EWI is still on a massive growth trajectory barring any unforeseen circumstances.
However, we are concerned that EWI's 4 future projects are all based in London and Sydney. Any government policy changes like interest hikes or even change in demographics will cause a great impact to EWI's bottom-line. Thus, notwithstanding the impressive growth in its financials, we prefer to stay away from real estate companies that have balloons of debt in their backyard.
Share price for EWI last closed at RM1.18 with a P/B ratio of 3.2. It doesn't pay out dividends.
We've released our 3 HOT growth stock picks which could skyrocket >100% by the end of 2017. History has shown that getting in early on a good idea can often pay big bucks – so don't miss out on this moment.
Simply click here to receive your copy of our brand-new FREE report, "3 stocks poised for explosive growth".
Do Like us on Facebook too as we share the latest investing articles and stock ideas for you!