On 22 December 2021, Coraza Integrated Technology Bhd (Coraza) extended an invitation via its release of IPO Prospectus to subscribe its shares at IPO price of 28 sen a share.
The closing date of the IPO subscription is set on 6 January 2022 and the listing of its shares is set to be on 20 January 2022. Upon which, market capitalisation of Coraza would be lifted to RM 119.9 million. 
You may download its IPO Prospectus: Part 1 and Part 2 for more information. Alternatively, you may check out our summary of 9 things to know about Coraza. 
#1: Business Model 
Coraza is an integrated engineering supporting services provider in Malaysia. At present, Coraza earns income from provision of sheet metal fabrication services and precision machining to major customers in various industries which include semiconductor, electrical & electronics, aerospace, telecommunications, and as well as the life science & medical devices industry.
#2: Financial Results 
Coraza had received more orders from a couple of key customers and as such, it had achieved higher revenues and earnings from 2018 to 2020.
Coraza had also maintained its financial results for 1H 2021 at 1H 2020 levels.
It is important to take note that 2020 earnings was higher as the figure was one that included RM 1.89 million in gain of disposal property, plant & equipment. 
Thus, excluding that, Coraza offered the following adjusted results as follows:

#3: Balance Sheet Strength 
Coraza's current ratio had ranged between 1.9-2.5 from 2018 to 1H 2021. As for its gearing ratio, Coraza had kept it at 0.4-0.5 during the 3+ years period.
#4: Utilisation of IPO Proceeds
Coraza intends to raise RM 33.0 million in IPO proceeds.


a. Purchase of New Machinery (RM 15.5 million) 
Coraza intends to purchase the following machinery on a progressive basis. The machinery would include 1 laser & turret punching machine, 1 laser machine, 1 bending machine, and 1 finishing line. 
b. Construction of Factory (RM 6.4 million) 
Coraza has budgeted RM 19.2 million to construct a new factory that is situated adjacent to its current facility at Nibong Tebal in 3 phases: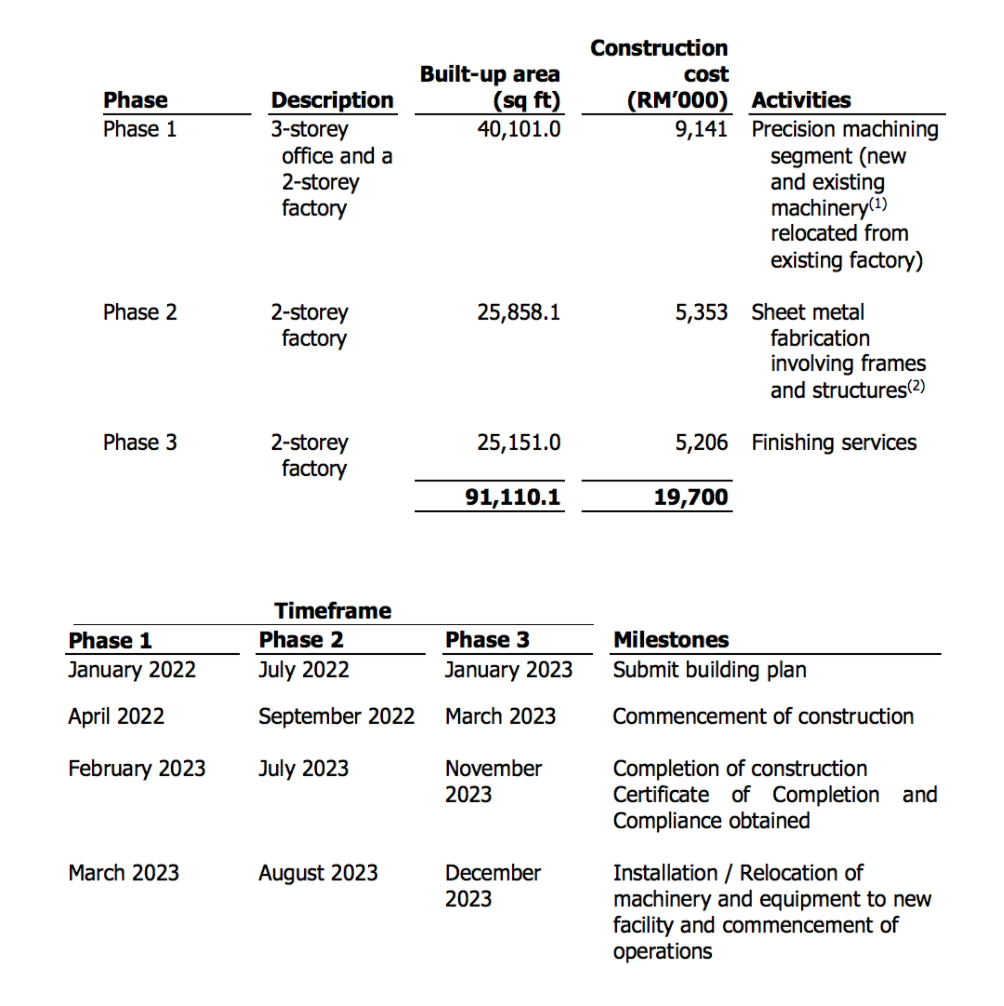 Coraza intends to fund its construction with the RM 6.4 million in IPO proceeds. The remaining balance shall be funded by RM 13.3 million via bank borrowings, which was obtained from Malaysian Industrial Development Finance Bhd. 
c. Implementation of ERP system (RM 1.2 million) 
Coraza is upgrading to a more advanced version ERP system which integrates its order processing from sales to delivery as it had grown its database. 
d. Extension of Existing Factory (RM 1.5 million) 
Coraza plans to create an additional space of 10,000 sq. ft. in its existing factory at Nibong Tebal in order to house new machinery to be purchased, as discussed in Point a. 
e. Repayment of Bank Borrowings (RM 4.6 million) 
The following is a list of loan facilities obtained by Coraza. The company intends to partially pay off its bank borrowings in the following order:
5. Order Book 
On 23 November 2021, Coraza had outstanding purchase orders amounting RM 91.5 million which is to be fulfilled within 1H 2022.
Of which, RM 79.7 million is related to sheet metal fabrication orders while the remaining RM 11.8 million is related to precision machining orders. 
6. Major Shareholders 
Coraza's main shareholders are as follows:
Paul Heng is appointed as the Non-Executive Director of Coraza. Lim Tiek Hoe is the Managing Director of Coraza and he is listed among the major shareholders of Coraza by virtue of his spouse's holdings in Coraza. 
7. Risks 
Coraza revealed that it is dependent on 3 key customers for its financial results, namely Customer J, Customer P and Customer A.
They are all US-based entities, which are listed on the New York Stock Exchange (NYSE) and NASDAQ. Hence, a cancellation or reduction in orders from these customers could impact Coraza's financial results in the future.

8. Dividend Policy 
Presently, Coraza does not have any formal dividend policy. 
9. Valuation 
As mentioned, Coraza's IPO shares are offered at 28 sen a share. This works out to be P/E Ratio of 19.05 based on Adjusted Earnings per Share of 1.47 sen.
Conclusion
Coraza has achieved higher sales and profits for the past 3½ years due to higher orders received from its main customers namely Customer J, Customer P and as well as Customer A. Coraza had maintained a healthy current ratio of around 2+ and stable gearing ratio of 0.5 in 1H 2021. 
As the financial results were mainly contributed by 3 key customers, it is vital to take note of such concentration risk as Coraza continues to depend on its major customers for its revenues and profits in the near future. 
Coraza has prioritized its allocation of IPO proceeds on construction of a factory and purchases of new machinery. They could grow its production capacity by as much as 25%.
Given the above details, investors would have to decide whether Coraza at P/E Ratio of 19.05x is of good value and attractive for investment.