With tens of thousands of COVID-19 cases coming from foreign worker dormitories, one may wonder if dormitory operator Centurion Corporation would be adversely impacted.
On that note, investors would be pretty surprised that its 1H2020 results are not affected as bad as expected. Before we dive into the results, here's a quick background of the company for those uninitiated.
Centurion Corporation Profile
Centurion Corporation owns, develops and manages quality, purpose-built workers accommodation assets in Singapore and Malaysia, and student accommodation assets in Singapore, Australia, South Korea, the United Kingdom ("UK") and the United States ("US").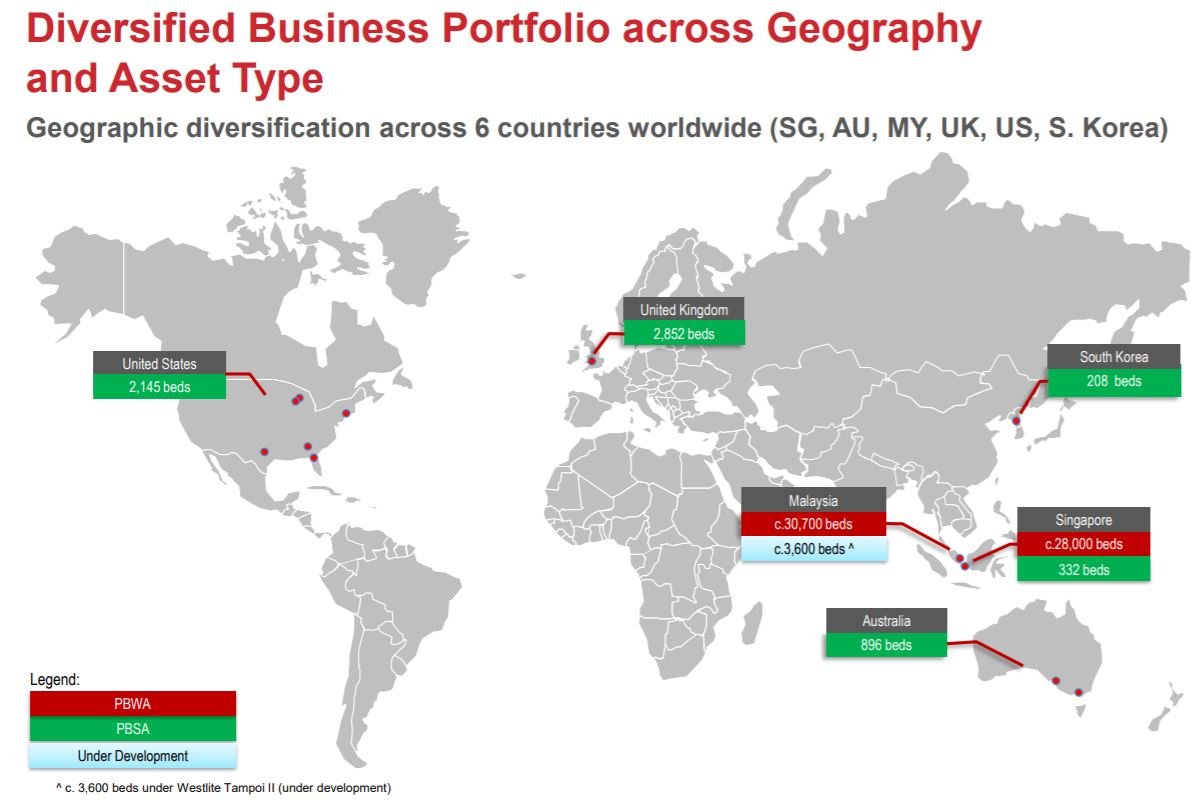 Sourced from Centurion's corporate presentation
The Group owns and manages a strong portfolio of 33 operational accommodation assets totalling approximately 65,133 beds as of 30 June 2020.
During the COVID-19 pandemic period, major development projects and asset enhancement works have been deferred. The Group's portfolio of accommodation assets is expected to grow to approximately 68,733 beds, following resumption of projects when the situation has normalized.
1H2020 Results: Financial Performance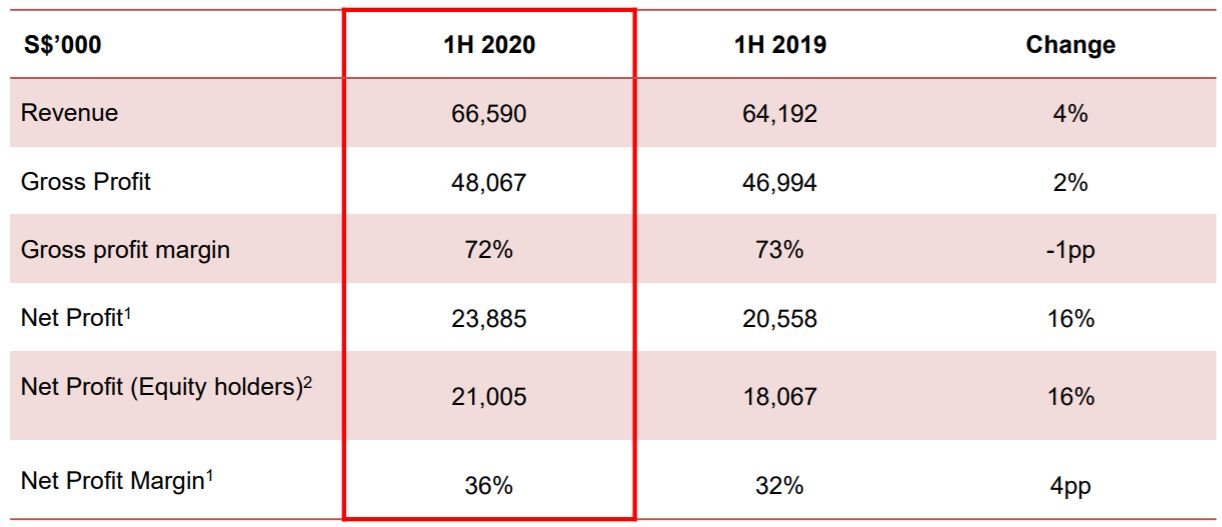 Sourced from Centurion's corporate presentation
For 1H 2020, Centurion's revenue inched up 4% to S$66.6 million from S$64.2 million a year ago, largely due to a 13% year-on-year revenue growth in 1Q 2020 prior to COVID-19 outbreak. The improved revenue in 1Q 2020 was contributed mainly by the Group's new portfolio assets:
Westlite Juniper and dwell Archer House which had been leased and acquired in the latter half of 2019,
dwell East End Adelaide which had been completed in 1Q 2019 and ramped up over the course of 2019.
In the 2nd quarter 2020, the Group saw a 5% y-o-y dip in revenue due to the impact of COVID-19 which offset growth from its expanded portfolio. That said, the Group recorded a net profit from core business operations attributable to equity holders of S$21.0 million, 16% higher than S$18.1 million in the previous year.
The reasons behind the dip in revenue but increase in profits are found below:
In the United Kingdom, revenue was impacted by the early lease termination the Group has extended for its student-residents in April 2020
In Australia, lockdown measures by the government resulted in lower occupancy in its properties
Centurion also incurred S$1.3 million in additional expenses to manage the COVID-19 outbreak in 2Q 2020, substantially at its workers accommodations in Singapore
However, Centurion received government grants and support schemes from the respective countries in response to COVID-19
The Group also benefitted from reduced finance expenses due to a lower interest rate environment
Moving on, its also important to look at their financial position to see if Centurion can tide through this challenging times.
Sourced from Centurion's corporate presentation
Looking at the table above, Centurion has been able to maintain a healthy balance sheet at S$65.1 million in cash and bank balances due to an increase in net cash generated by the operating activities, loan principal moratorium as well as proceeds from borrowings.
Their net gearing ratio is remains unchanged at a manageable 50%. In addition, the firm boasts a long average long term bank debt maturity profile of 7 years and has a comfortable 3.4 times interest cover (multiple of earnings used to pay interest expenses).
1H2020 Results: Business Operations Review
Mr. Kong Chee Min, CEO of Centurion Corporation, remains cautious of the business outlook and commented:
"Even as countries start to relax pandemic management measures, the full impact of COVID-19 on economies and businesses remains to be seen."
Hence, no interim dividend has been declared for 1H 2020 as part of the Group's efforts to conserve cash resources.
Mr Kong also added,
"We seek our shareholders' understanding and continued support during these challenging times, as we act prudently to manage cash flow in view of the near to medium-term uncertainties resulting from the COVID-19 pandemic. In the long term, we remain confident in the fundamentals of our business and the resilience of our strategic asset classes."
In addition, Centurion has also provided a detailed breakdown of their measures to manage the COVID-19 outbreak (condensed into my own words):
1) Short Term Plans
In lieu of the sudden outbreak, Centurion has taken several short term measures until Covid-19 situation normalises such as:
Reconstruction of existing block in Westlite Toh Guan deferred
Development of c.3,600 additional beds at Westlite Tampoi on hold
Tapping relief packages by the various governments in the different countries
Approached Group's bankers for temporary halts on principal repayments and additional working capital facilities ‒ requests generally well supported
no interim dividend declared for 1H2020
Board of Directors and senior management took cuts of between 10-15% of their salaries and fees in April 2020
2) Long Term Plans
The Group remains sanguine over the long run as the structural demand for worker and student accommodation needs remains intact.
For the Purpose-Built Workers' Accommodation ("PBWA") segment, demand is expected to stabilise in the long term driven by continued demand for migrant workers and their accommodation needs.
In fact, the government has announced initiatives to develop 60,000 new beds in temporary facilities and 100,000 beds in more permanent properties with a longer tenure, over the next 1 – 3 years.

Sourced from Centurion's corporate presentation
You can read the joint statement from Ministry of National Development (MND) and Ministry of Manpower (MOM) together here – https://www.mom.gov.sg/newsroom/press-releases/2020/0601-joint-mnd-mom-media-release-on-new-dormitories-with-improved-standards-for-migrant-workers.
Long story short, the Singapore government's aim is to reduce the density of these dormitories and setting up a major programme to build additional dormitories with higher standards over the coming months and years.
They also want to make dormitory living and design more resilient to public health risks including pandemics, with improved living standards that are benchmarked both domestically and internationally.
With that in mind, Centurion's strong track record and management capabilities puts it in good stead to participate in the tender bidding from the government.
For the Education and Student Accommodation segment, the Group believes that pent up demand in this resilient segment will drive a fast recovery once study programmes and travel normalise.
Final Thoughts: 3 Silver Linings in Cloudy Outlook
While Centurion braces for more impact given the uncertainty in 2H 2020, we can see 3 silver linings amid this cloudy outlook.
1) Price/NAV at all time low

Sourced from ShareInvestor
A good ratio to value an asset-heavy company (i.e. REIT/property development company) would be to use the Net Asset Value (NAV).
And for Centurion, its NAV has gone from S$0.134 in FY2011 to S$0.704 in FY2019 but its share price has not reflected in the NAV growth. As a result, its Price/NAV ratio has fallen to an all-time low of 0.58x compared to around 1.25x in FY2011.
2) Resilience of Specialized Accommodation Assets
COVID-19 has decimated many industries globally with the airline and tourism sectors faring the worst. Many well-known retail companies also did not survive this carnage with names like JC Penney, GNC, Tailored Brands and more.
The virus outbreak also led to depressed oil prices which had many oil and gas players go belly up too.
With all the bad news mentioned above, Centurion seems to be doing 'not so bad'. This is probably because specialized accommodation assets for migrant workers and students are usually pretty resilient in nature.
Even if the pandemic continues to wreak havoc for the next few years before a vaccine is made available, the specialized accommodation demand will gradually return as migrant workers would need to kickstart our economy and students need to have a conducive environment to study near the universities.
3) Beneficiary from Government's policy change
Last but not least, the Singapore government has faced pretty negative backlash from the public due to the implosion of COVID-19 cases within the migrant workers' population.
As such, this will be a key focus in their plans to increase the living standards of their dormitories by building up to 11 purpose-built dormitories over the next one to two years.
You can read more about their statement here.
This will benefit Centurion in the long run if they managed to secure the contracts given their market leadership in this space.
In fact, Centurion has already secured a management service contract from JTC Corporation ("JTC") in June 2020 – testament to its strong expertise and management track record.
They would manage approximately 4,000 beds across 3 sites in Singapore namely JTC Space @ Tuas Biomedical Park, JTC Space @ Gul and 28 Ayer Rajah Crescent) for a period of six months, with the option by JTC to extend for another six months.
All in all, our view is that Centurion is likely to navigate well through this challenging period with its resilient business model and prudent financial management. There are also multiple long term catalysts such as the shift to decent purpose-built dormitories and record low Price/NAV valuation which demonstrate significant value for the company's shares.