CP Pokphand Is the Market Leader in Animal Feed, and a Value Stock
Source: pig333
C.P. Pokphand Co. Ltd (HK:0043) is involved in the animal feed industry, and the poultry and livestock industry in China and Vietnam.
The company is a subsidiary of Charoen Pokphand Group, which has very interesting subsidiaries such as C.P. All.
We think CP Pokphand is considerably undervalued, given its future earnings and its balance sheet. The outlook for the feed and livestock business is very favorable in China. CP Pokphand is well positioned to reap the rewards.
Although the expected growth is not so high, C.P. Pokphand will continue to deliver steady slow growth over the coming decades.
Animal feed market analysis
China
China continues to be a great consumer of animal protein products. Pork as well as poultry remain the favorite choices, because of their low cost. Retail Pork sales in China continue to increase at a fast pace.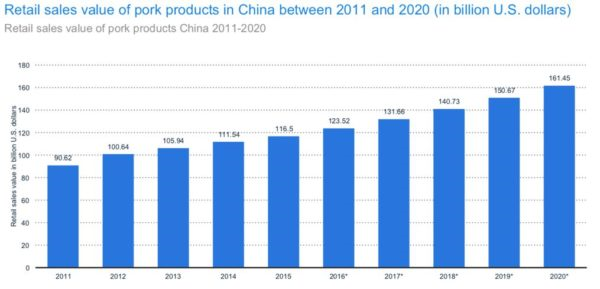 Source: Statista
China's meat consumption is so high, that it continues to increase its imports. It is expected to continue growing.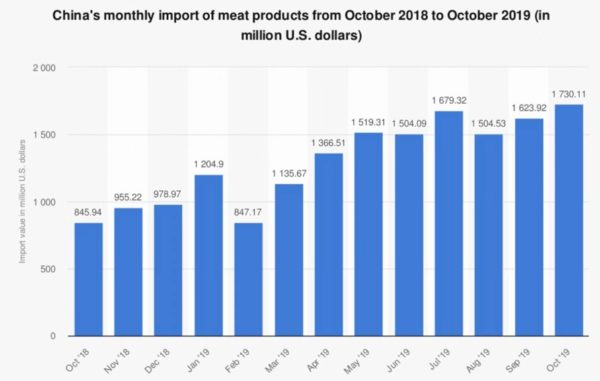 Source: Statista
Given the tight internal Chinese supply of meat, producers are trying to increase production as fast as they can, to meet demand. This directly benefits the company, as demand for its feed products continues to grow. The hog production in China in 2021 is expected to grow by 20% when compared with 2020.
Vietnam
The meat consumption in Vietnam has been growing at such a fast rate that it was described by some as the meat boom.
With Vietnamese meat imports also expanding rapidly, where most of the company's revenues come from, it is set to benefit over the long-term.
Imports of pork have also seen a large increase, and are expected to reach 100,000 tonnes.
Meat consumption in Vietnam is dominated by chicken and pork due to their low cost, they remain the favorite choices among consumers.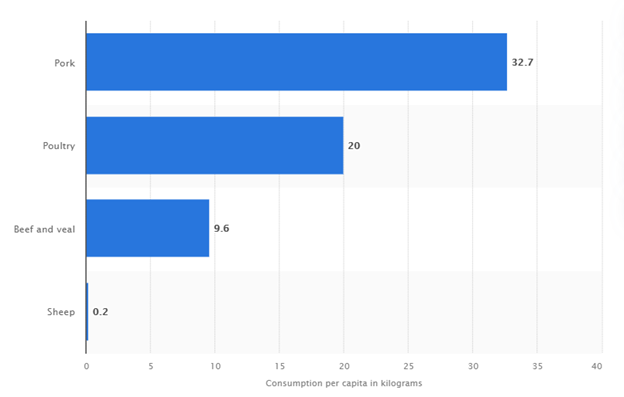 2021 Q1 highlights and FY20 results
For the first quarter of the year, CP Pokphand continued the strong performance seen in 2020. Revenues were up 12.4% to $1.132B, and profit attributed to shareholders of $137M.
It reduced borrowings and corporate bonds by ~9% to $1.035B. Most of its revenue comes from Vietnam, accounting for 68.6% of total revenues. China accounts for roughly 17.2%.
Revenue by country in 2020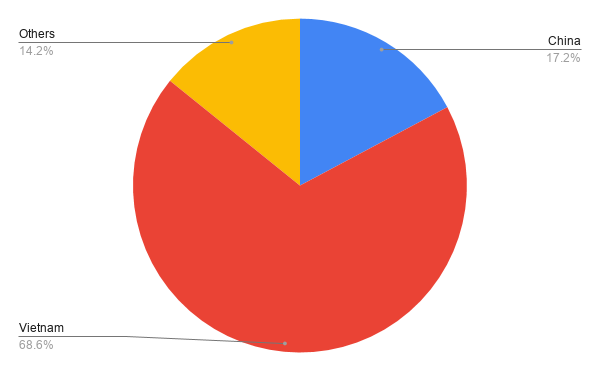 Source: Author
Revenue divided by each geographical segment in 2020
CP Pokphand Stock Valuation
With a market cap of ~HK$19.26B or the equivalent of ~$2.48B. With cash and cash equivalents of $535.9M, over 20% of its market cap, and net debt of $585.5M.
The price-to-sales is currently ~0.56, taking into account the market leading position of the company it seems like a low valuation.
Capex as a percentage of sales has been ~5%, with the exception of last year, which was ~10.38%. It generated $570M of free cash flow, giving it a free cash flow yield over 20%.
If we consider the profit in Q1 of $137M, the stock is trading at a price-to-earnings of ~4.5, which shows how undervalued the stock is.
Conclusion
Given the extremely low valuation for a company that is very well positioned to continue to grow, we think this is a very attractive value investment.
Even if the growth ahead remains in the low single digits, the investment makes sense from a value standpoint. It offers enough margin of safety that should reward patient investors.
Disclosure: We are long 0043.
Author bio: Value of Stocks is an independent financial information provider. Focused on analyzing stocks with a value investing approach. Our main goal is to help investors make better investment decisions.