There's a lot to like about investing in the healthcare sector – with the premise that healthcare costs are just going to creep up over the long run as people continues to live longer and demand more sophisticated healthcare services.
Thus, it is no doubt that people are looking at companies like Raffles Medical, Q&M Dental in Singapore and those blockbuster names hopping on the tele-medicine trend like Teladoc Health.
With that in mind, we cover Alliance Healthcare below for its growth prospects and interesting mobile health services arm which recently counted DBS Group as one of the partners.
Alliance Healthcare Profile
Alliance Healthcare (or "Alliance" in short) is an integrated healthcare group that leverages technology to provide a broad suite of healthcare services, primarily in Singapore.
The Group's business comprises 5 key segments:
Managed healthcare solutions
GP clinics services
Specialist care services
Pharmaceutical services and
Mobile and digital health services.
For managed healthcare solutions, the Group has arrangements with insurers and serves corporations through its Alliance Healthcare Network of self-owned clinics and panel of medical services providers, who offer outpatient healthcare and treatment at private hospitals.
The Group also operates 16 self-owned GP clinics, operating under the "My Family Clinic" brand name, as well as five self-owned specialist clinics providing medical diagnosis and medical or surgical treatments for ENT, colorectal and orthopaedic conditions.
In addition, the Group operates a pharmaceutical business engaged in the wholesale distribution of pharmaceutical products to hospitals, pharmacies and clinics in Singapore and overseas.
4 Things To Like About Alliance Healthcare
Growing Managed Healthcare Solutions

Sourced from Alliance's corporate presentation
As seen above, Alliance has been growing the companies under their managed healthcare division steadily (CAGR 18%) over the years.
A quick check with the website also shows that it is the best corporate healthcare provider in 2018 and how Alliance corporate members are able to enjoy exclusive privileges and discounts at participating merchants such as Amore, Genting Resorts World and more.
Strong Set of FY2020 Results

Sourced from Alliance's corporate presentation
For 1H 2020, Alliance's revenue increased 17.2% year-on-year to S$42.8 million in FY2020 mainly attributable to:
70% jump in revenue to S$12.3 million for its pharmaceutical services business – surge in demand for medical supplies from local hospitals stocking up in preparation for any supply chain disruption
Maiden revenue contribution from its new mobile and digital health services segment – acquisition of Jaga-Me Pte Ltd and launch of its telemedicine platform
Revenue is partially offset by lower footfall in the managed healthcare solutions and GP clinics services due to COVID-19 pandemic
Moving on, its also important to look at their financial position to see if Alliance can tide through this challenging times.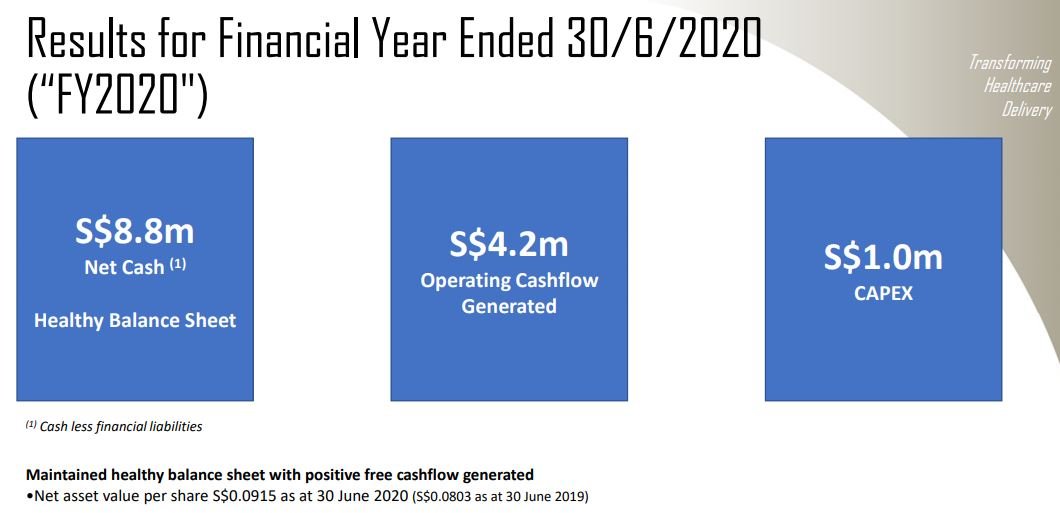 Sourced from Alliance's corporate presentation
Looking at the table above, Alliance possesses a healthy balance sheet at S$8.8 million in net cash position. Its net gearing ratio also remains at a manageable 40% as of FY2020.
Banking on its asset-light business, it is also able to generate positive operating cashflow of S$4.2 million versus just S$1.0 million in capital expenditure.
3) 1st Mover towards Digitalized Healthcare
Telehealth or what I would call 'digitalized healthcare' is the next big thing. If you are in sync with the U.S. markets, you would probably have heard of the blockbuster deal where Telehealth giant Teladoc and digital chronic disease management company Livongo announced an $18.5 billion merger that'll value the combined entity at $37 billion.
Analysts have shared that the deal is a major step forward in advancing digital health care and is timely, coming in the midst of the coronavirus pandemic, which has greatly expanded the adoption of digital and remote health care services.
And for Alliance Healthcare, it is perhaps at the most forefront of this shift towards digital healthcare with the 2 key developments shown below:
(i) Launch of HeyAlly – Digital Health Platform
In April 2020, Alliance launched HeyAlly, its proprietary digital health platform to its corporate clients. More than 600 companies have since embraced the Group's telemedicine solution as an extension of their managed healthcare solution.
More notably, the Group signed a collaboration agreement with DBS Bank to introduce AllyCare, a health and wellness programme provided via HeyAlly to the bank's customers who purchase a new insurance policy.
Although the company is still at the conceptualisation phase now, the partnership with DBS instills faith that this is something credible and may turn out to be the next stepping stone towards digital healthcare.
(ii) Acquired 55% of Jaga-Me – Homecare Aggregation Platform
For a quick background, Jaga-Me enables patients and their families to obtain holistic healthcare in the comfort of their own home, by harnessing a curated network of Singapore-registered nurses, caregivers, doctors and therapists termed as "JagaPros".
As previously mentioned, Alliance Healthcare experienced the maiden revenue from Jaga-Me due to the acquisition. According to the FY2020 results, Since the onset of the COVID-19 pandemic, Jaga-Me has been mobilizing the nurses on its platform to provide medical support and perform COVID-19 swab tests at dormitories.
In addition, Jaga-Me has also secured a contract with a leading public cancer institution to provide cancer treatment at patients' homes on 1 July 2020. The Board believes the demand for skilled nurses to cope with the COVID-19 pandemic will continue to be high.
4) Alignment of Interests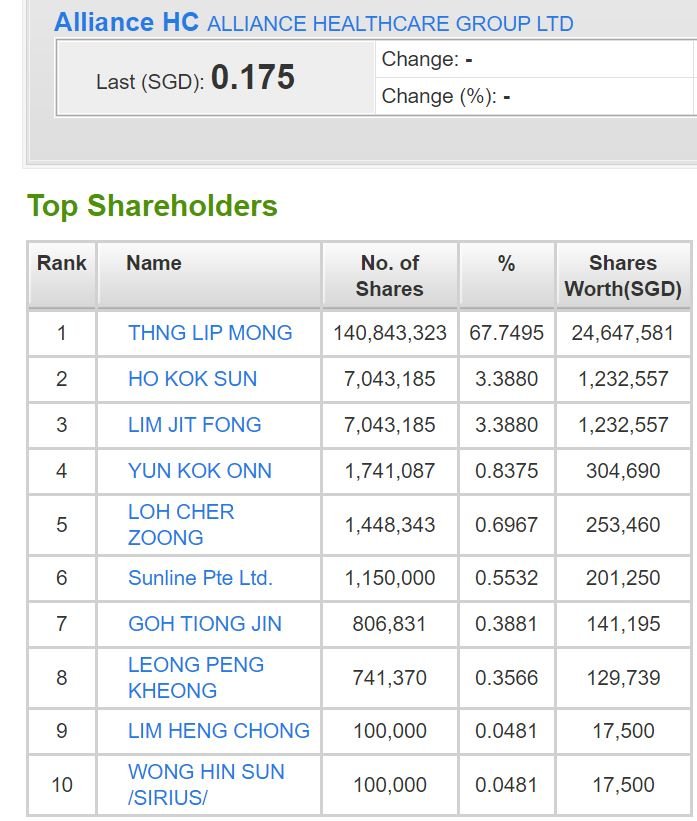 Sourced from ShareInvestor.com
As seen from the above, Dr. Barry Thng Lip Mong is the biggest shareholder of Alliance as he owns a huge 67.7% stake in the company. This shows that the founders' interests are aligned with shareholders.
To top it off, the Group has also expressed their intention to distribute at least 30% of its net profits for FY20 and FY21 as dividends to shareholders.
Final Thoughts: A Defensive Growth Healthcare Play
Although we haven't seen the financial numbers stack up nicely in the past few years, we are sanguine on their growth prospects.
Leveraging on their 1st mover market leadership in the managed healthcare solutions, Alliance Healthcare has built up high barriers to entry due to the hefty capital investments to establish a sizable network of medical services providers as well as investments in IT systems.
And as the Group continues to rein in new customers and integrate new features like Allycare, it would create a virtuous cycle where there is a bigger pool of panel medical service providers and in turn, get more corporations and insurers interested to pay up.
Moreover, Alliance Healthcare is riding on the tailwinds of a growing defensive healthcare trend now. Armed with a healthy balance sheet and positive cash flow generation, the Group can also support the new digital health initiatives with ease.
To put it together, Alliance is likely to benefit from the steady expansion of its managed healthcare division and the pivot towards digital healthcare in the future.
Read more about its IPO: https://www.smallcapasia.com/alliance-healthcare-group-ipo/