Just yesterday, we have a newcomer on the Catalist board of SGX, which is none other than Hatten Land (SGX: PH0). This backdoor listing is done through a reverse-takeover (RTO) via VGO Corporation and its shares started trading today with an opening price of 29.5 cents.
For more information on the RTO, you can check it out here. This company, formerly known as Sky Win Management, is a property development arm of Hatten Group which was co-founded by siblings, Colin and Edwin Tan.
Hatten Land's Profile
Hatten Land is a leading property developer in Malaysia focusing on integrated residential, hotel and commercial developments in Malacca. It has 4 key assets, namely Hatten City Phase 1 & 2, Vedro by the River and Harbour City.
Hatten City Phase 2 is scheduled for completion in 2H2017 and Harbour City, a bayfront project combining mall, resort, hotel and theme park, is targeted for completion in phases from 2H2019 to 1H2020.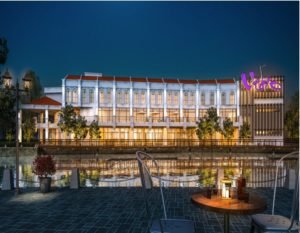 Vedro by the River
Financial Performance
Quoting words from its Chairman, Colin Tan, the four projects have take-up rate of an average of 50% so far. This had translated to revenue of over RM400 million (S$126 million) in 2016 and the company has RM800 million more to recognize from 1 Jul 2016 onwards, based on sales agreements.
The company's advantage lies in its ample supply of relatively cheap land banks in Malacca which allows Hatten to offer more attractive prices, compared to its competitors. Therefore, they can stand to benefit from high profit margin and low cost of its land.
Other than that, its portfolio of choice sites overlooked Pulau Melaka and the Straits of Malacca. This is in line with the Melaka Gateway project, which aims to transform Pulau Melaka into a tourism and entertainment hub on the back of RM42 billion ($13.3 billion). With this project in progress, it is projected to generate an additional 2.5 million tourists over the next 12 years, which will create strong demand for its properties.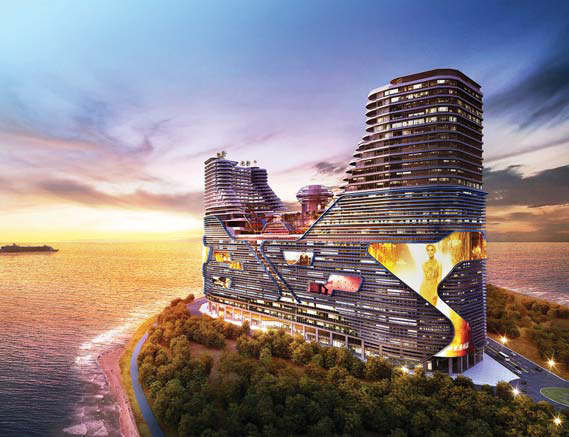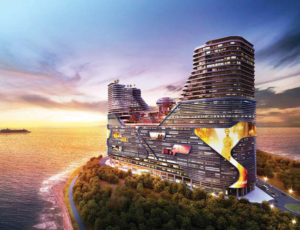 Harbour City, overlooking the Straits of Malacca
Growth Prospects
In a statement issued in conjunction with its trading debut, Mr Colin Tan said that besides its 4 key assets, which are valued at RM1.9 billion, Hatten Land has access to over 20 prime land bank and development rights for future development. This gives the company high potential to tap on their current assets for future growth.
Furthermore, with the upcoming Kuala Lumpur-Singapore High Speed Rail having a stop at Ayer Keroh, Malacca, sites in the area are likely to benefit from their proximity to the train station in time to come.
To add on to the optimism, the number of Chinese tourists are projected to increase in Malacca with the expansion of its International Airport and the introduction of weekly flights between Guangzhou and Malacca. Despite having its main focus in Malacca for now, the company has plans to venture into overseas markets such as Indonesia, Laos and Myanmar.
Hatten Land has a market capitalization of about S$393 million and its post-listing RNAV stands at about 39.6 cents. It last closed at S$0.285, and trades at an estimated 0.72x its book value.
We've released our 3 HOT growth stock picks which could skyrocket >100% by the end of 2017. History has shown that getting in early on a good idea can often pay big bucks – so don't miss out on this moment.
Simply click here to receive your copy of our brand-new FREE report, "3 stocks poised for explosive growth".
Do Like us on Facebook too as we share the latest investing articles and stock ideas for you!