On 6 March 2018, Wegmans Holdings Bhd (Wegmans) has made its maiden entry into the ACE Market of Bursa Malaysia. Its shares, which were offered at IPO price of RM 0.29 a share, have been well-received as these shares had been oversubscribed by a multiple of 16.35 times.
If you have missed the boat, don't worry. As I write, Wegmans' stock price is trading at RM 0.25 a share, a slight drop from the IPO price. Based on a total of 500 million shares, Wegmans today has a market capitalization of RM 125 million.
Here, I'll share 7 main things that you need to know about Wegmans before you invest.
#1: History Part 1 – The Founding Years (1994 – 2004)
Wegmans was founded in 1994 by three partners namely, Keh Wee Kiet, Law Kok Kim (Collin) and Oon Leng Hin. It started its operations from a factory with a built-up area of about 2,000 sq. ft. in Muar, Johor. Shortly, Oon ceased to be a partner and the business is managed by Keh while Collin remained as a silent partner at that point of time.
In 1997, Keh had expanded Wegman's production floor spaces to 6,000 sq. ft. Soon, it had increased its production floor spaces to 14,000 sq. ft. and started to export its furniture products to overseas in 2001. Exports grown rapidly as Wegmans began to participate in the Malaysian Furniture Export Exhibition in 2002.
Subsequently, in 2004, Wegmans has enlarged its production floor spaces to 18,000 sq. ft. in order to cater to rising sales orders.
One year later, Collin has decided to join Wegmans as its Executive Director where he set up its sales & marketing department and oversees the company's finances & administrative affairs. Keh directed his focus to production & procurement activities.
#2: History Part 2 – Relocation to Current Facilities (2005 – 2017)
In 2005, Wegmans relocated its spraying works to Block B, a factory that has built-up area of 49,400 sq. ft. The following year, it shifted its furniture parts processing facility to Block A, a factory which has built-up area of 55,952 sq. ft. and had acquired a parcel of adjoining land to Block B.
Then come 2010, Wegmans had completed its construction of Block C on the piece of adjoining land acquired in 2006. Thus, it moved its packing, storing and also its loading area to Block C, a factory that has built-up area of 42,846 sq. ft. in the same year.
Combined, Block A, B, & C have built-up area of 148,198 sq. ft. and is Wegmans' main facility which is located at Mukim Parit Bakar, Muar, Johor.
In 2015, Wegmans had acquired a parcel of land measuring 254,436 sq. ft. at Mukim Parit Jawa, Muar, Johor. The company is constructing a factory on it which is intended to be used for raw material storage and wood preparation. Presently, its raw material storage is housed at a tenanted factory in Mukim Sungai Raya, Muar, Johor.
#3: Production Capacity
In 2017, Wegmans is able to manufacture 475,658 units of chairs and 192,284 units of tables per annum. Wegmans' capacity utilization for both chairs and tables had reached above 90% and 85% respectively since 2016, a substantial improvement from 2014 and 2015.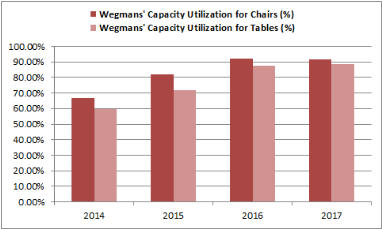 Source: IPO Document of Wegmans Holdings Bhd

#4: The Financials
Wegmans recorded substantial growth in sales from RM 39.4 million in 2014 to RM 86.2 million in 2017. This had contributed to increasing shareholders' earnings from RM 3.0 million in 2014 to RM 14.5 million in 2017. The growth in both sales and earnings was in tandem with rising production of furniture as stated in Point #3.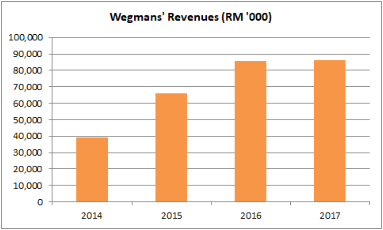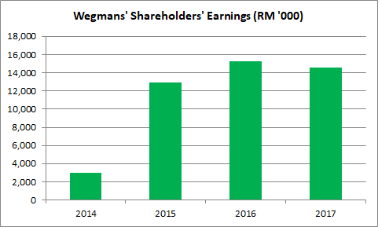 Source: Annual Report 2017 of Wegmans Holdings Bhd
#5: The Purpose of IPO
Wegmans had raised gross proceeds of RM 29 million from issuing shares at IPO price of RM 0.29 a share. The management intends to utilize it for:
New Factories: RM 11 million


Wegmans intends to construct new factory premises on four parcels of acquired land measuring around 905,397 sq. ft. located at Mukim Parit Jawa, Muar, Johor. The entire development would be conducted in three phases.

Wegmans plans to use RM 11 million for the Phase 1 of this development, consisting of a new factory with built-up area of 144,494 sq. ft., a management office, a showroom and workers' hostel. The completion of the Phase 1 development is expected to be in Q4 2019.
New Machines: RM 11 million


Wegmans intends to add one furniture production line which would be located at its new plant. Upon full commission, Wegmans expects to double its annual production capacity from 0.48 million chairs and 0.19 million tables to 0.96 million chairs and 0.38 million tables.

Working Capital: RM 3.5 million
Estimated Listing Expenses: RM 3.5 million
#6: Key Risks
Wegmans had identified several key risks which might negatively impact its financial results in the future. They are:
Dependence on Foreign Labour


The furniture industry is labour-intensive. Wegmans employs foreign workers from Bangladesh, Myanmar, Nepal, Vietnam and Pakistan as it is difficult to hire local workers.

Any changes in policies relating to foreign workers may cause a disruption to its company's production activities. In addition, a hike in labour cost would impact its margins if Wegmans fails to pass on such cost hikes to its customers through raising prices of its furniture products in the future.

Dependence on Two Key Customers


Wegmans had derived bulk of its sales from two key customers. They are Nitori Co. Ltd in Japan and Super A-Mart Pty Ltd in Australia.

In 2017, Nitori and Super A-Mart had contributed RM 15.3 million and RM 9.3 million in sales to Wegmans respectively, thus, accounting for 28.5% of total sales in 2017.

Any changes in sales orders from both of these customers would impact Wegmans' financial results in the near future.

Approvals for Amalgamation & Conversion of Lands in Muar


As stated in Point #5, Wegmans acquired 4 parcels of lands as it plans to expand its production facilities in the future. Wegmans has applied to convert these lands from agriculture use to industrial use.

Any sort of delays in receiving approvals for the amalgamation and conversion of these lands would result in delays in its undertaking of its Phase 1 development which was planned to begin in Q4 2018.
#7: Valuation
As mentioned, Wegmans is trading at RM 0.25 a share at the time of writing. Thus,
In 2017, its earnings per share (EPS) is RM 0.0363. Hence, its current P/E Ratio works out to be 6.89x.
In 2017, it has reported to have RM 0.088 in net assets a share. Thus, its current P/B Ratio works out to be 2.84.
In 2017, it has declared and would pay out as much as RM 6.5 million in dividends. Its dividends per share (DPS) works out to be RM 0.013 based on 500 million shares. If Wegmans is able to maintain its DPS at RM 0.013, its expected gross dividend yields is 5.20% per annum.
Conclusion
Evidently, Wegmans had came a long way as it expanded its production from a 2,000 sq. ft. factory in 1994 to its current facility that houses three factories with a combined built-up area of 148,198 sq. ft.
Wegmans had just raised RM 29 million from its IPO and is still in its early phase of carrying out its plans to grow in the future.
Despite several risks mentioned in Point #6, Wegmans had laid its foundation and will continue to uphold its vision to become one of the leading international furniture manufacturers in Malaysia.
Do you want to calculate a stock's intrinsic value in less than 10 minutes? Download this Free Stock Intrinsic Value Calculator to check if the Stock is Undervalued. Even comes with a Step-by-Step instruction manual for you too!
Last but not least, do remember to Like us on Facebook too as we share the latest investing articles and stock case studies for you!