Many must have taken umbrage in SPH's performance over the years. As traditional media gets increasingly threatened by social media, the market share of SPH has gotten smaller and smaller. Moreover, SPH has not reinvented itself to progress with times and has been stuck.
Keppel has also had its fair share of ups and downs from 2020 to 2021 with Temasek pulling out its offer on acquiring a majority stake in the company and announcing merger with Sembcorp Marine.
The biggest surprise that happened on 2nd August was the announcement where Keppel will takeover the non-media business of SPH.
Here are 7 things to know about the takeover:
#1 Timeline of transaction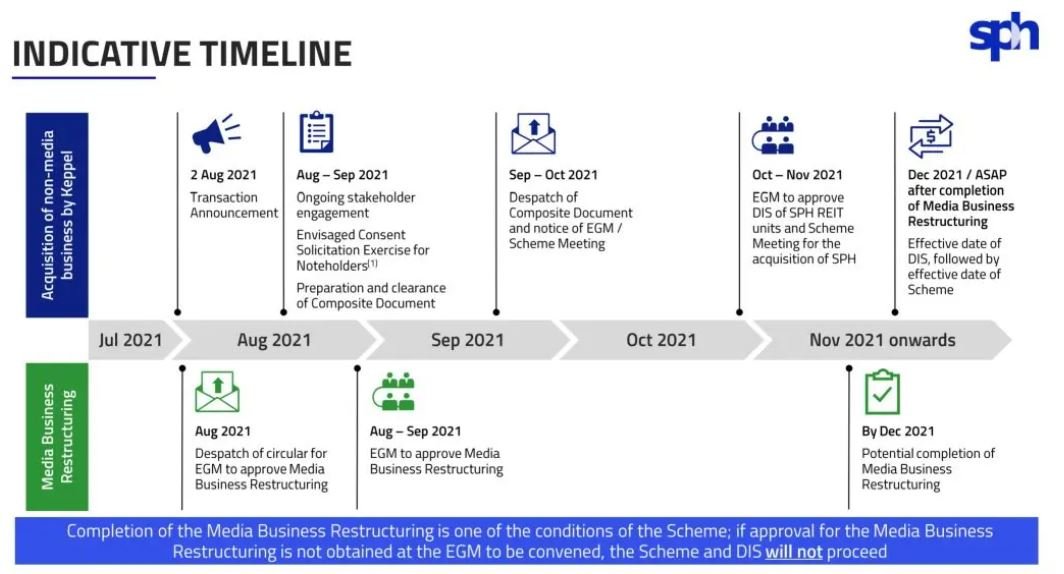 Source: SPH
The transaction timeline will be as per the above and notable milestones to note would be:
2nd August – transaction announcement date
Sep-Oct 2021 – EGM on both companies to approve of this transaction
By Dec 2021 – potential completion of Media Business Restructuring. Keppel's acquisition is conditional on a successful restructuring of SPH's media business
#2 Drives Keppel's towards its 2030 goals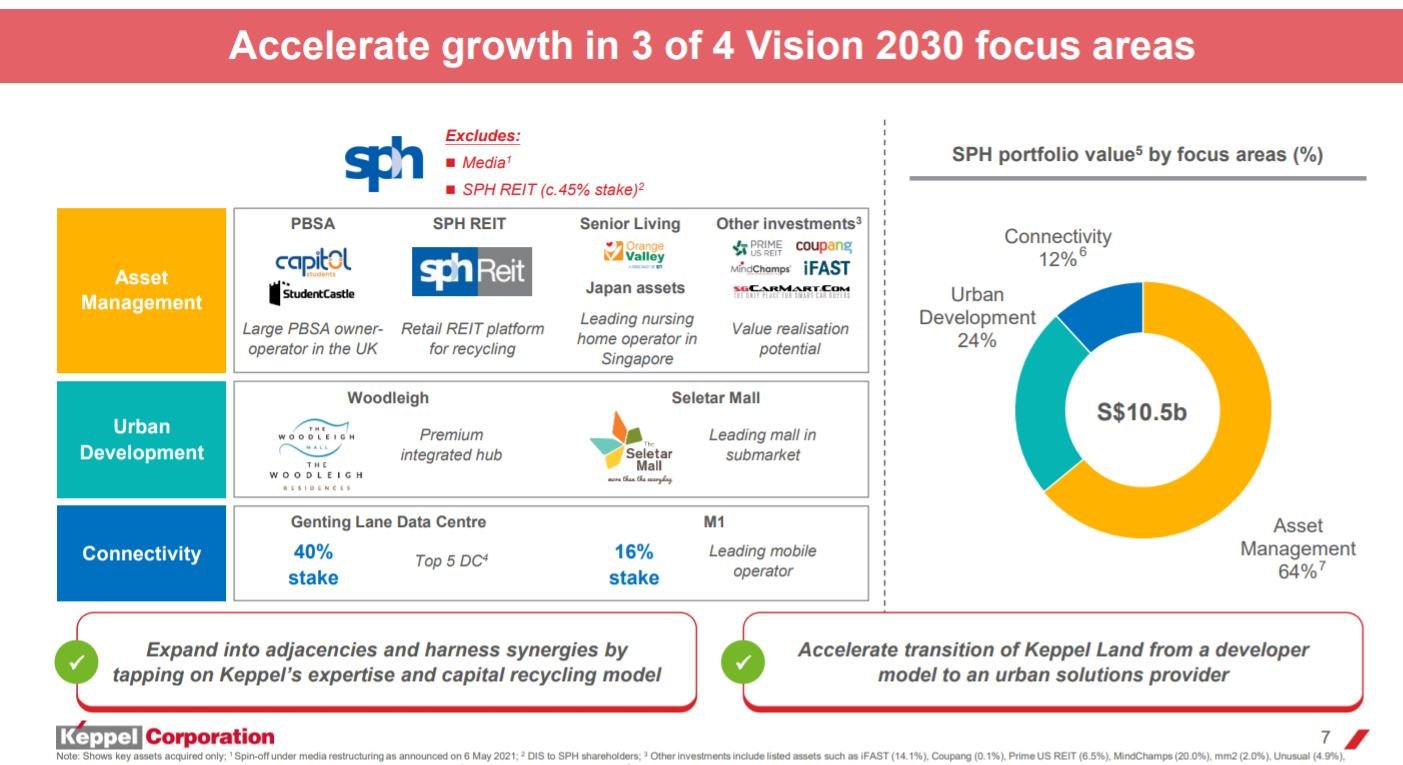 Source: Keppel Corporation
The acquisition provides Keppel with an impetus towards its 2030 goal of transforming itself from a developer to an urban solutions provider.
Keppel's asset management arm will acquire the highly sought-after assets in SPH's portfolio. These assets are under SPH REIT and will provide the purpose-built student accommodation (PBSA), aged-care assets, and retail assets.
The acquisition of Woodleigh Mall and Seletar Mall will help to boost Keppel's urban development division.
Finally, the acquisition of the remaining 40% stake in Genting Lane data centre means Keppel now fully owns this asset, thus boosting its "connectivity" goal along with a 16% stake in telecommunication provider M1.
#3 Increasing the AUM of Keppel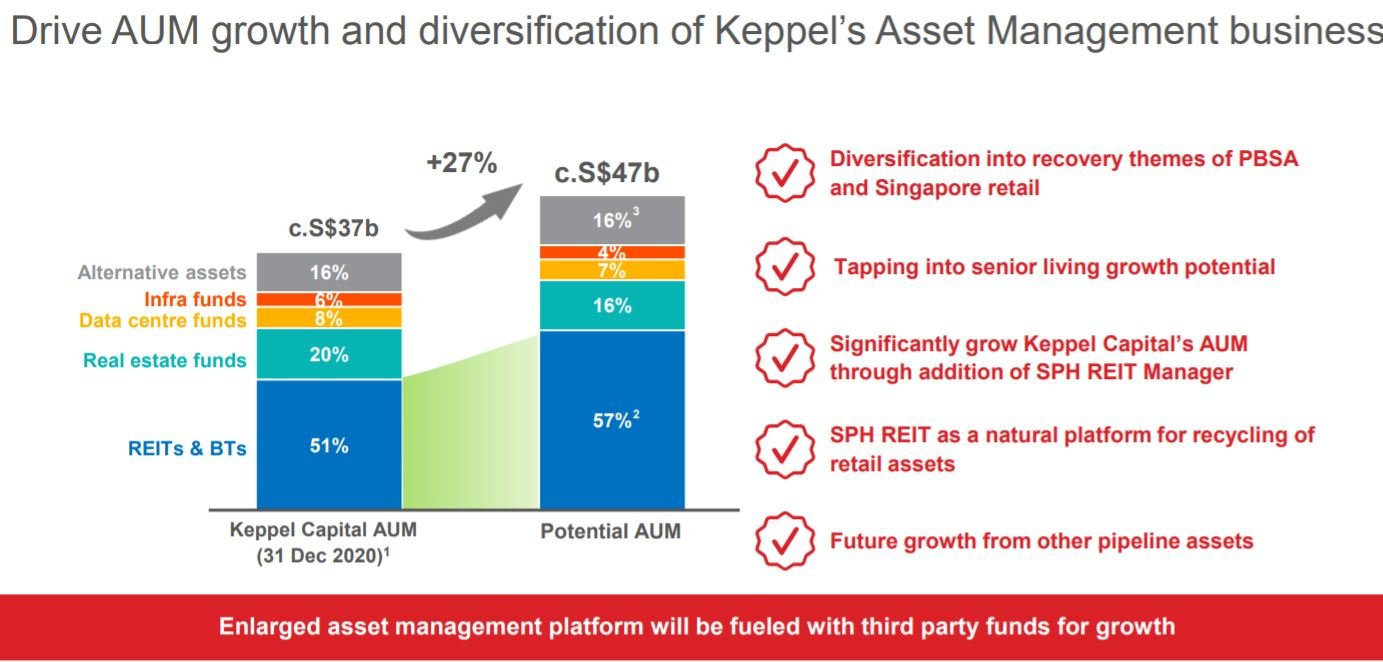 Source: Keppel Corporation
The acquisition of the assets from SPH will increase the AUM under Keppel's Asset management arm from c.$37 billion to c.$47 billion.
In the property space, bigger is better as it gives the company more bargaining power in terms of loans.
Moreover, the acquisition helps Keppel to move into areas that they do not have a footing in such as aged care, which is a growing space since populations in developed countries are mostly ageing.
#5 Provides an immediate entry to PBSA sector for Keppel
The acquisition provides an immediate entry to the purpose-built student accommodation (PBSA) sector for Keppel. The assets are based in UK and Germany where education in the countries are sought after by international student.
The acquisition in this area will provide a lucrative, recurring and long term economic impact for Keppel.
#4 Enhances quality of earnings of Keppel
The acquisition has an immediate financial impact on Keppel's earnings per share and quality of earnings.
Keppel's earnings per share will increase by 6% to $1.75 and recurring income will increase to 56% from the original 51%. This benefits shareholders in the long term.
#6 Premium of 11% enjoyed by SPH shareholders
Keppel will be offering S$0.668 per SPH share acquired. Shareholders of SPH will receive 0.596 units of Keppel REIT.
Keppel REIT is a commercial REIT with over S$8 billion worth of assets in Singapore, Australia and South Korea.
As part of the scheme of the arrangement, SPH will distribute out its 45% stake in SPH REIT via distribution in specie, with SPH shareholders receiving 0.782 shares in SPH REIT for every share of SPH held.
Combining the three components, the total implied consideration for SPH is, therefore, S$2.099 per share, a premium of 11.6% to the last traded price of SPH of S$1.88.
#7 Overall assets under Keppel after acquisitions
The acquisitions of the assets from SPH will provide Keppel foothold into a few new sectors. Namely PBSA in Germany/UK, aged care in Japan.
It also provides a commercial mall edge to Keppel's portfolio with Seletar mall added under urban development.
All in all, the acquisitions of SPH non-media assets provide more firepower to Keppel's recurring income and also a foothold into areas where Keppel do not have an edge previously.