When it comes to finding dividend paying stock, one should look at businesses with a long track record of dividend payments as well as a stable business model.
A robust business model ensures that the company generates steady and predictable revenue, manages its costs efficiently, and has a competitive advantage in its industry.
It is only then that investors can predict with certainty that the companies will continue to churn out cashflow on a recurring basis, hence leading to sustainable dividend payments in the long term.
With that, here are 3 Solid Dividend Stocks that you can consider for your income-focused watchlist.
Dividend Stock #1 – Sheng Siong
Sheng Siong is the only supermarket chain listed in Singapore.  Sheng Siong operates in more than 65 locations across Singapore with over S$1.34 billion in annual sales revenue.
In its latest business update for half year ended June 2023, revenue increase by 2.0% to S$690.5 million while net profit decrease by 2.9% to S$65.5 million.
The company declared an interim dividend of 3.05 cents for half year ended June 2023. In fact, the company has been dishing out increased dividends for the past 10 years!
Despite facing a saturation point in Singapore, Sheng Siong will continue to expand selectively in Singapore, especially in areas without presence to take advantage of their 'low-cost advantage'.
On top of that, Sheng Siong is also expanding its operations in China and recently opened its 5th store in Kunming.
Given its expansion and the company net cash position, Sheng Siong should be able to maintain its dividend payout for a long time to come.
You can view the company website here.
Dividend Stock #2 – ST Engineering
ST Engineering is a global technology, defence and engineering group with a diverse portfolio of businesses across the aerospace, smart city, defence and public security segments.
The Group has operations spanning Asia, Europe, the Middle East and the U.S., serving customers in more than 100 countries. ST Engineering reported revenue of $9b in FY2022 and ranks among the largest companies listed on the Singapore Exchange.
In the first half ended June 2023, ST Engineering reported revenue increase by 14% to S$4,863 million while net profit increase by 0.2% to S$281 million.
The company declared second interim dividend of 4.0 cents per ordinary share making a total of 8 cents per share. In fact, the company dish out quarterly dividends of 4 cents to investors which appeal to more investors.
With its strong order book of $9.5b in the first half of 2023 together with its track record of winning contracts, the company will be able to continue paying higher dividends in line with higher earnings.
Find out more about the company here.
Dividend Stock #3 – VICOM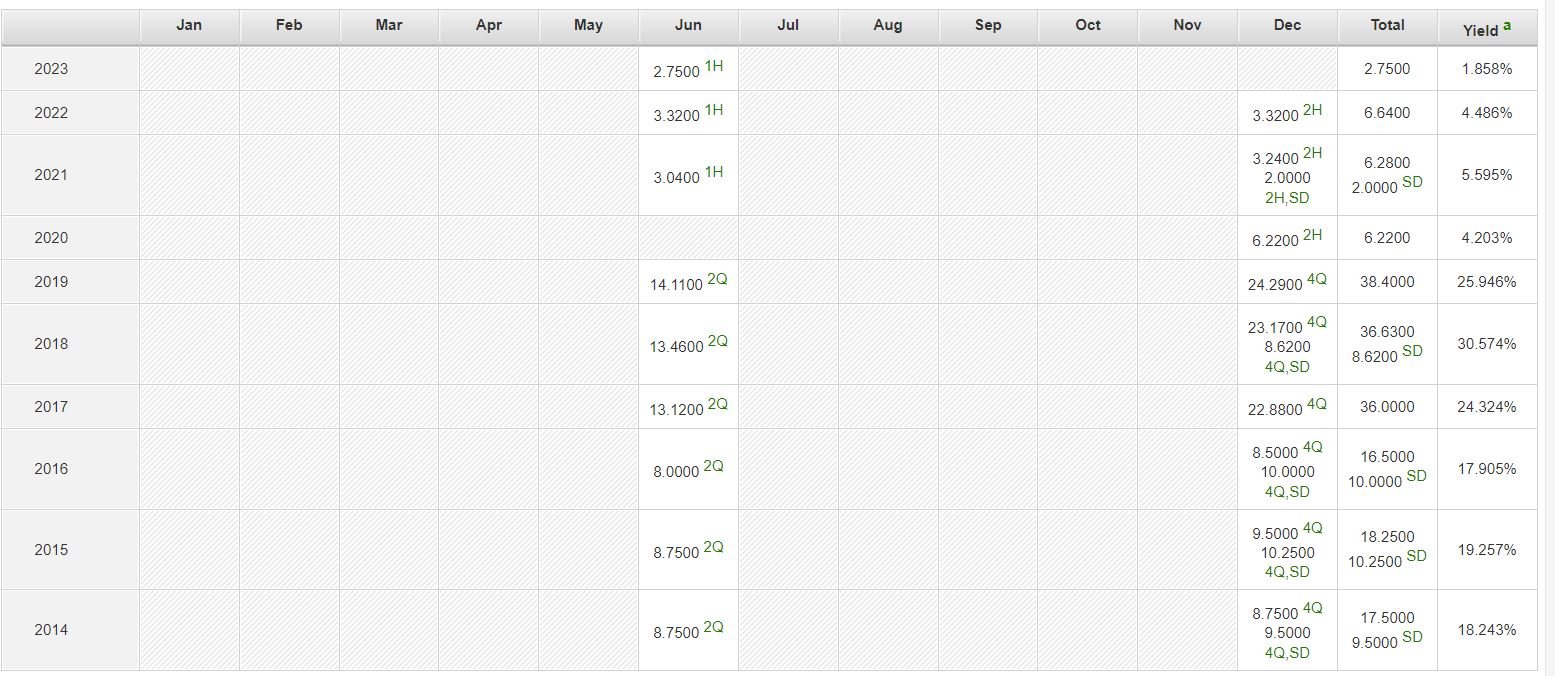 *The stock undergone a 1-to-4 stock split in year 2020 -> hence the disparity in dividends per share.
VICOM Ltd boasts of the biggest market share in the vehicle inspection and technical testing services in Singapore and is the only pure play vehicle inspection company listed in Singapore.
For the half year ended 30 June 2023, VICOM reported 4.8% increase in revenue to S$55.9 million while net profit increase by 6.3% to S$13.9 million.
The company has declared an interim dividend of 2.75 cents which represents a payout ratio of 70%. The company growth prospects include expanding into new areas such as the recent acquisition of An Security Pte Ltd.
An Security Pte Ltd is in the business of providing Information Technology security evaluation and testing services for cybersecurity products such as smart devices, as well as consultancy.
Given its growth prospects and the demand for vehicle testing is expected to remain stable, the company will be able to maintain its 70% dividend payout ratio.
You can view the company website here.
Conclusion
Many income investors make the mistake of focusing only on dividends payout and ignoring the fact that dividends comes from earnings; and the business model is the one they should focus on to see if the company can generate stable and sustainable cash flows.
To know more about growing your dividend income, join our latest Dividend Kaki membership as we show you a fuss-free way to invest in dividend stocks and REITs.
Many people love dividend investing, but few truly know how to profit from it consistently. Click the link here to sign up and test drive to discover the secrets!