When it comes to investing, there's a group of stocks that have been favoured for a very long time – blue-chip stocks that regularly pay out dividends.
These are usually big, well-established companies that have a unique appeal that draws investors from all walks of life.
If you are looking for both stability and consistent dividends in the face of macro uncertainty, these 3 Singapore blue-chip stocks may just fit the bill.
1. Singapore Exchange
SGX probably needs no introduction as the monopoly stock exchange in Singapore. It also functions as a pivotal marketplace for a diverse array of financial assets, including equities, fixed-income securities, derivatives, and commodities.
For the financial year ended June 2023, Singapore Exchange (SGX) reported revenue increase by 8.7% to S$1,194.4 million while adjusted net profit is up 10.3% to S$503.2 million. It proposed final quarterly dividend per share of 8.5 cents, up 0.5 cents bringing total dividends for FY 2023 to 32.5 cents.
In fact, SGX has been giving out consistent dividends for the last 10 years – well meeting the requirements of a blue chip stock dishing out consistent dividends.
In order to seize the increase in growth opportunities globally, SGX intends to expand substantially beyond FX futures to include FX technology and workflow solutions.
This will allow SGX to achieve the twin objectives of developing our multi-asset offering and further scaling our geographical and client coverage.
You can view the company website here. 
2. United Overseas Bank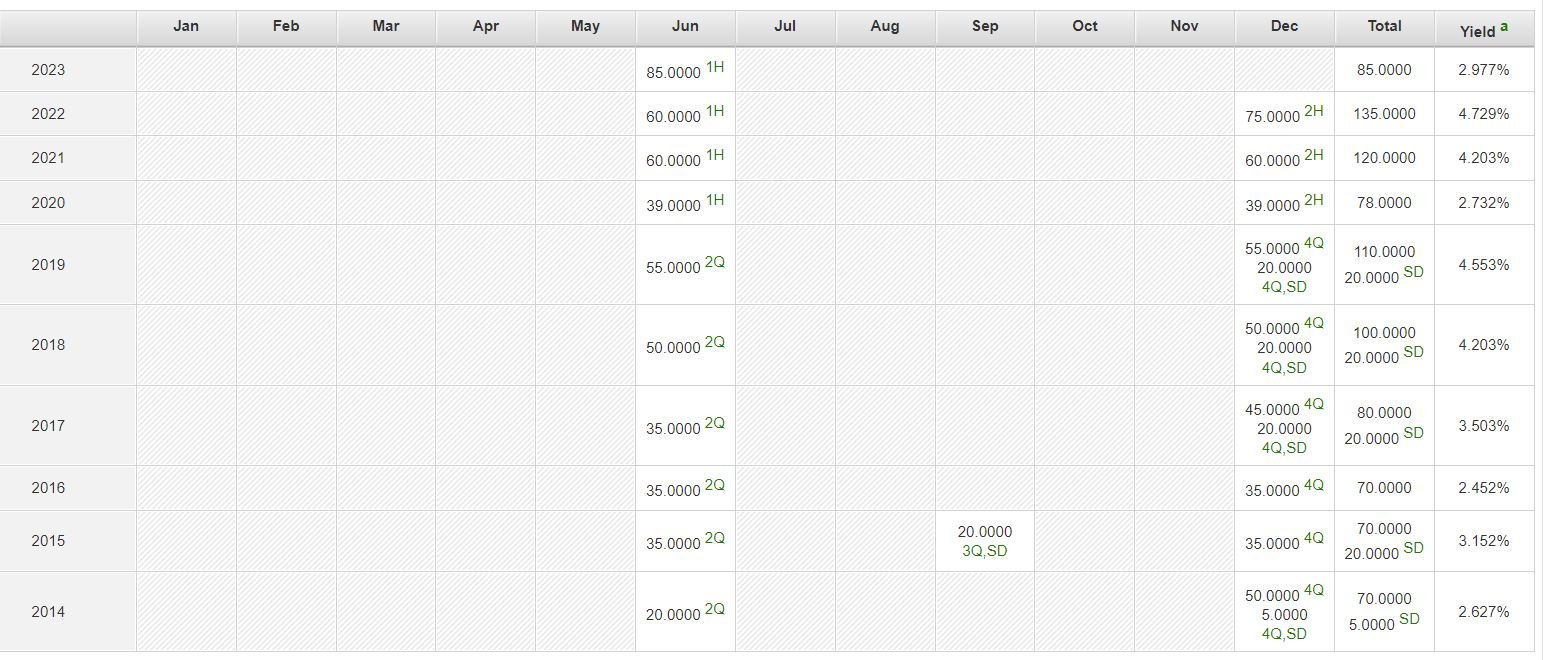 In its latest half year results, United Overseas Bank (UOB) net profit increase by 53% to S$3.1 billion while net interest income increase by 37% to S$4.8 billion.
The bank declared an interim dividend of 85 cents per share which is higher than 2022 half year dividend of 60 cents per share. In fact the bank has been paying consistent dividend since 2014!  This is definitely a blue-chip stock worth looking at.
The bank growth drivers will include the following:
Realise full potential of its integrated platform
Sharpen regional focus as the bank sees Southeast Asia's immense long-term potential
Reinforce fee income growth
Long-term growth perspective
You can view bank website here.
3. Haw Par Corporation

Haw Par businesses comprises of:
Healthcare, through its Tiger Balm brand
Leisure business through the ownership of Underwater World Pattaya in Thailand
Property business and finally
Investments business through owning a stake in UOB, UOL and UIC.
For the half year ended 30 June 2023, Haw Par announced a 16.3% increase in revenue to S$95.5 million while net profit increase by 34.9% to S$77.2 million.
For the first time since 2018, Haw Par finally increased its interim dividend from 15 cents to 20 cents. The company is a net cash company with very minimal borrowings, hence is about time the company increase its dividend.
The company has been paying dividends consistently for the past 10 years so it is definitely worth putting this blue chip stock in your watchlist.
Going forward, the company expects its healthcare operations to benefit from the improved consumer sentiment especially in this region and thus driving its growth expectations.
You can view the company website here.
4. Bonus Stock – Cortina Holdings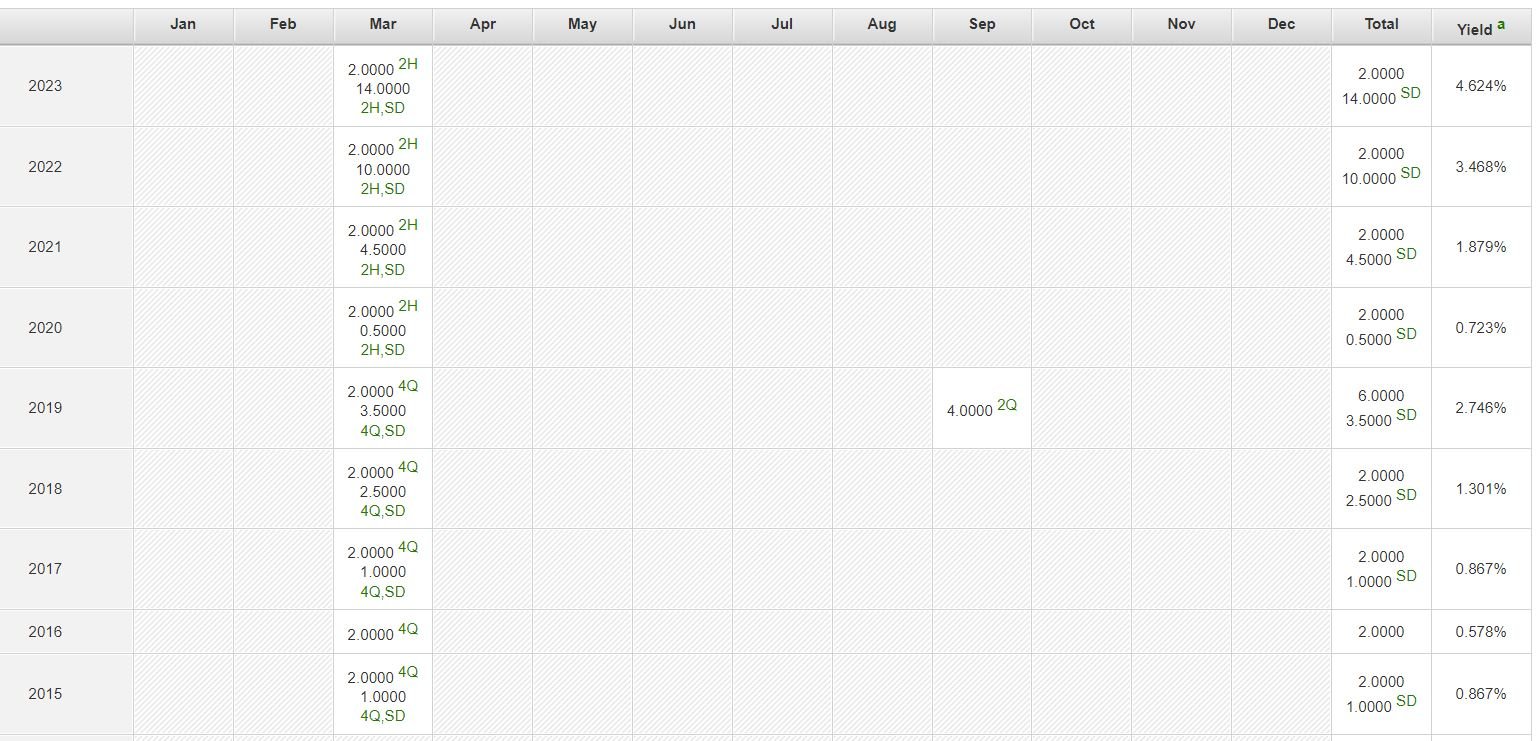 Many make not be familiar with this watch company as there are few analysts or bloggers who talk about this company.
Founded in 1972 by Mr. Anthony Lim, a humble watch salesman with an unwavering passion for luxury Swiss watches, Cortina Holdings has become a distributor and retailer of luxury watches like Rolex, Patek Phillipe, and Tag Heuer today.
Starting from a small-scale retail boutique at Colombo Shopping Centre, Cortina Watch has since evolved from a single-store family business to a sprawling enterprise operations all over Asia i.e. Malaysia, Thailand, Taiwan and Australia.
For the full year ended 31 Mar 2023, Cortina reported an increase of 15% in revenue to S$826.5 million while net profit increase by 13% to S$83.5 million. It declared a final dividend of 2 cents and a special dividend 14 cents making a total of 16 cents in dividends.
Cortina has been paying dividends for the past 9 years making it as a very consistent dividend paying mid cap stock.
You can view the company website here.
Build your Dividend Growth Portfolio here…
When REIT expert Augustine has a stock tip, it can pay to listen. After all, he has already semi-retired with the passive income generated from his portfolio of REITs and Dividend stocks.
Augustine just revealed what he believes could be the '5 best REITs' for investors to buy right now… And together with his co-expert James, they will manage a $200K Model Portfolio with up to 20 REITs + Dividend Growth Stocks!
Thus, if you want a fuss-free way to build your dividend growth portfolio… and also to mingle with like-minded income investors…
Wait no longer and click on the button to join our membership here: https://www.patreon.com/Invest_Kaki!